PowerListings details for Facebook
Facebook is the world's biggest social network with more than 1 billion users. Yext Sync for Facebook makes it easy to manage accurate and up-to-date contact information, photos, messages, and more on Facebook. Get set up in just minutes and update your information instantly.
PowerListings Features
PowerListing Placement: Facebook Nearby, Facebook Graph Search, and Facebook local page.
Basic Listing Info: Update your business name, phone number, categories, and address.
Special Offer: Highlight your business listing with a Special Offer post of up to 50 characters of custom text.
Enhanced Content: Add your business description, website, hours of operation and photos, as well as your PowerListings+ enhanced content lists like Menus, Products/Services, Staff Bios, and Event Calendars.
Tracking: See the total number of Special Offer Clicks, Facebook Likes, and people talking about your page.
PowerListings Mobile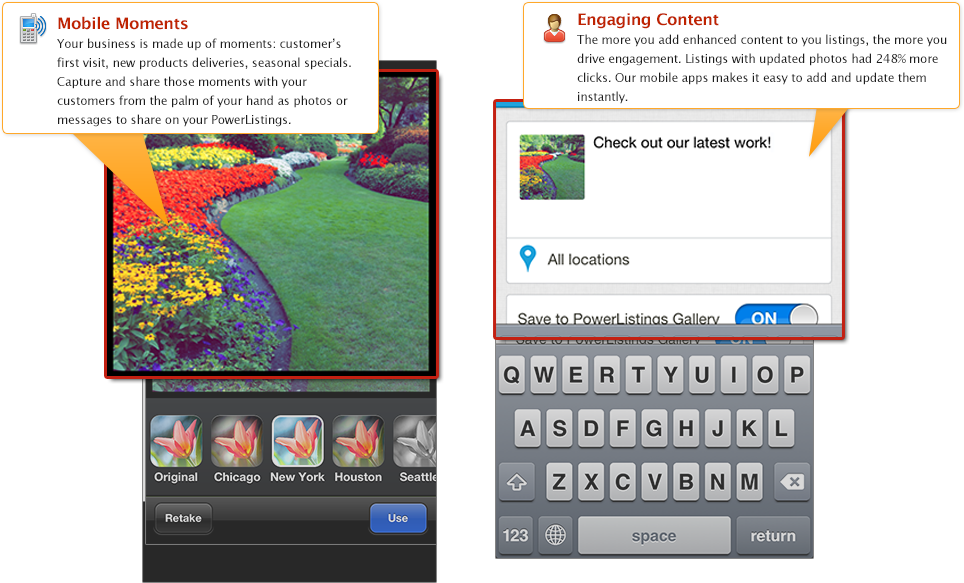 PowerListings Live on Facebook