Developer and Administrator Experience
Every search experience has its own unique requirements, target audience, and look and feel. That's why we give you full control to make the experience truly yours. We offer countless tools and resources to help customize and optimize every detail along the way. Whether you're an administrator without a coding background or a full stack developer, we've curated a Yext platform experience that will suit you perfectly.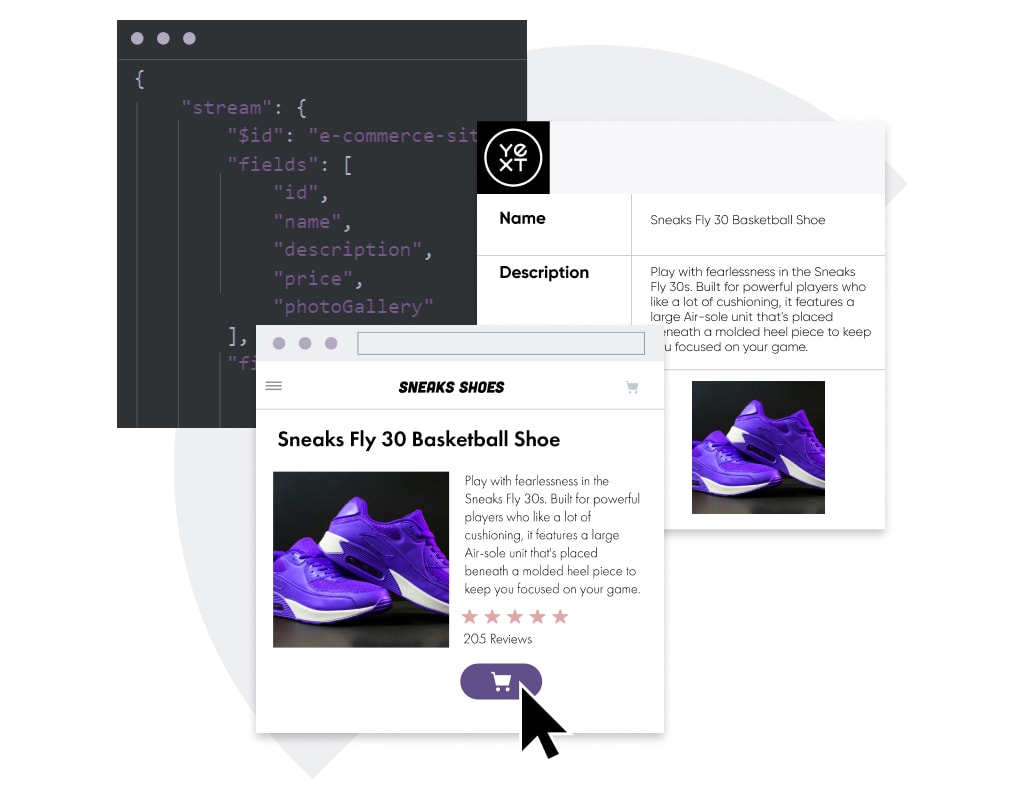 Low-Code to Pro-Code
You do not need to be a software developer to build or manage an incredible search experience with Yext. But you can be! We offer a range of tools and resources that cater to both low-code administrators and coding experts. For example, our point-and-click configuration interface allows administrators to modify the levers in the backend that affect search results. On the other hand, these same settings can be configured with JSON in our developer console.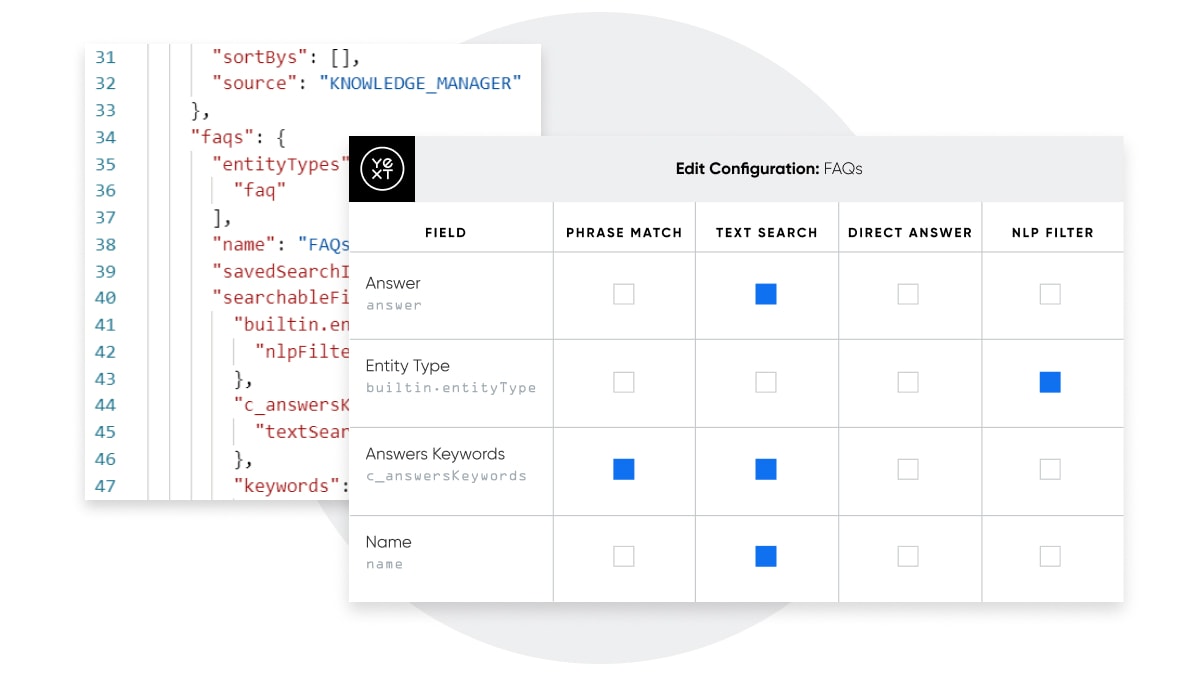 Test Search
We provide administrators a full screen tool to test queries and identify opportunities for improvement in their search experiences without leaving the platform. In our test search you can see direct answers and featured snippets, view and copy raw API requests and responses, display customized entity previews, review test searches in your search log, and more!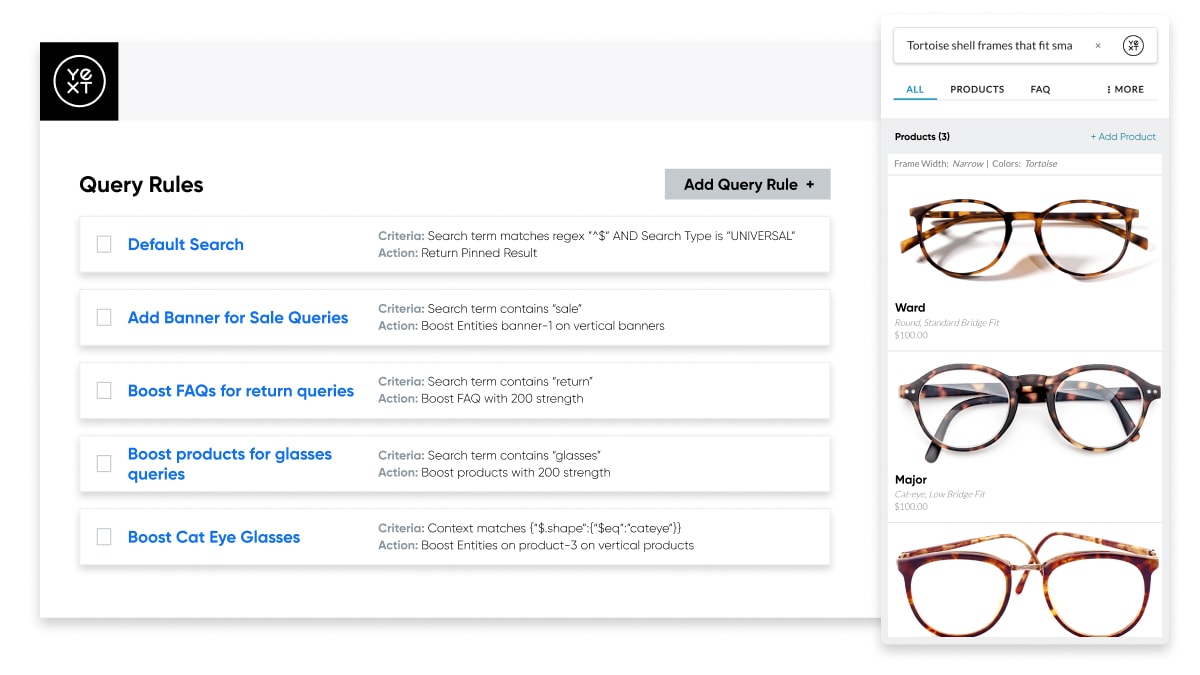 Experience Training
Experience Training provides the opportunity to manually tweak the Algorithm's results if you ever notice a query that needs improvement. With your feedback on specific search terms, you can fix that query instantly and help Yext's Search improve the relevancy of its predictions over time.
Learn More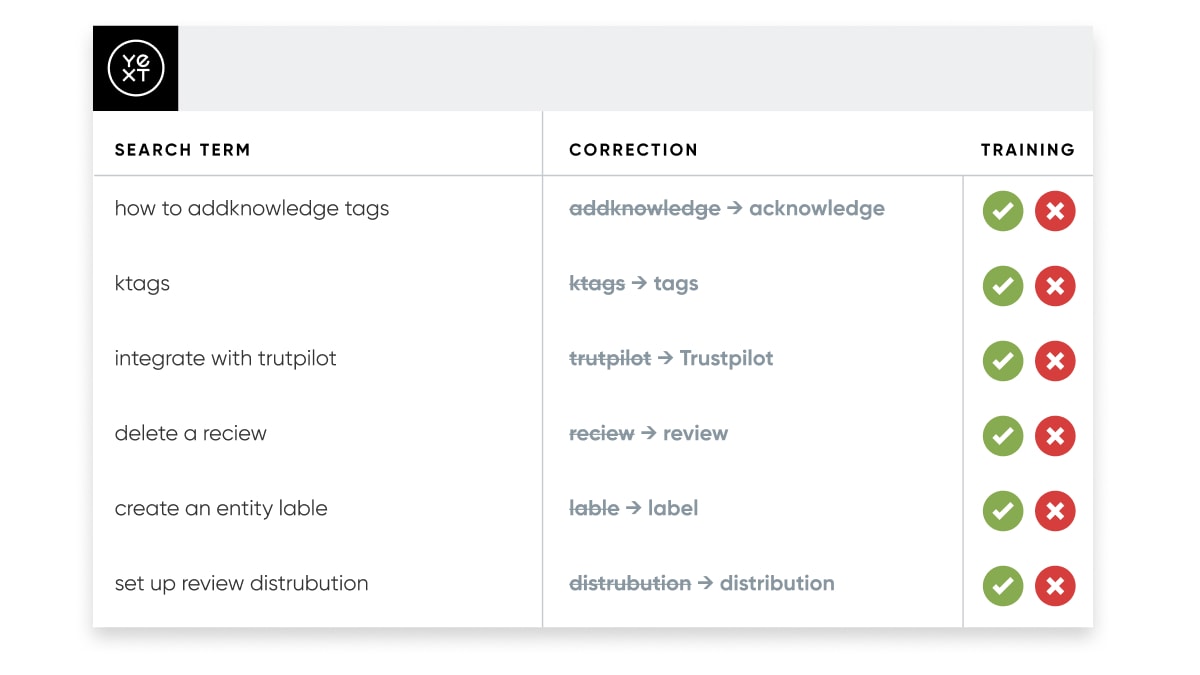 Hitchhikers' Training & Community
Yext Hitchhikers is a comprehensive training program and online community. You can learn all about the Yext platform and practice your new skills with our quizzes and challenges. Additionally, our Hitchhikers community is an interactive environment where you can ask questions, engage with content, attend webinars, workshops, and office hours, and stay up to date with the latest product releases!
Go to Hitchhikers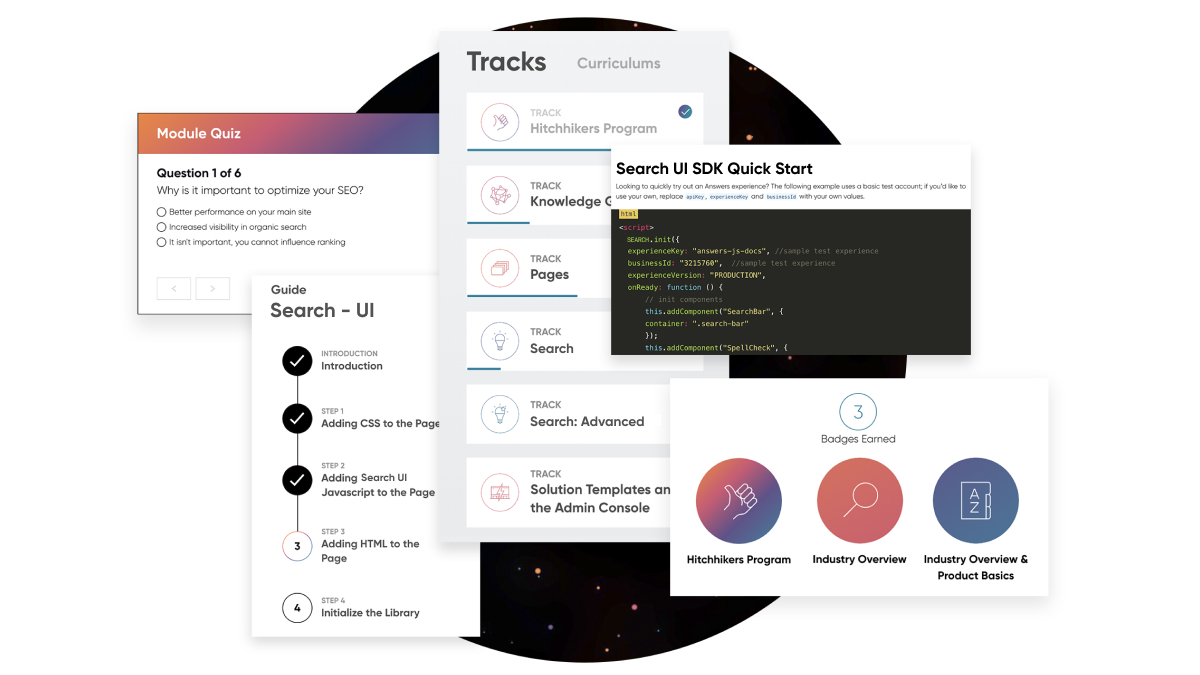 Documentation & Guides
We have extensive documentation for users who want the run-down on specific topics, which includes: API docs, SDK & CLI docs, Getting Started Guides, Integration Guides, and Developer Guides. Developer Guides are especially catered toward technical experts and provide the information needed for more advanced or customized implementations.
Go to Docs & Guides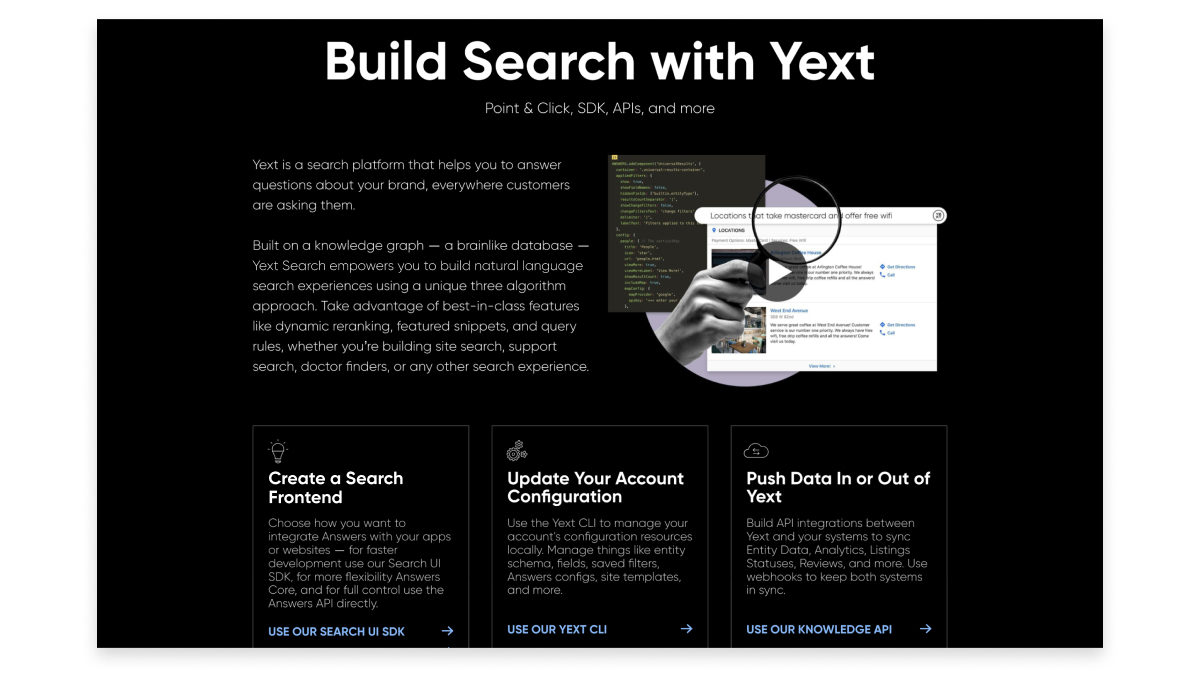 Analytics
Every time users engage with your search experience, you're collecting new data points in Yext. These insights will allow you to learn what's top of mind for your users, track conversions, quantify the value you're getting in cost savings and revenue generation, and identify areas for improvement.
Learn More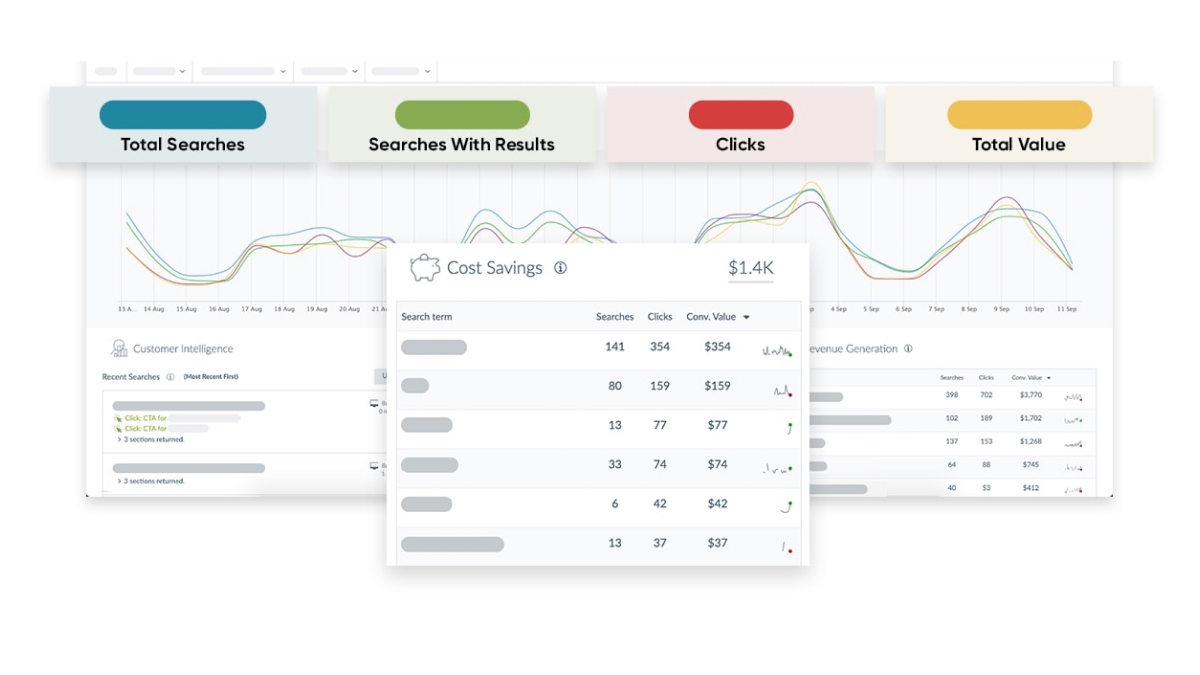 One Platform. Unlimited Solutions.