When was the last time you looked something up in an encyclopedia?
It's probably been quite a while (if you're even old enough to have ever used one!). The reason is pretty obvious: We live our lives online, so flipping through a 1000+ pages is far from the fastest — or best — way to find information. Instead, we turn to a search engine, like Google, and simply ask a question.
The reason Google has become a daily (and in many cases, multi-daily) consumer motion is because it makes our lives easier. It takes our complex questions and meets them with direct, specific answers in the form of a rich snippet — saving you time, since you don't have to click through to and scroll a long document. In other words, it scans the encyclopedia and gives you page 976, paragraph 2, 3rd sentence — the exact answer to your question.
This is called Extractive Question Answering (or Extractive QA), and it's one of the most important — and magical — features of a modern search experience. It also happens to be the next big thing we're adding to our Answers Search Platform.
Not All Search is Created Equal
Extractive QA (also known as document search) has helped make search more intelligent and more conversational. It's an advanced natural language processing algorithm that can instantly mine all sorts of unstructured documents, like web pages, blog posts, help articles, and product manuals, to find the most relevant word, sentence or paragraph. It then delivers the best, most relevant answer in the form of a short, rich snippet in response to a question asked in the website's search box.
However, this advanced feature can really only be found on the world's largest search engine.
So what about the rest of the web? Unfortunately, the majority of websites only use keyword search, the earliest form of search from the early 2000s which relies on only a single algorithm to match a query's keywords with documents that contains the most mentions of the keywords, then delivers the end user a list of links to click through. (This is pretty analog for the height of the digital era.)
For example, if you go to a business website and search for something complex, meaning a multi-word, natural language question, you don't get a rich Google-like snippet in return. Instead, you get a list of links. See the example below: On the left is a query asking the difference between a 410(k) and an IRA on a bank's website. In this case the user gets a list of links to consider in order of relevance. But upon closer examination of the snippet of information under each link, it's hard to know which link will really be the most useful. So, it's basically a guessing game.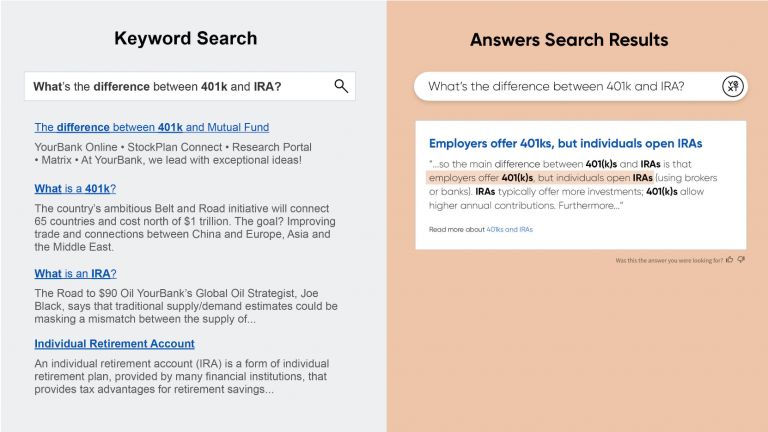 Conversely, with Extractive QA that same query is met with a specific answer. In the example on the right above, not only does the customer get the specific answer, more also a portion of the section of the unstructured document where the answer was pulled from. No clicking, no scrolling, and — most importantly — no guessing.
Answers For the Win
Extractive QA is a big deal because direct answers are more effective when it comes to creating a better customer experience and driving more business. In fact, site visitors who ask questions using more complex, natural language phrases convert 2.5x more than those who search short keyword phrases. In other words, the more a customer asks a question as they would in person, the more likely they are to take an action. Needless to say, answering their questions in the most efficient and effective way can clear the way for more business instantly.
The alternative? Simply put, customers will leave. Research suggests that most users will abandon a website if they can't find the answer they're looking for within 15 seconds. And it makes sense: if you can't find basic information you need prior to or after a purchase (e.g. a customer service question), it's incredibly frustrating. Why stick around?
But with Extractive QA, they will. And sooner than you think: on March 17th, Extractive QA will be available as part of our "Orion" platform update for spring. If you'd like more information, Yext will be hosting a webinar with Max Shaw (SVP, Product) on March 3rd at 11am EST (you can register here). So please join us to learn about how Yext is building modern, multi-algorithm answers search built for the age of AI so that every company in the world can wow their customers, grow their business, and accelerate their digital transformation.