It's no secret: we certainly like to talk about how businesses can increase searches, website clicks, and deliver better results with Yext Answers.
But if we talk the talk, we'd better walk the walk — and it felt like it was time to do a deep dive on how our own site metrics for Yext.com have really changed in the two years since we started leveraging our own platform.
The results? Pretty awesome, if we do say so ourselves: since adding a Yext-powered search experience to our website's navigation, searches on our website doubled from year 1 to year 2 and 5x'ed from year 2 to year 3. Clicks followed a similar trend — though their growth was somewhat less extreme, likely because no-click answers have increased. (No-click answers occur when the search results include a piece of information directly in the results. It's a good thing, as this is often the highest quality experience for simple questions and does not require a click — think how Google answers a query like "how old is Tom Brady?")
Beyond that, we saw even more good news: our Knowledge Graph (KG) results rates increased from 74% to 97%+ in that same two-year span — which backs up the "no-click" theory. Taken together, we can see that our customers are searching on our site, clicking more often, and, overall, finding better answers (generated by our KG).
But look, we're not just here to brag about how well our website works, we swear. We want to let you know what we did that worked — and how you can get the Yext platform to do great things for you, too.
How we achieved our results
Take a look at this illustration of the results we described above: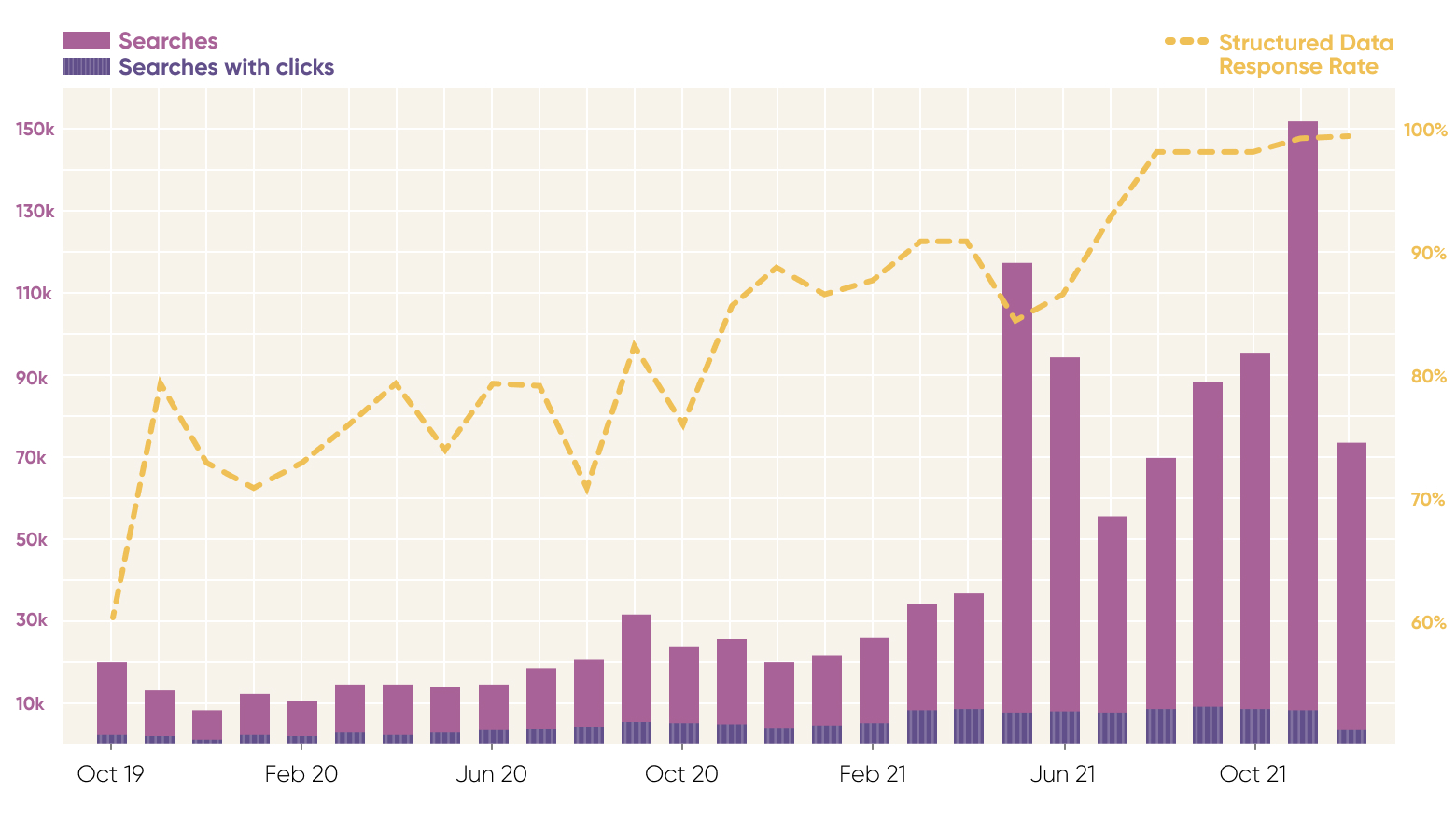 This growth in Answers searches, Answers clicks, and Knowledge Graph results is exactly what we'd want to see.
So, what did we do? (Apart from just saying, "let's use Answers!")
We created specialized experiences
Yext launched more than a dozen distinct search experiences, to solve for both internal and external knowledge gaps, but also to test various use cases for our own solutions.
In this vein, we also launched Answers experiences in four different languages, to allow global teams access to knowledge and broaden the user base of those experiences.
Essentially, our goal was to determine how users asked (natural language) questions on our site — not just about our company, but also about specific products, use cases and more — in multiple languages. Creating these specialized experiences set us up to gain better insight into consumer questions, and allowed us to optimize our site content accordingly as time went on. (More on this below.)
We gave the Knowledge Graph some TLC
Most importantly, Yext kept the information feeding those Answers experiences (the info in our KG!) up to date. That's how we tapped into the virtuous cycle of analyzing query data to understand what questions our users were asking, and then making sure they were getting a good answer — and consistently optimizing if they weren't.
The correlation between the effort we put into our Knowledge Graph and the increase in quality of experience is easily quantified. In the front half of 2021, Yext teams were making, on average, 7k updates to the knowledge graph per month. Some of these were manual updates, others were automatic, back-end type updates — so not all updates correspond to human effort. (And not all human updates require the same level of effort, especially when you consider that updates to brand names, or photos can be done at scale, applying to thousands of entities at a time.)
By the back half of 2021, that number shot up to about 100k updates to the knowledge graph per month, more than a 10x increase in monthly average Knowledge Graph updates.
Our effort ended up making a big difference: the surge in facts stored and updated in the KG corresponded to the growth in more helpful, more direct, structured data responses in the Answers search results — and our structured data response rate went from 85.6% to a nearly perfect 98.9%.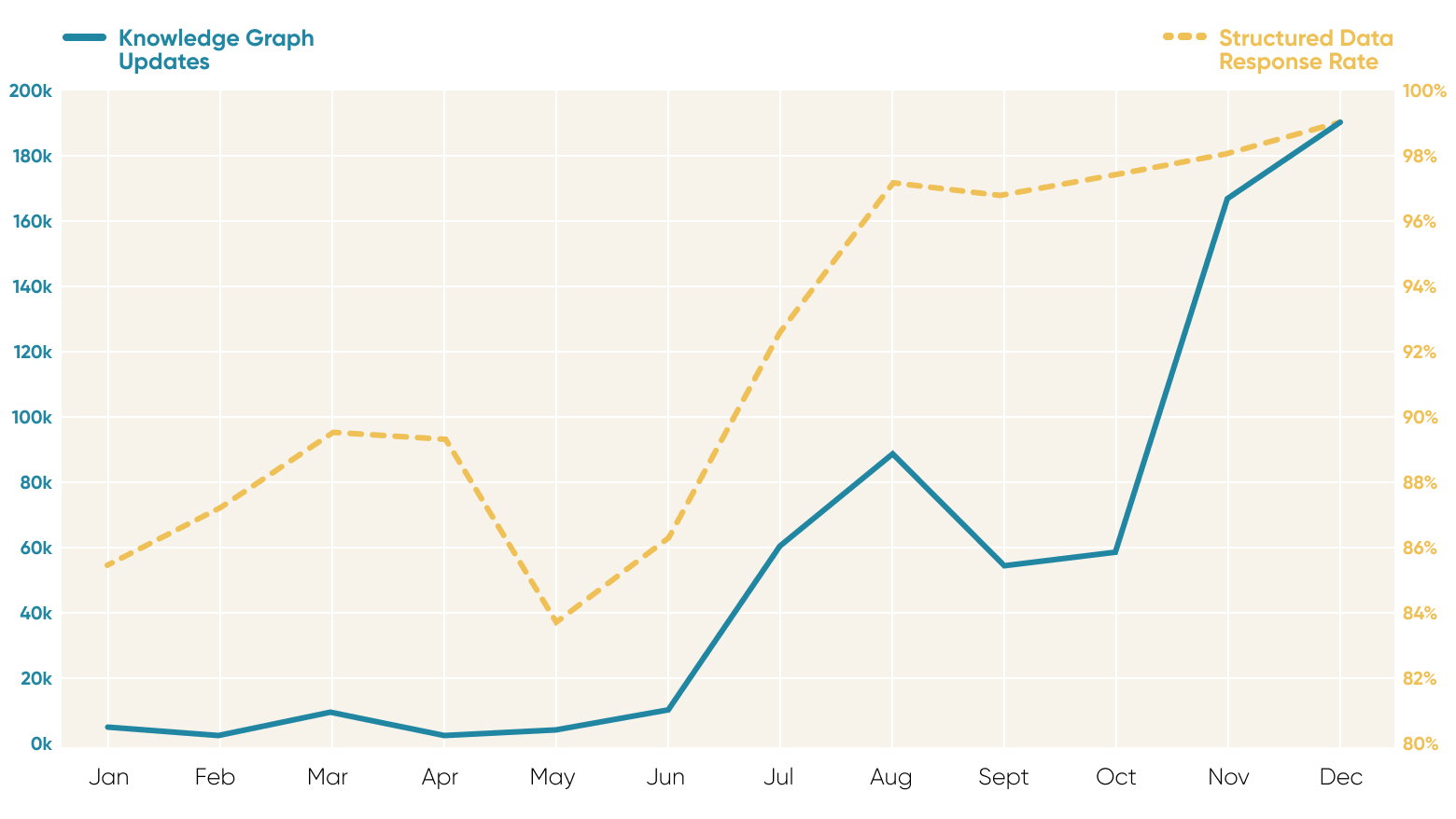 Leverage analytics + optimize what works for you
Now, does every business need to make 100k updates per month to have a perfect KG results rate? No way. In most cases, Knowledge Graph managers should simply make a targeted effort to answer the questions that customers ask most often — cross-referenced with the queries that don't (yet) get structured data in their search results.
Still sounds a little tough, right? But it's actually just one simple report in Yext Analytics that can tell you the queries that don't have a KG result, ranked by search volume.
On top of that, you don't need a perfect KG results rate to have a good Answers experience.
"Every client is different, and Answers is such a versatile search product that most metrics, including KG Results Rate, will fluctuate client to client," explains Anthony Rinaldi, our senior director of Data Insights. "Most clients — the ones serving the best Answers experiences — see around a 70% to 80% KG Results Rate. That tends to be the optimal number when it comes to client effort and end-user experience. If you can be in that range, or higher, you're doing great."
Essentially, you do "get out what you put in" when it comes to your Knowledge Graph. But that doesn't mean spending thousands of hours trying to get a "perfect" results rate — it just means that you should use the tools available to you. Take a look in Yext Analytics, find the three most common queries that don't have KG result, and make a few simple updates to provide an answer. If you do that, you'll be well on your way to a better KG results rate — meaning you'll be delivering more answers on your site.
Don't worry, we'll share more on that in upcoming research. But for now, know that with just a few easy steps, you can take better advantage of the Yext platform and deliver a better experience to your users whenever they search on your site.
Want to learn more about how you can build with Yext — your way? Click here.