Research shows that customers spend more time online and have higher service expectations post-pandemic* — which means your organization's customer support needs to be better than ever. But assessing your current support journey is challenging — not to mention managing your support teams in the midst of the "great resignation," with more than 70% of support agents saying they've considered quitting over the past six months.
As we explored in our recent webinar with Freshworks, support strategies are in need of an update — but while businesses are eager to take action, it can be daunting to know where to start. Here are four steps to help guide you towards a successful customer support assessment.
1. Look at touchpoints: Identify all of the different touchpoints involved throughout your customer support journey. DMs via your social profiles? Live chats on your website? Phone calls or emails to your support agents? Make a full list, and then think about which components of your support journey could be streamlined to be more frictionless.
2. Audit your knowledge management system: What system are you using for knowledge management? Do you have an existing knowledge base — and is it simple, user-friendly, and able to provide you with data to make optimizations? Continuing to optimize how (and what) information you provide over time is critical to keeping up with changing customer inquiries and evolving behaviors.
3. Evaluate your support content — and assess internal enablement: You've probably heard the phrase "content is king" — and the support space isn't immune. Take a look at your customer support content: how many support articles does your team currently have — for both internal use (helping agents provide answers to customers) and external use (such as public-facing resources that help customers self-serve)? When was the last time you did an audit to assess if they're organized, well written, and accurate?
Further, what internal resources or tools are you using to keep support content manageable (and easily accessible) for your support team? Can they easily search for what they need? Evaluate whether your current support systems and tech stack are helping with internal enablement — both for your general support staff and for your agents.
4. Pin down (and track) the important metrics: You can't measure improvements to your support experience if you don't know where you're starting from, so make sure you have a handle on the important metrics related to growth (common support metrics include CSAT/NPS, time to resolution, ticket volume, and the like).
For example: how many admins does your support team currently have? Do you have metric-driven goals for this year? If so, are your current support systems and technology helping stakeholders meet those key metrics?
As you assess these four categories, it's likely you'll have some questions. One for many businesses? How to balance tech-led and agent-led support. You want to streamline the experience — and, let's be honest, make support more cost-effective — but you also don't want to lose the "human touch" and alienate customers.
Here's the good news: when it comes to providing a better support experience by blending tech-led and agent-led interaction, AI search can help with both. Here's how.
How AI search helps you deliver better customer support — across the board
Let's zoom out for a minute: our research shows that 85% of consumerssay that being able to find information and resolve issues themselves without contacting customer support is either 'very important' or 'fairly important.' That should tell you that digital self-service options are a must for great support these days.
On the other hand, agents are still key to providing assistance with more complex issues. Despite customers' preference for self-service, calling support teams is still the most common practice across a variety of circumstances. In this instance, AI can enhance existing human workflows and help agents drive faster case resolution. According to Freshworks (our new support partner!), their recent study found that 1 in 3 decision makers implementing AI say that optimizing it to predict customer needs and deliver personalized experiences is a key consideration for driving returns on their investments.
So, how do these two important parts of the support experience converge? Through AI-powered, natural language search.
For customer self-service: Implementing natural language search across your digital properties (your website, help site, etc.) allows customers to search for exactly what they need help with — and actually get an answer. This works when someone searches directly on your website, but it can also help with handling case forms.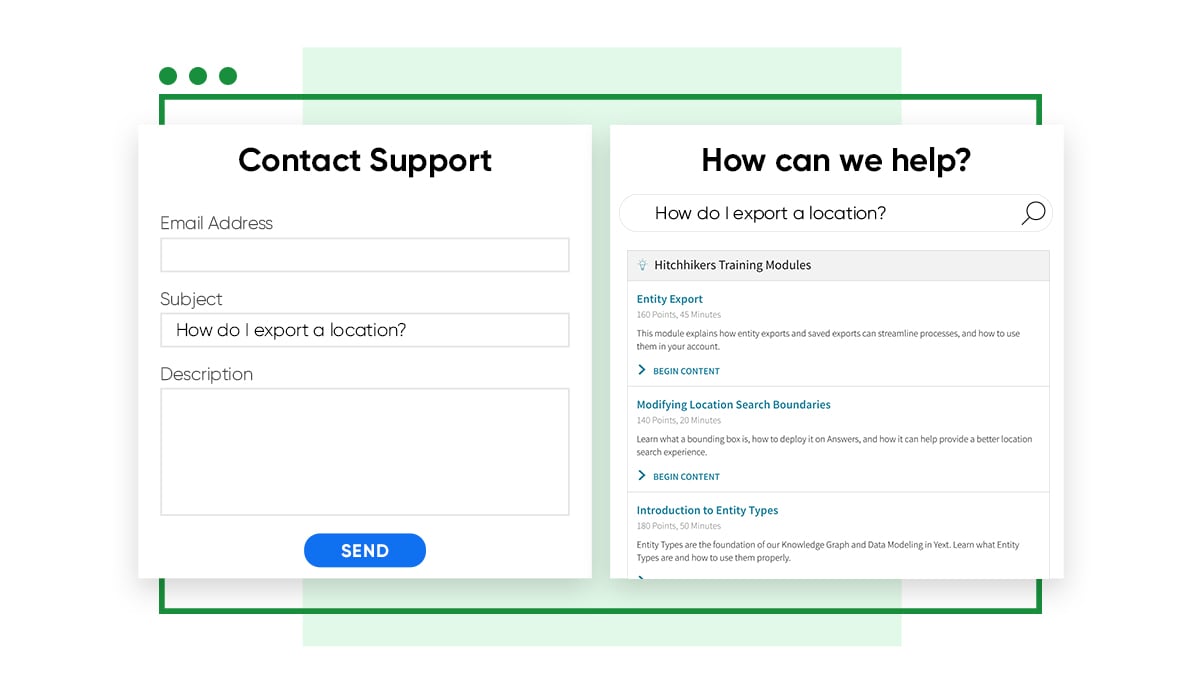 By integrating AI search within your traditional support forms, you can deliver relevant answers — in real time — to customers who are filling out the details of their issue. This way, customers can self-serve instead of having to contact customer support. In most situations, customers can get the answers they need without ever having to submit this form and create an additional ticket. This is an asset when 81% of all customers attempt to take care of matters themselves before reaching out to a live representative.
For agent self-service: Your agents can make great use of AI search when they're directly helping customers too. By aggregating your help articles, guides, FAQs, tutorials, product manuals, and other data sources into a Knowledge Graph, you can identify what your agents are searching for and then "and make optimizations that increase findability. This in turn assists with agent ramp up, general team empowerment, and mitigating agent turnover. The more easily your agents can find information and resolve issues, the better: 1 in 3 leaders believe that building new generation digital platforms to help customer-facing teams work better is a top digital investment priority.
"At the end of the day, the vast majority of customers don't want to spend any longer in a phone call or chat conversation than an agent does," explained Colin Crowley, CX Advisor at Freshworks. "And that customer is best positioned to understand how they can get their issue resolved as efficiently as possible. Maybe they need to call, or search, or chat. So, when you're empowering customers to make that decision, you're really empowering yourself for greater efficiency."
Support success starts now
When it comes to customer support in an era of declining brand loyalty, businesses can't afford missteps.
If you plan to launch a new support tool this year, the implementation process both externally and internally needs to be smooth. That's why it's critical to assess your support customer journey on the front-end — and to make sure that you and your team are aligned and know how to measure success.
Learn more here.
*Retail Dive, 2021