Bringing AI and Natural Language to State Government
Here's why a great search experience matters — and what steps state governments can take to deliver a better citizen experience.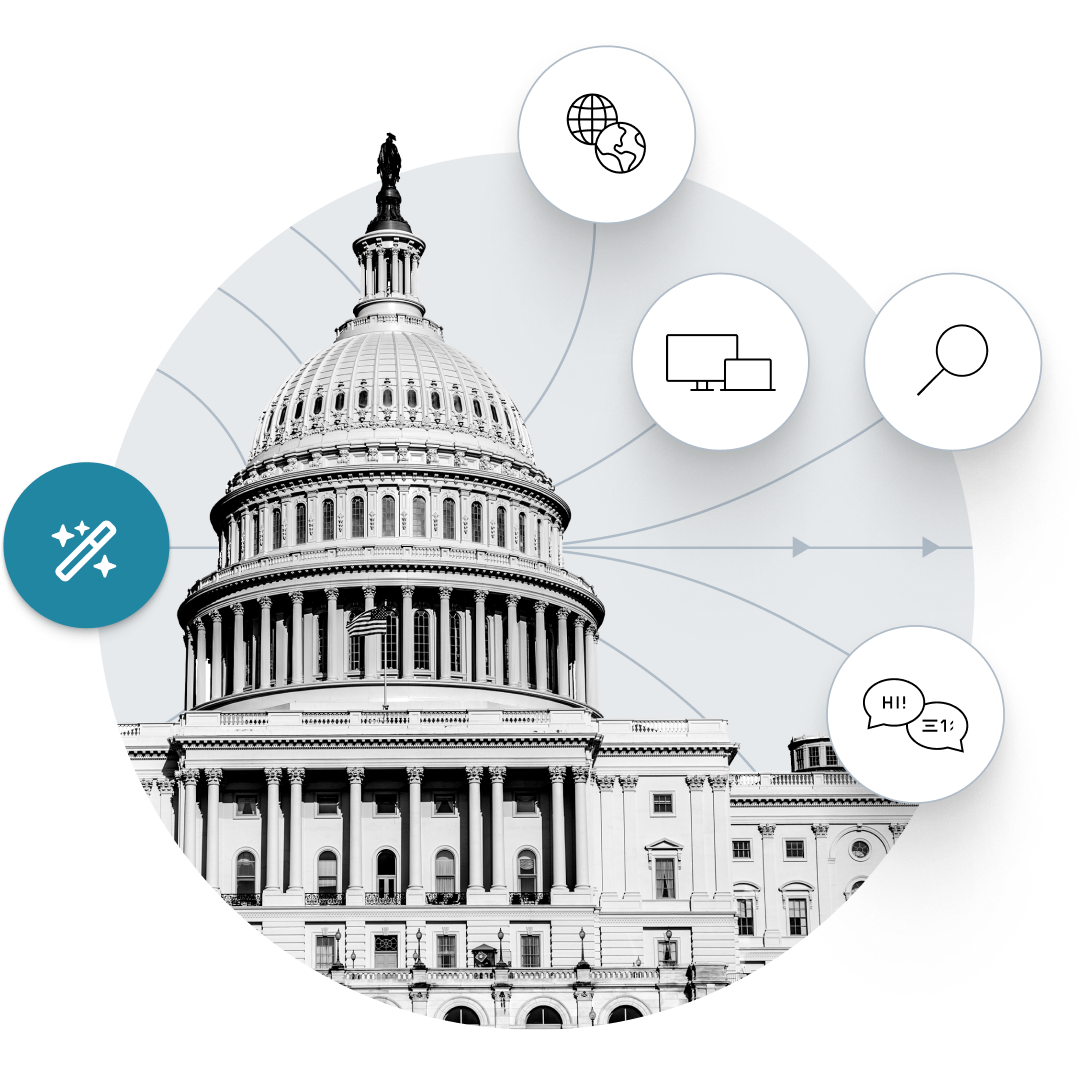 State and local governments provide an abundance of social programs, resident services, guidance, and other helpful resources to help deliver a better resident and visitor experience — but finding this information online can often be difficult because it is located across a myriad of places and databases. 
From tourists mapping out a visit to a state park or city to citizens looking for rent relief resources, there are dozens of vital reasons that citizens search on a government website. When people have questions about their city, their resources, and their wellbeing, they expect to be able to find guidance — but the reality of the search experience on most government websites leaves a lot to be desired. 
Why is Search Important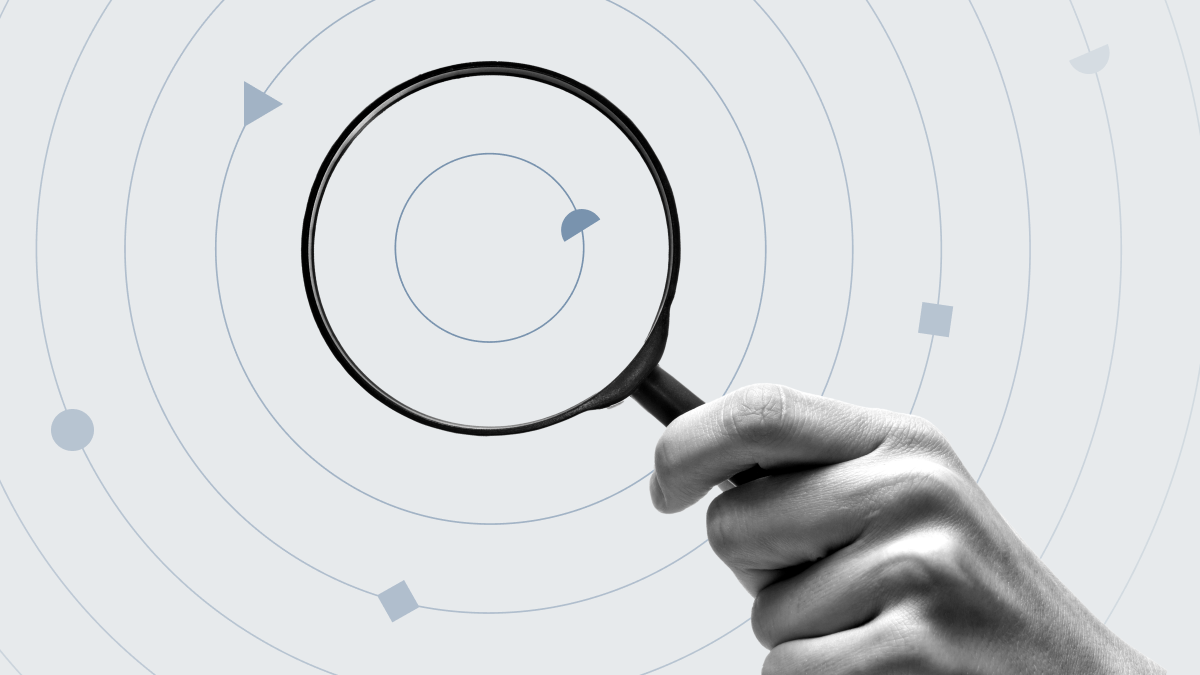 Search is playing an increasingly important role in how information is consumed online, with 90% of users leveraging search at all stages of their information gathering journey. However, most organizations do not provide an effective search experience: only 9% of users find an answer when searching for information on an organization's website and 34% of website searches end in a failure. Of these users who have a poor experience, 68% will not return to that website. 
These important searches are failing on government sites because most of them are using outdated search technology. When people type a question into their search box, they get back a list of hyperlinks that might contain one of the keywords they used — i.e. "polling location" or "tax refund" — but that lacks context. That's because the search bars on most websites don't know what people's questions really mean.
That's where AI-enabled search comes in. Over the last 20 years, Google has led the charge on making consumer search more robust. Instead of only using a single algorithm to scan for keywords and return blue links which may or may not be relevant, Google has incorporated AI — and specifically natural language processing (NLP)-- to truly understand questions and intent to deliver relevant answers. Now, these direct answers are what people have come to expect from Google, Siri, Alexa, and the like — and it's what your organization needs to offer if you don't want those 34% of important searches ending in failure. 
The key is to ensure that the search powering your organization's site is truly modern, based in AI, and thus designed to enhance the customer experience by understanding and answering important user questions. Features like NLP and extractive QA (an algorithm that allows your website to deliver featured snippets of information from long-form and unstructured data like product manuals, tutorials, or ebooks) ensure the rich content about your state or organization is accessible, so that citizens can actually self-serve when they have an issue or question – no combing through blue links or endless FAQ pages necessary. The end result is a better citizen experience and more government trust.
What State Governments Can Do With Better Search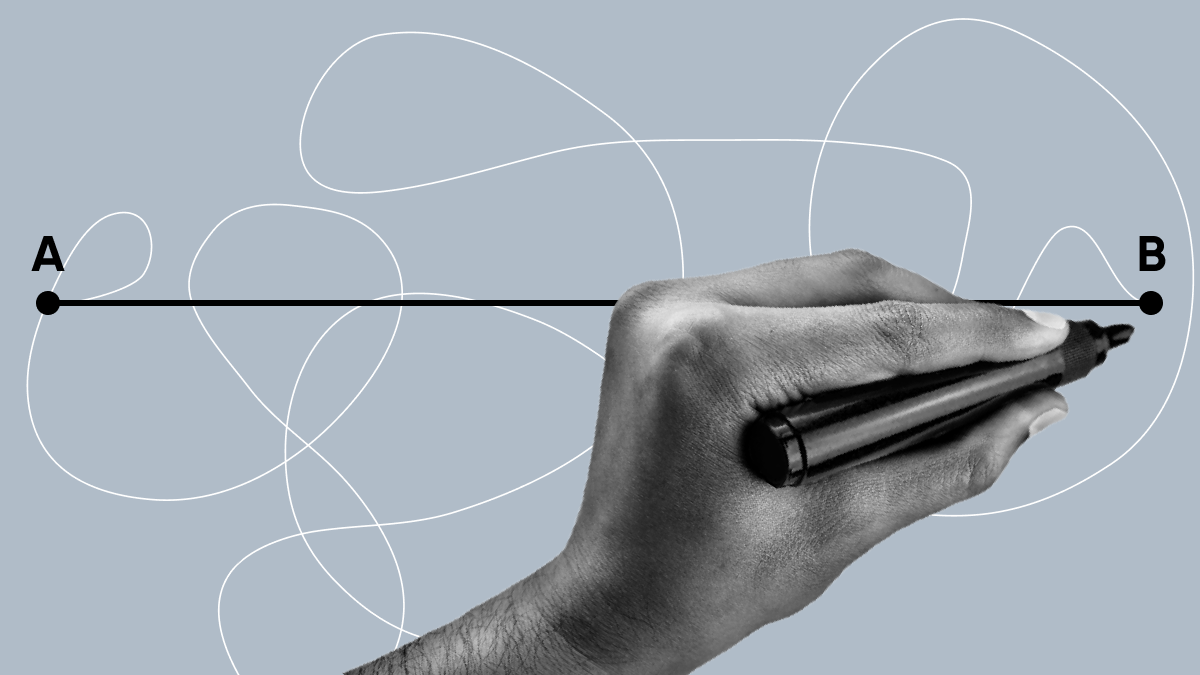 In this section, we'll illustrate what state governments can provide to people with a better search experience. 
1. Provide residents clearer pathways to information and services
First, let's look at an example of a state website to illustrate the difference between the two types of site search described above: keyword search and AI-enabled search based on natural language understanding. 
If you look at NY.gov and NYC.gov, for example, you'll see that residents can interact with a variety of government services such as education, employment, housing, and health services. But each of these services brings the user to a different site — oftentimes with incorrect information or unrelated blue links causing a frustrating experience. 
If, instead, they were to leverage AI search — based on a knowledge graph, where all of their information could be stored with flexible, bidirectional relationships – New York could give users an engaging, single, unified search experience. 
The example below demonstrates how all services potentially relevant to an individual asking about SNAP (e.g., HEAP, Child Support, etc.) can be surfaced and engaged with based on the intent of the query.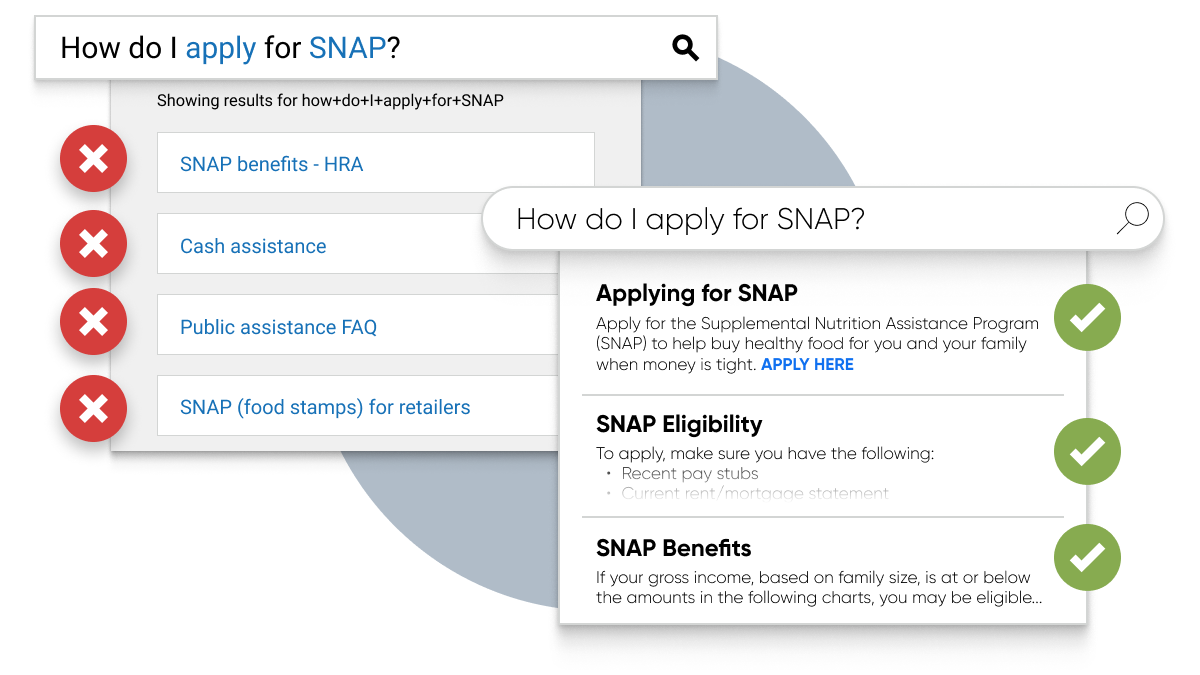 It's easy to see which of those experiences is clearer and more engaging. Providing clearer pathways to state services starts with better search.
2. Enable visitors to explore without having to ask for directions
State governments can also provide better information to visitors with AI search like Yext Search.
Anyone who has planned a trip, event, or even just a simple weekend vacation knows there are an endless number of questions requiring answers. One of the biggest complications of the pandemic on tourism was not just the closures and travel limitations themselves, but the inability for travelers to understand what limitations applied, how those limitations might affect their travel, or if those limitations even still existed. 
With tourism back in full force, ensuring visitors can easily understand and navigate the various activities, events, and services within the state via your website is essential — and it can facilitate more booked trips, attractions visits, and economic activity. The easier it is for visitors to search for information, the more activities they'll engage with in your state. 
3. Ease the Barriers of Technology Access Across Languages
With AI search, residents and visitors can search in natural language, asking questions like "how do I set up direct deposit for my tax refund?" or "what beaches are open this weekend?" – just like they do via Google. More importantly, they can do so in their native language. They ask questions and receive answers in whatever language they are most comfortable with. This functionality is critical for diverse departments, too: for example, a department of health in Texas might need to answer benefits questions in multiple languages — with English and Spanish being a priority. A DMV, on the other hand, might need to handle diverse inquiries related to how to exchange a license when you move from any one of dozens of other countries. 
This language flexibility allows visitors and residents access to search and find answers when they may have previously found websites, search engines, or other digital tools to be inaccessible.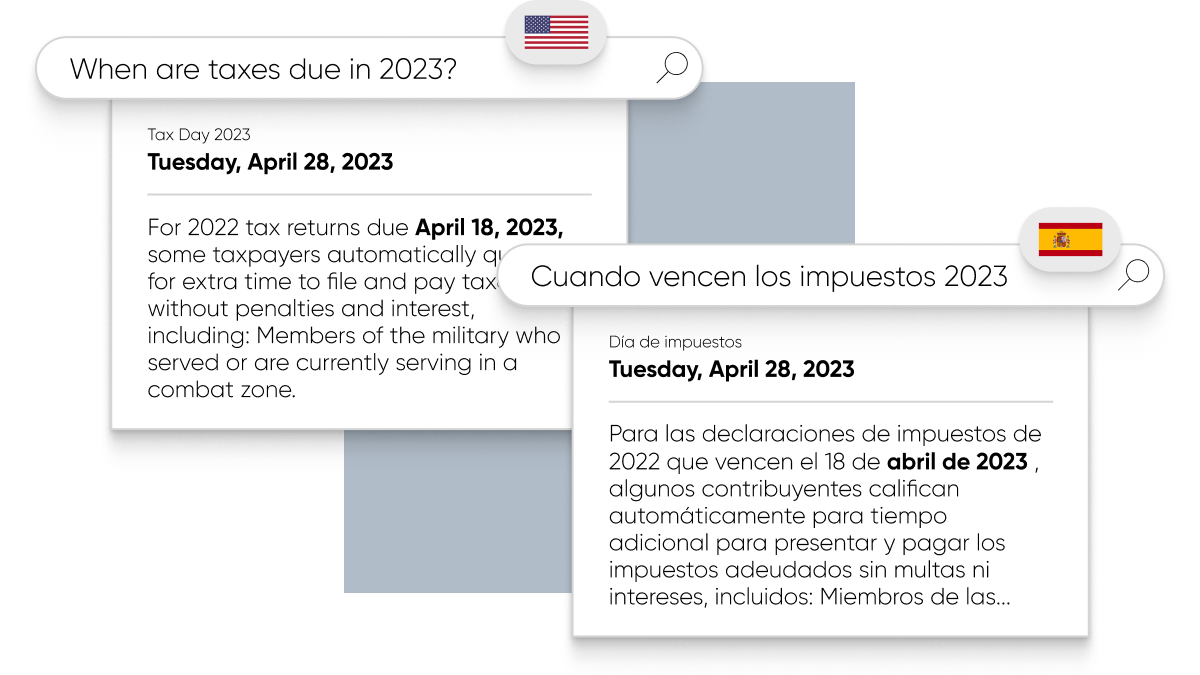 4. Gain insights into what residents and visitors want from government 
In addition to providing direct answers to visitors and residents, the right AI search solution can give states a candid look at exactly what people are searching for — and where.
Each query search can be captured and cataloged, providing insights into what residents and visitors care about, how they are engaging with content, and where potential content gaps may exist.
Yext Search can solve for all of these use cases for state governments — and more.
What is Yext Search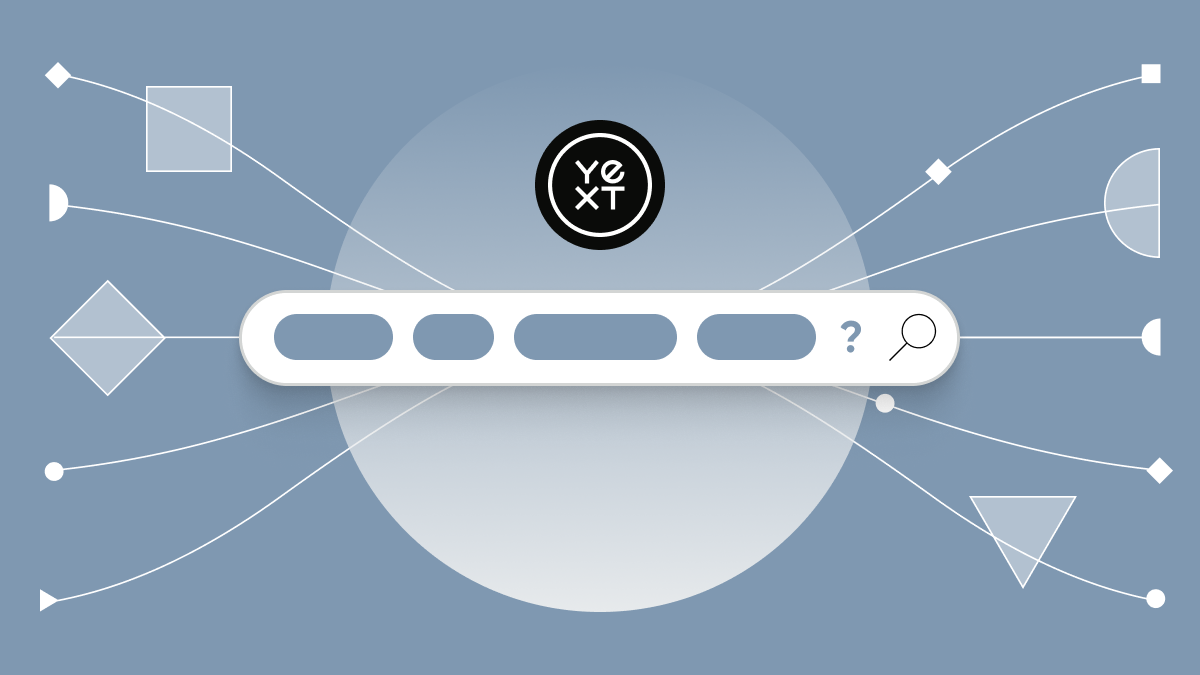 Yext Search allows organizations to build amazing AI-powered search experiences based on natural language understanding and using a multi-algorithm approach. Search provides the tools you need to answer your users questions on your website, in your app, or anywhere else people are searching.
With Search allowing organizations to distribute vital information at scale, state governments can provide visitors and residents with more relevant results, answer more questions, and increase their engagement with the various services and programs offered.
How has Yext Search delivered value to other organizations?
Yext has already provided search solutions to multiple states, higher education organizations, health systems, and government organizations such as the World Health Organization.