Your customers have a million problems — and they need your help.
Okay, a "million" is an approximation. One million annual contact requests for customer support might seem like a really high number for local businesses or startups — or it might feel paltry to global brands. But it's a useful round number to use to start thinking about how many customers end up submitting a support ticket, versus using the self-serve tools that brands provide to resolve issues independently.
We'll explain. But to figure out where most customers are getting frustrated and turning away when they look to resolve brand issues — and what tools businesses can leverage to change that — let's walk through those "one million journeys" and take a look at what's going on.
58% of people will go to your website first when they have a problem
Recent Yext research finds that 58% of people will go to your company's website first when they have an issue — while 40% will take directly to the phones, support emails, social media channels, or some other means of contacting the company directly.
In our "one million problems" example, that 40% figure results in 400k tickets being raised before you have a chance to deflect them with more cost effective digital solutions. That's both costly and time consuming.
As companies invest more heavily in digital support solutions such as chatbots, customers will likely start to learn that the best way to get specific answers to their questions — and fast resolution of their issues — isn't pinging a call center or support email alias. But this is a long-term trend, so for the purposes of this model, let's hold that "400k tickets generated" constant.
So of the one million problems customers are having, we're working with digital means to cut into 58% of them — in other words, focusing on the 580k people who would come to your website to try to solve their issue.
The same Yext research also suggests that when a user comes to your site with a problem, 52% more users will use site search to find what they need rather than follow the traditional click-based navigation method. "This aligns with what most of our clients and prospects are saying when we discuss the number of searchers on their website — that there's a 60-40 split between searchers and traditional navigators," said Joe JorczakHead of Industry, services and support at Yext.
But your brand might be turning away up to 90 percent of on-site searchers
So, let's say that about 40% of those 580k website visitors in our example are hardline traditionalists when it comes to site navigation — either because they haven't noticed your tiny site search bar in the top corner, or because archaic site search has let them down too many times. Bounce rate benchmarks across the web suggest that half of website visitors who try to click-navigate to a solution will fail and probably end up raising a ticket. That's 115k tickets raised from the 230k website visitors who try to navigate, not search, on your site.
Of course, just as site search can be improved, so too can your site's navigation structure. But a network of links and dropdowns can only grow so much before your website begins to feel like an endless hive of information that's largely irrelevant to any individual customer's issue.
This leaves us with roughly 60% of those 580k website visitors who interact with your site search, or 350k site searchers, and this is where the money is saved. Although most customers want to trust site search, most site search solutions have a nearly non-existent answer rate — where the blue links returned by archaic site search just don't answer the questions asked. For the purposes of this model, we'll say that traditional site search answers around 10% of questions — but we've all seen this before, and we know that our question isn't getting answered here.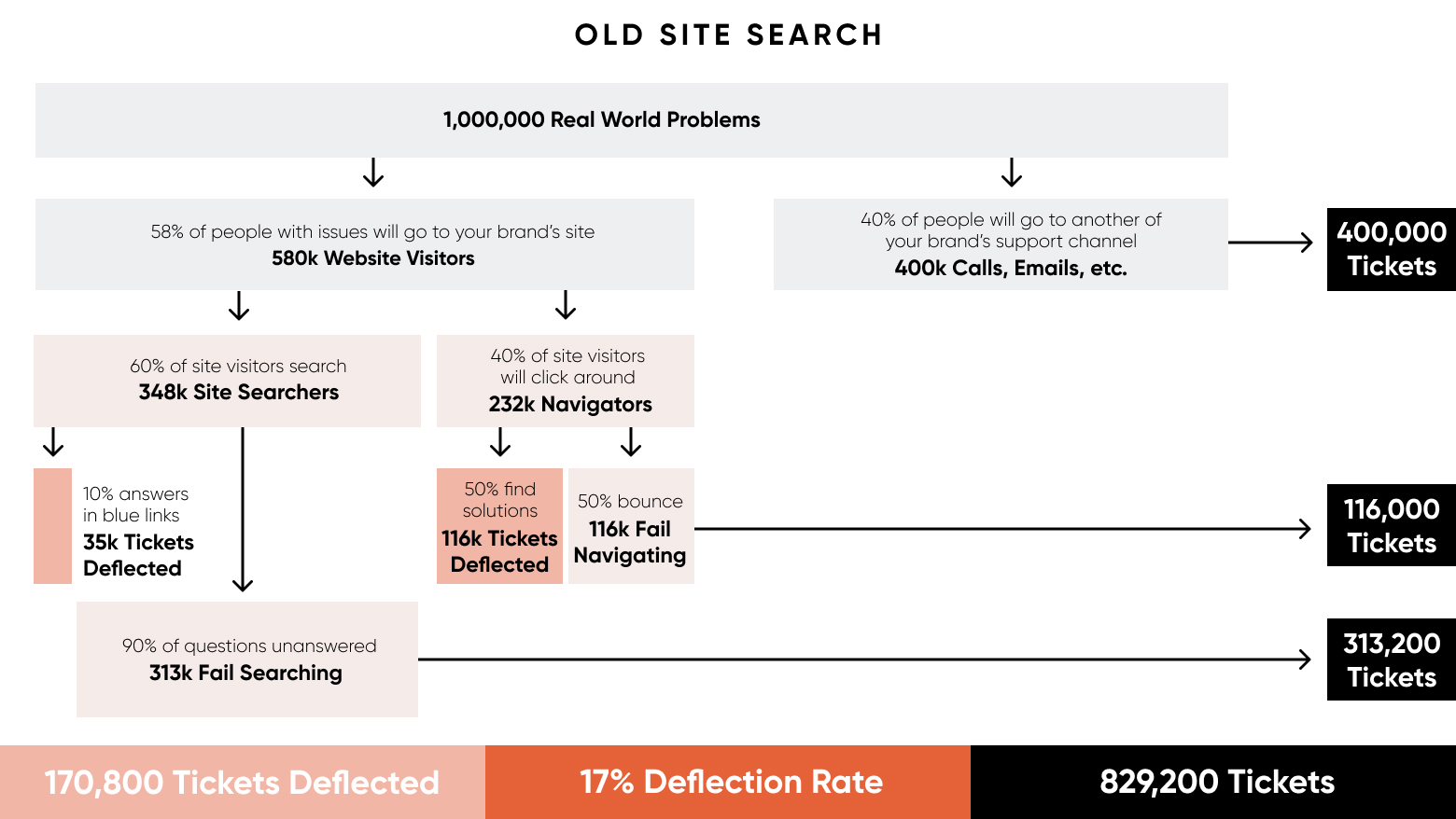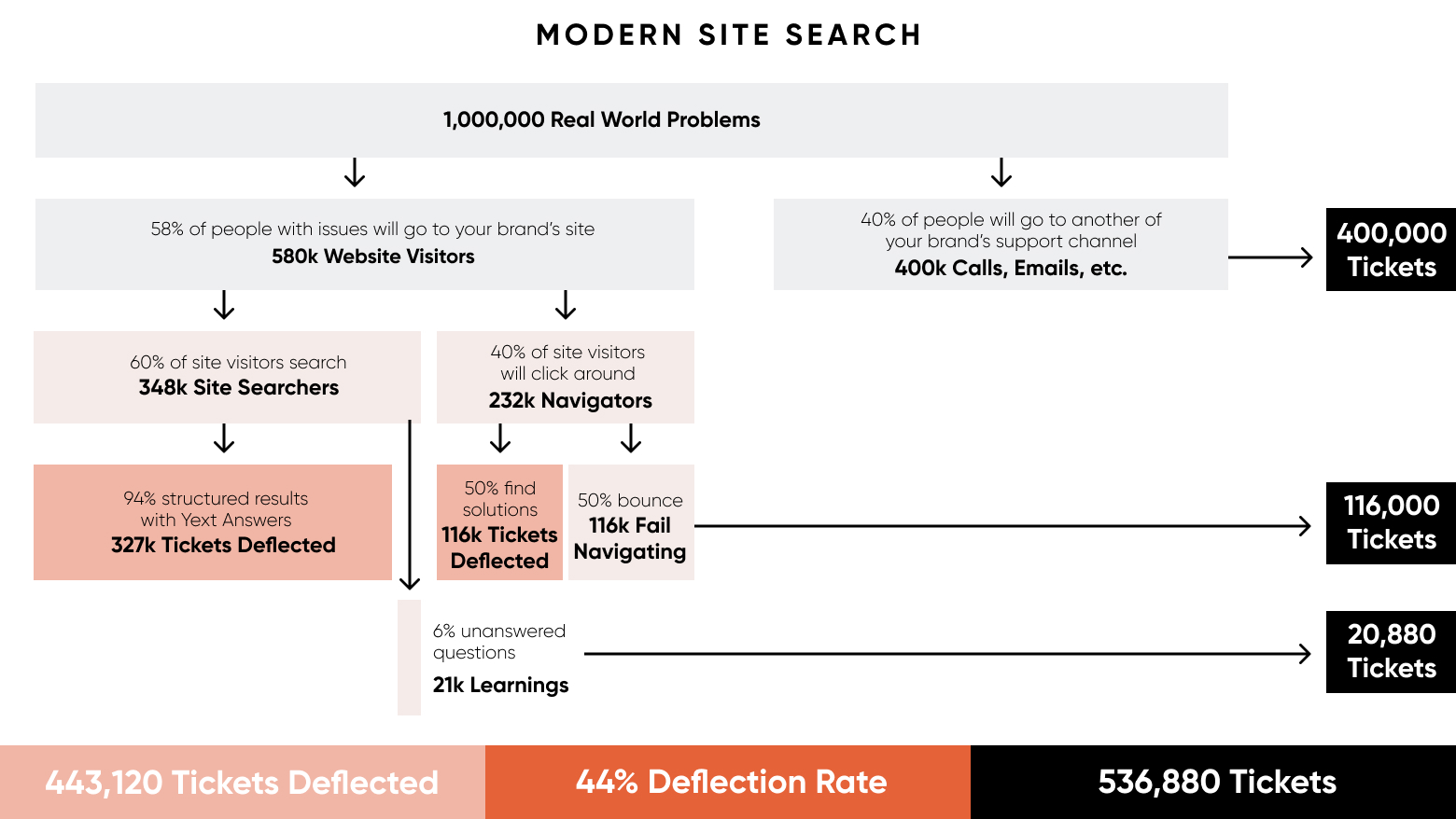 "We're finding that the answer rate from these traditional site search solutions is nearly nil. Ten percent is conservative, but it's likely closer to zero percent," Jorczak added. A blue link is just not the same as getting structured information back, or getting your questions answered directly by AI. And because old site search solutions are built on algorithms from the 90's, the blue links often aren't even relevant to the question asked.
This means that, if you're using an outdated site search solution, you could have customers make it all the way through searching on your site — just to turn 90% of them back to a higher cost channel like a call center. For those keeping score in our example, of the "one million" problem, that's 400k tickets from non-digital solutions like call centers, 115k tickets from failed site navigation and now 315k tickets from failed site search. That 830k tickets out of one million problems, or an 83% ticket creation rate, and a 17% case deflection rate. It's going to be costly to answer all those tickets, and even if you can squeeze a few percentage points out at each step along the way, it's going to take something much stronger to get that case deflection rate to a better place.
This is where we believe we've found a better way with Yext's Support Answers Solution, which operates with the Yext Answers site search product at its core. Site search done right can tackle customer support questions, with Yext Answers sporting a 94% rate of answering questions with detailed structured data. To do the math, that leads to nearly 330k of the 350k people who turn to site search getting their issue resolved without raising a ticket.
What's more, with a modern, AI-powered site search solution, brands can get detailed insights into the remaining 6% of questions that didn't get answered — allowing them to quickly spin up an FAQ or add another type of entity to answer those questions. Finally, a solution like Support Answers doesn't just deliver more answers to customers in need: it provides a more efficient way for agents to find information across an organization — and resolve issues more quickly themselves.
In the end, even without improving beyond that 94% answer rate on site search, this means that *440k of 1 Million, or 44% of all tickets are deflected with a modern, AI-powered search solution — which is not only more cost-effective but customer friendly. Take it from Samsung, for example, who increased their customer satisfaction (CSAT) by 33% and their net promoter scores (NPS) by 44% with Yext Support Answers.
The final score? Truly modern, AI-powered site search in our example can help deflect an estimated 27% more tickets than the site search solutions of the past — saving businesses money and saving customers heartache.
The summary?
Old Site Search:
116k Tickets Deflected at Navigation
35k Tickets Deflected at Site Search
= 171k Tickets Deflected of 1M Problems
= 17% Deflection Rate
Modern Site Search:
116k Tickets Deflected at Navigation
327k Tickets Deflected at Site Search
= 443k Tickets Deflected of 1M Problems
= 44% Deflection Rate
To compare: 17% vs. 44% = 27% More Tickets Deflected by Modern Site Search
Click here to learn more.