During Earth Month, environmentalism and conservation efforts are top of mind for many of us. But a truebusiness commitment to sustainability can't only be about posting on Earth Day — it has to be a year-round priority.
Your customers are certainly thinking about it that way: in a recent survey conducted by Google, 82% of consumers reported sustainability as a top priority when making purchasing decisions. Customers are becoming increasingly eco-conscious, as reflected by trending search terms like "recycling," "climate change," and "sustainability."
To account for this shift in consumer preferences, Google recently released a set of recycling attributes for business profiles. These attributes allow businesses to raise awareness for their recycling programs and highlight a wide range of accepted materials. As a result, people looking for in-store recycling can more easily pinpoint local businesses with the services they need.
Put simply, if your business is already engaging in these types of initiatives, you have the opportunity to show it — in a way that makes this information easily available to your customers when they search. Adding this information can help businesses stand out — particularly in results for competitive, unbranded queries like "battery recycling near me."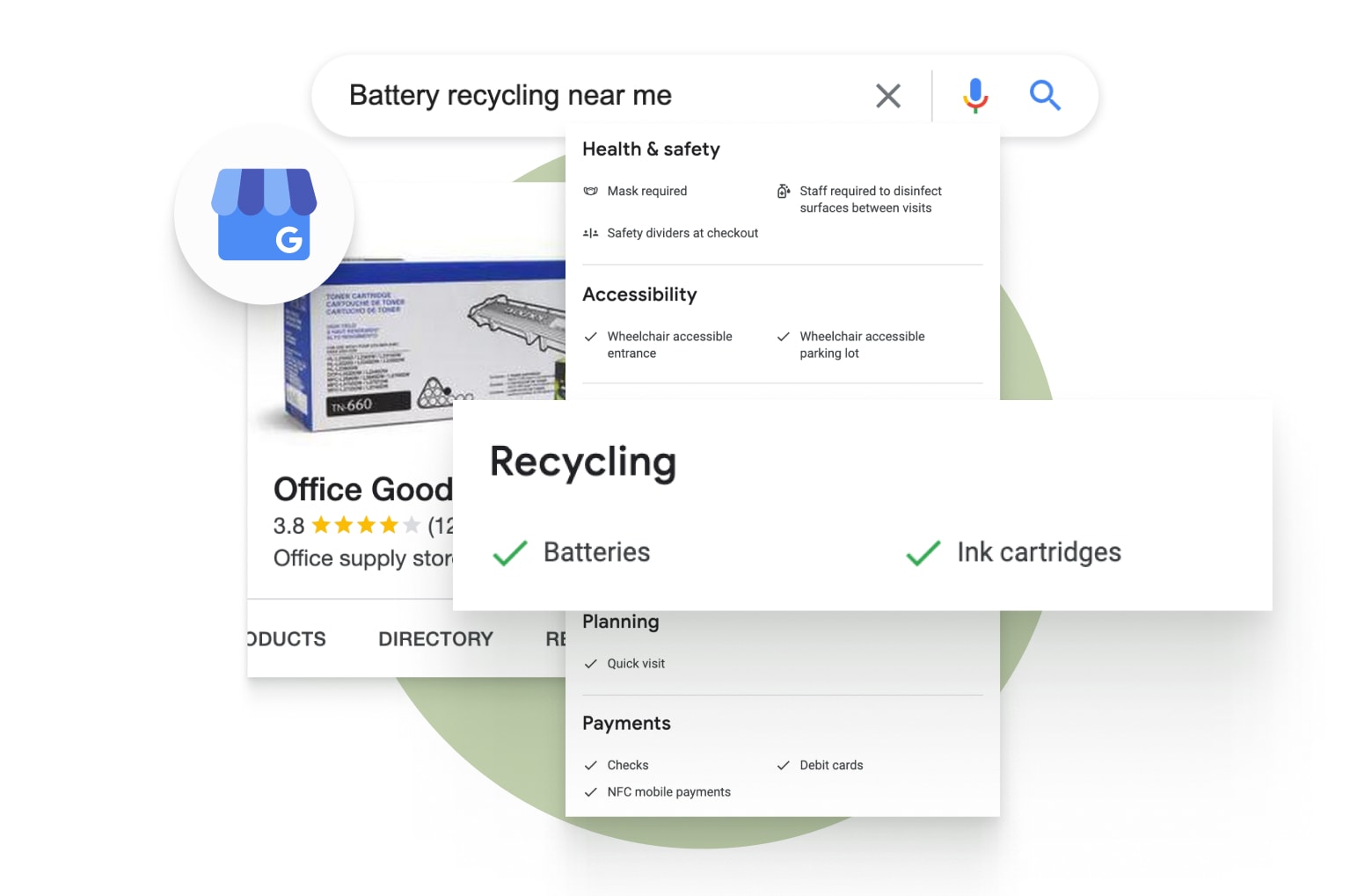 Note: Example listing can be found here. Recycling attributes are only visible on mobile.
This process works for a wide range of business types, and it's something businesses across verticals should take advantage of in managing their listings.
It's also something we care a lot about at Yext. So, let's take a look at how businesses can add some of these attributes more easily.
Adding Attributes to Listings in Yext
Yext has worked closely in partnership with Google to add sustainability attributes to the Knowledge Graph as built-in fields. Yext customers can now seamlessly sync this information to their Google My Business listings in real-time to demonstrate their business's commitment to environmentalism.
Recycling Attributes are automatically available for all entities with an eligible business category. This Community post details a full list of recycling attributes, as well as the corresponding Yext categories that are eligible for each field.
Locations that have an eligible GMB category will automatically see these fields in the Google My Business Attributes section of the entity profile in the Yext Knowledge Graph: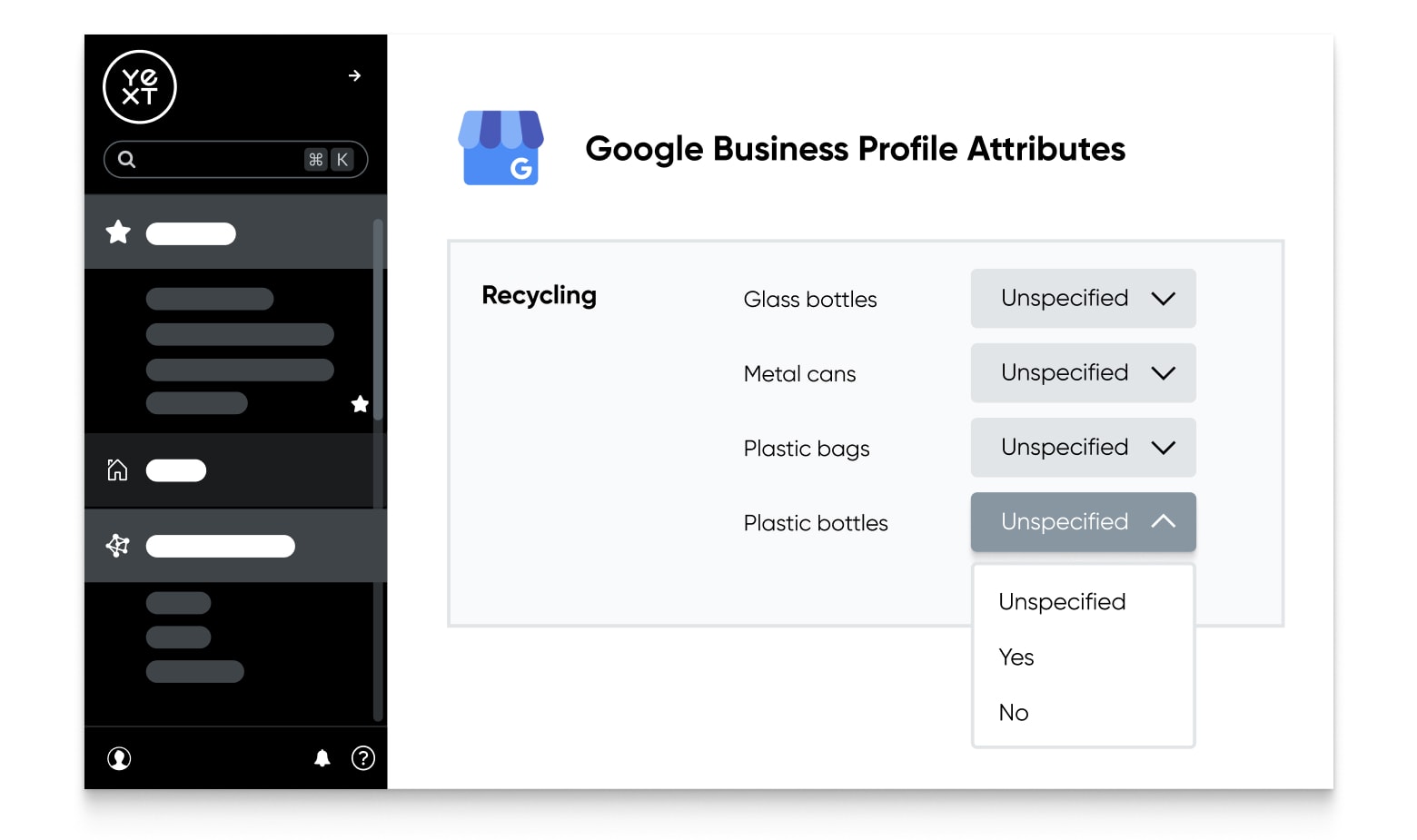 Sustainability Fields for Hotels are automatically available for all Hotel entities. This Community post has a full list of available fields along with steps to add this information to the Knowledge Graph.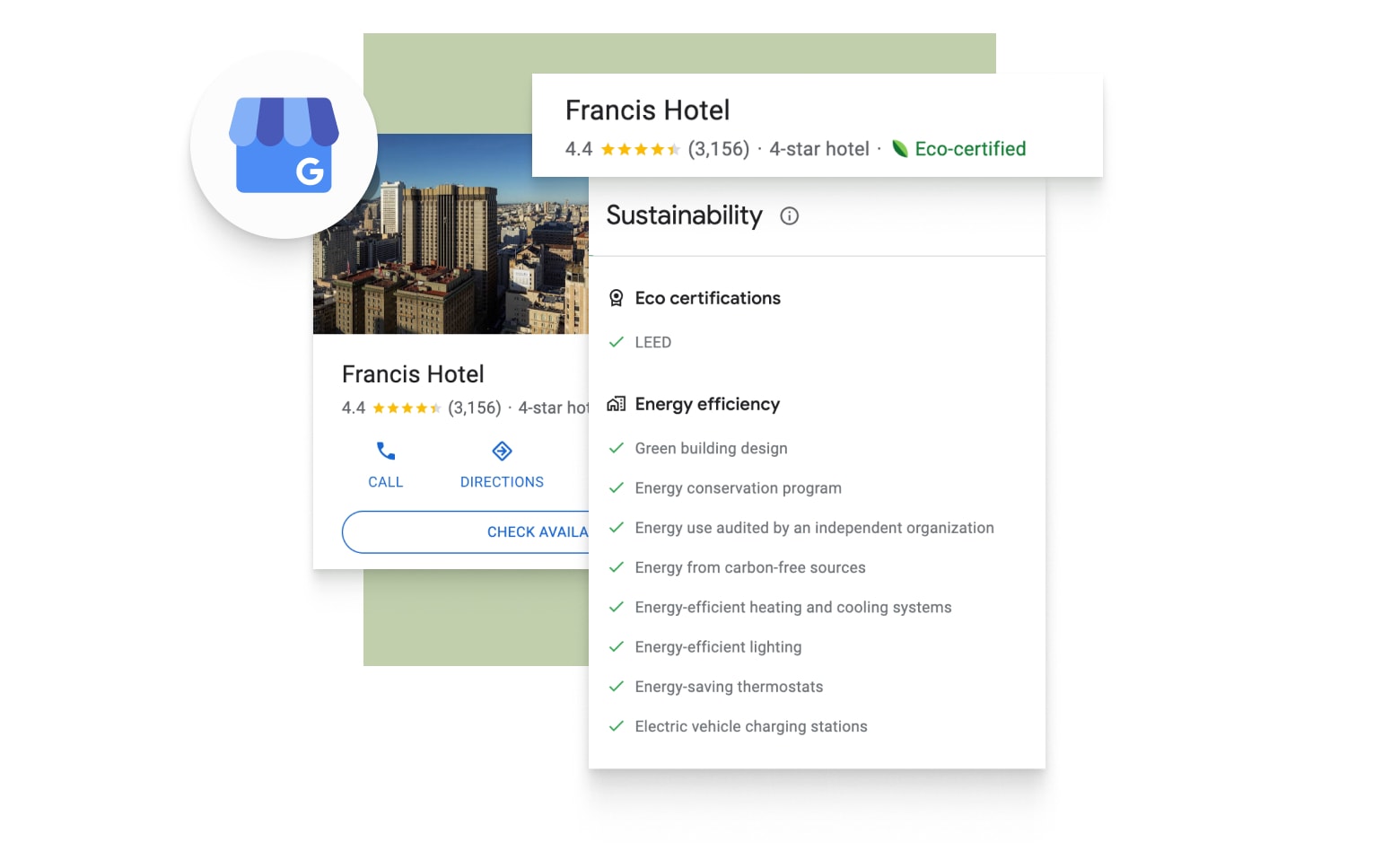 Our Commitment to Sustainability
At Yext, we are committed to creating more sustainable practices, and prioritizing the environment. We're educating our global workforce on the impact of our carbon footprint and implementing emission reduction strategies. We recognize that serving our employees and clients means more when we are also serving our community and planet.
To learn more, visit yext.com or reach out to your account team.