According to the most recent data available in our Yext Data Hub, retail as a whole has increased 4x in both Google Maps Impressions and Google Search Impressions since 2019. That's a significant increase — and, as such, we wanted to dig deeper into these insights and share some relevant takeaways for our retail audience.
To start: it's important to note that this growth trend is certainly correlated with Google's growth as a company, but it is also indicative of shoppers' increasing willingness to use a search engine during their purchasing journey. (Additionally, the sample of Yext clients used – 155k locations across 11k businesses that have been partnering with Yext for the duration – may have also experienced a positive performance trajectory that is not typical of every retail business.)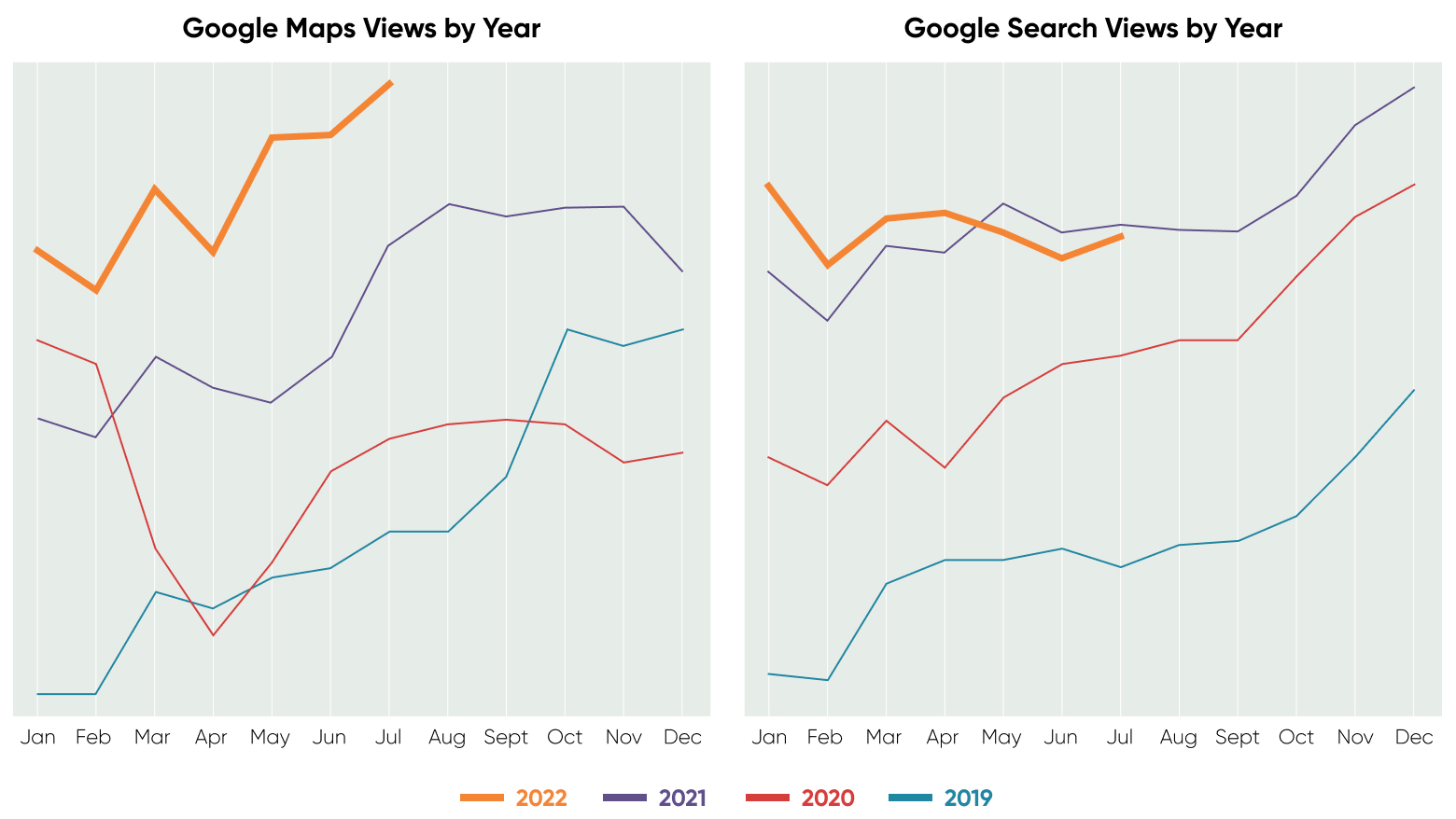 Search Views and Maps Views experienced a somewhat inverse relationship over the past few years, as search engines users stayed in their homes more in 2020-2021, searching more from desktops. When those same users began to venture out more in 2022, they likely searched more from mobile, specifically on the Google Maps app. The resultant data shows that Search Views were inflated in 2020-2021, and returned to normal in 2022, while Maps Views were deflated and re-surged. Both maps views and search views – and both mobile and desktop searchers by proxy – remain critical channels for customer acquisition in retail.
Now, let's dive deeper into several shifts in relevant subverticals.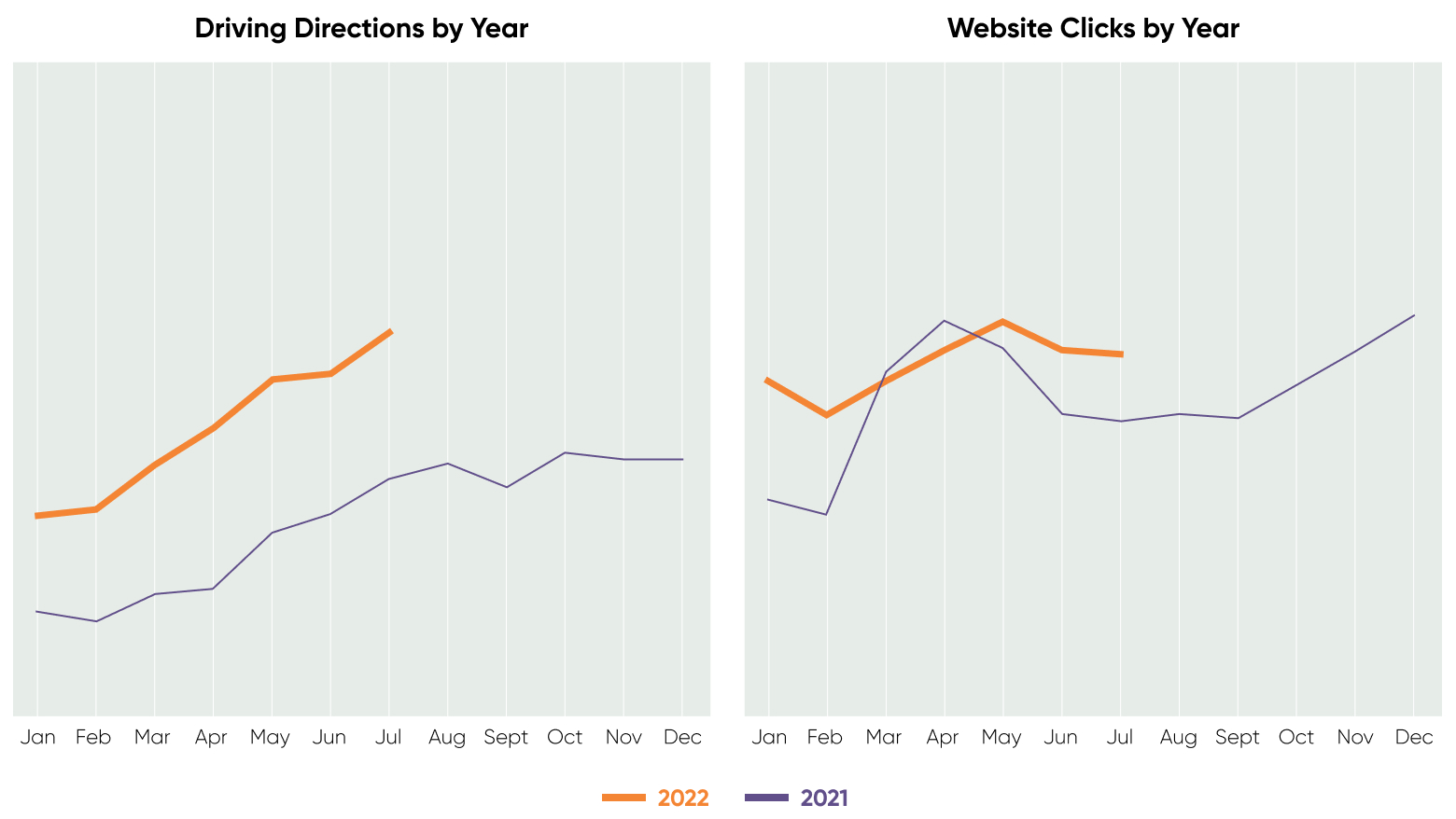 Clothing Subvertical
Clothing is typical of this shift in search behavior, but we can gain more insight by looking at the types of engagement that this subvertical experienced. Focusing on just the last two years, Clicks for Driving Directions, a good proxy for brick-and-mortar foot traffic, grew by 67% since last July. The interesting thing is that Clicks to Website, a good proxy for eCommerce as a whole, has maintained strong year-over-year growths, with June up 22% and July up 25%.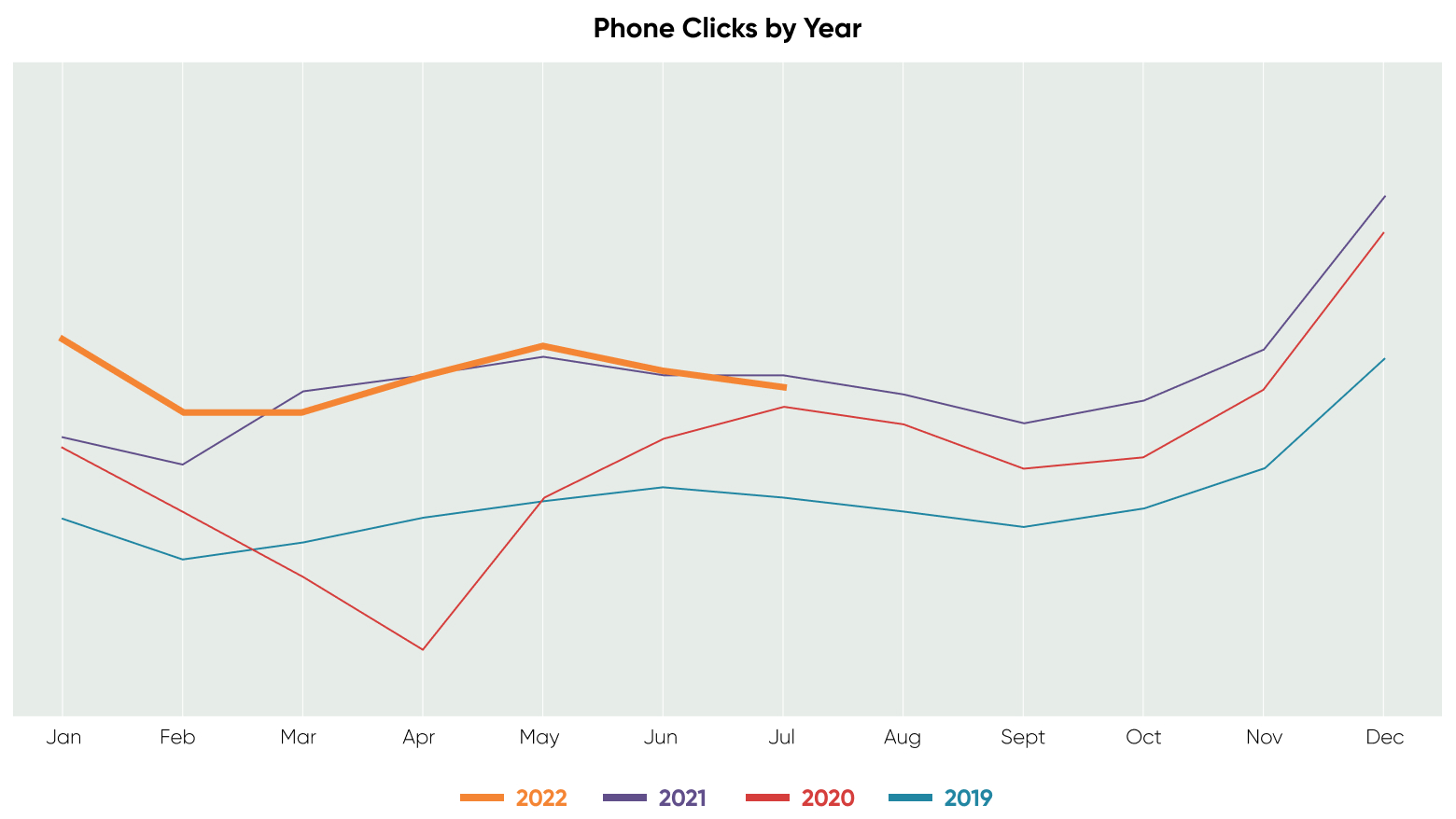 Clicks to Phone Calls are more or less flat year-over-year since July 2020, but this comes after a large surge in phone calls from 2019 to 2020, when many customers had plenty of questions around closings, hours, stock, etc. This is to say that perhaps the call quantity surge from the pandemic is here to stay, unless brands can find more efficient ways of answering those questions.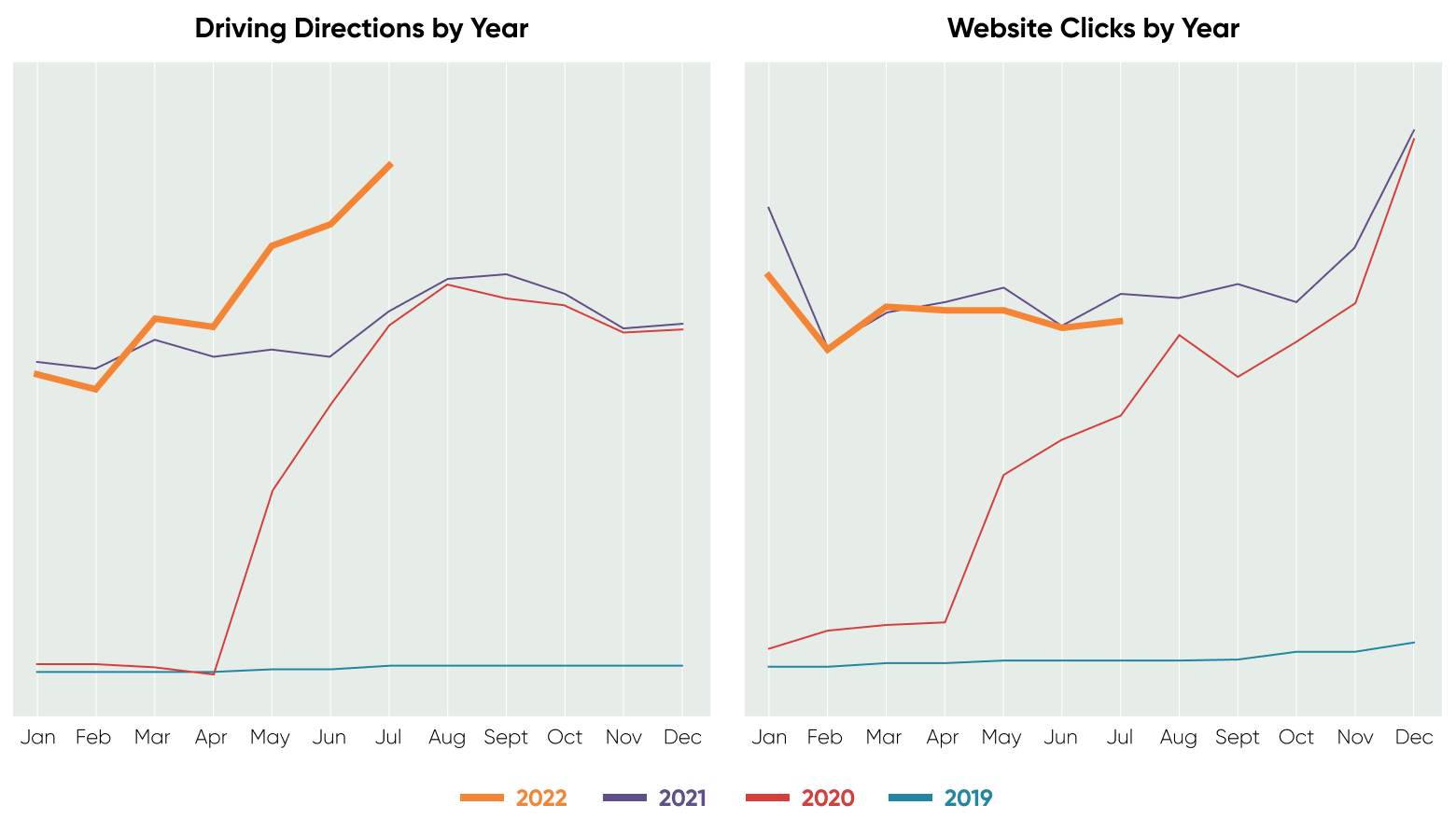 Grocery Subvertical
Another surge that's here to stay is the shift in the Grocery sub-industry. Typically a subvertical that's not as easily tracked – most customers stay so loyal to a single location that they rarely need to check hours or get directions – Grocery saw huge surges in nearly every metric in the last few years. Clicks for Directions and Clicks to Website saw 10-20x growth back in 2020. Mathematically, that's indicative of comparing something to nothing.
That's relevant now because those numbers aren't going down: website Clicks are staying flat this summer, as the users who discovered grocery delivery services or buy-online-pick-up-in-store (BOPIS) portals for their favorite brands may be sticking to this new mode of shopping. Directions clicks are actually continuing to go up. The theory is that customers may actually be trying out new brands, new locations, or have since moved and now need to find that new shopping staple.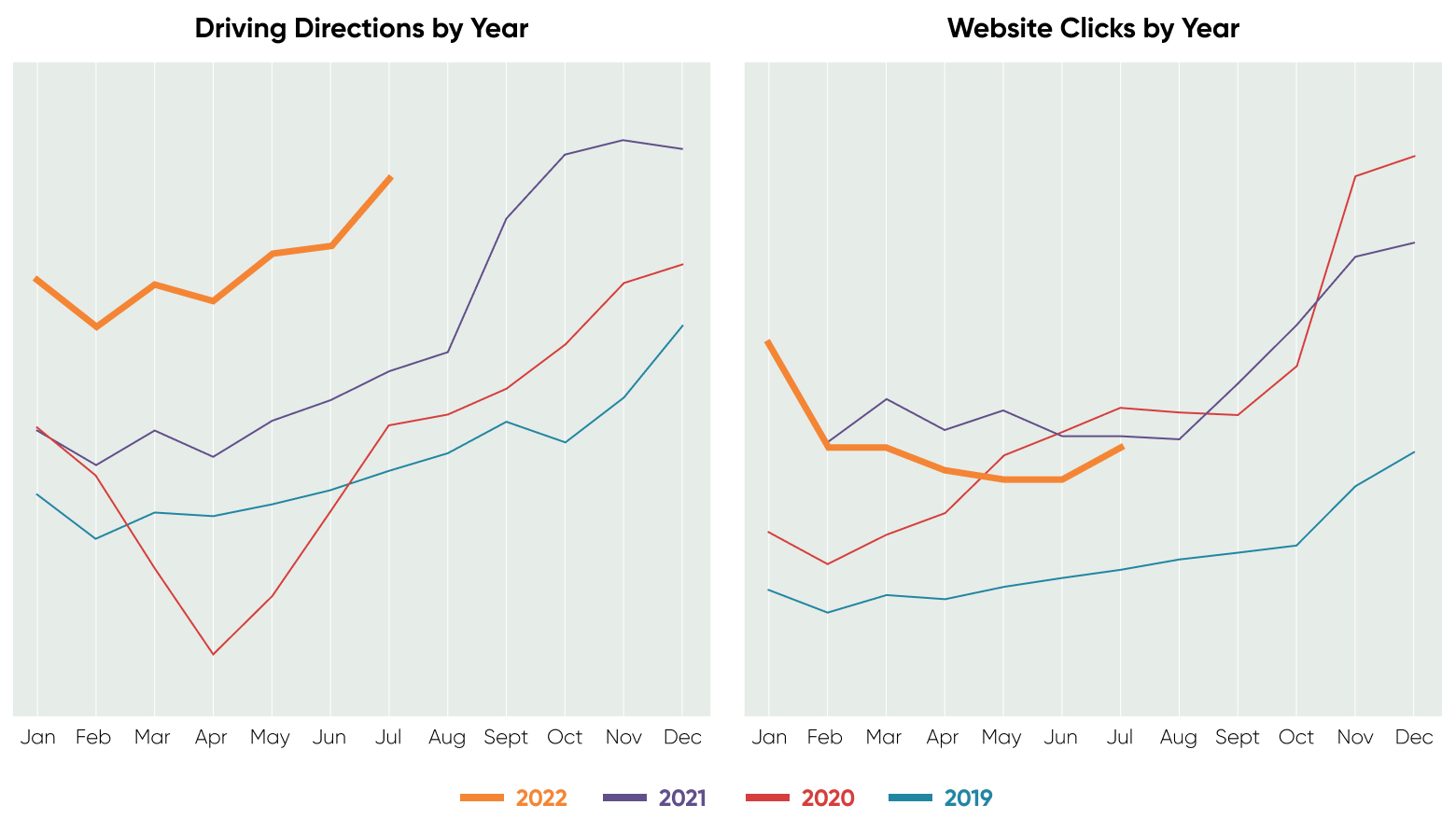 Consumer Electronics Subvertical
Contrary to groceries, consumer electronics are typically goods that have been associated with disposable income, thus are expected to fluctuate with the economy as a whole. But our data may suggest that Consumer Electronics are now more of a necessity than in years past. While Clicks to Website have regressed somewhat (the above inverse relationship between mobile and desktop shoppers can be extrapolated to EComm vs. in-store shoppers), Clicks to Directions have grown far more than expected. While the former lost only a few percentage points, year-over-year, this July (-4.5%), the latter grew 57% in the same timeframe. Volumes being roughly equal last year, this indicates that more people in aggregate are seeking out Consumer Electronics (or at least seeking them out more actively online) in the last four years, despite something of an economic rollercoaster.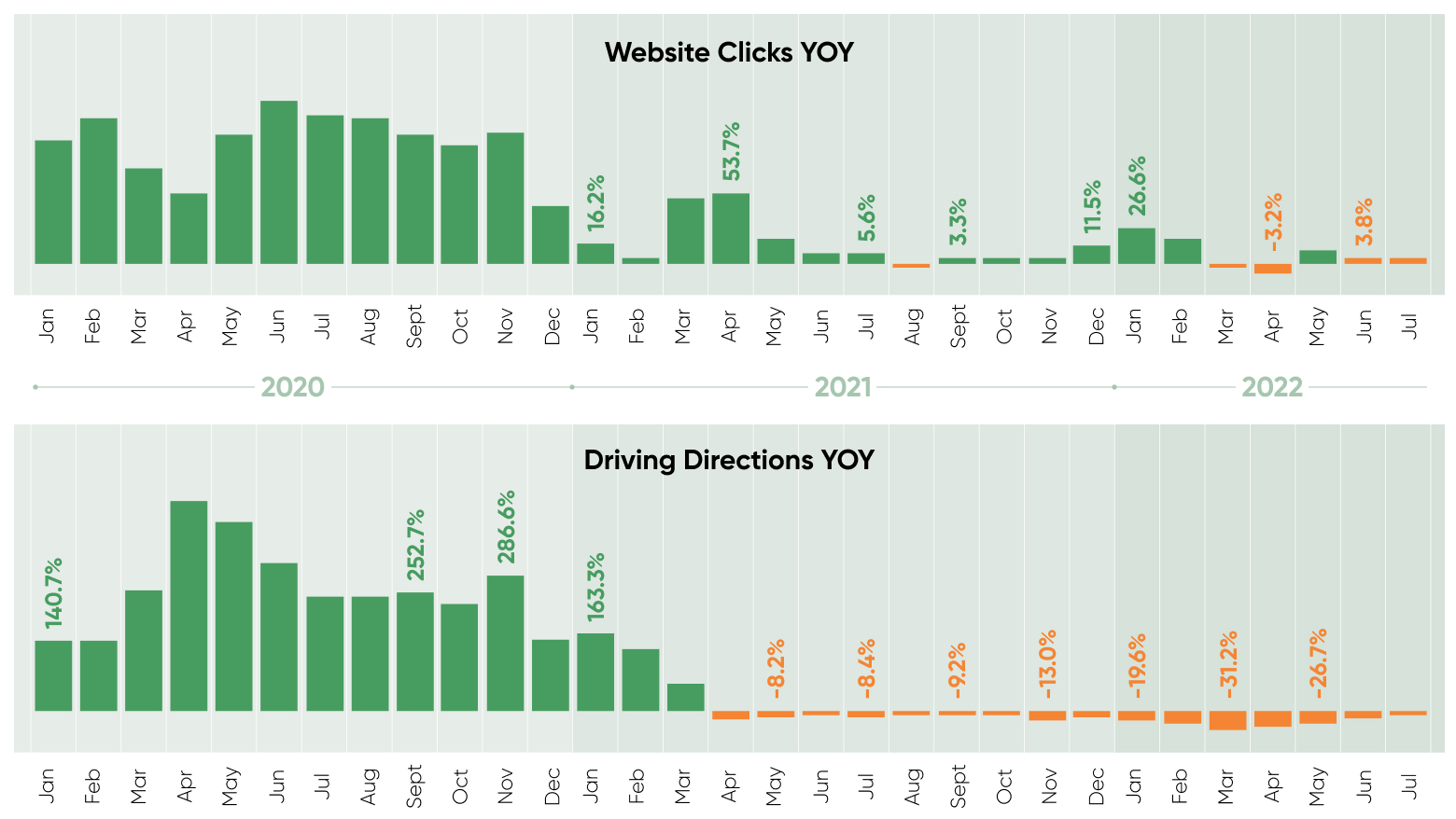 It's also worth noting that most subverticals within retail see sharp upticks around the holiday shopping season (usually November). But Consumer Electronics Retailers see this uptick closer to September and October, likely following the release schedules of marquee products like new models of mobile phones, etc, as much as typical Retail trends.
Home Improvement Subvertical
If Grocery saw a stable behavior change toward more online shopping, and Consumer Electronics saw a middling reversal of this trend, Home Improvement stores exhibit a sharp reversal of ecommerce traffic, and a clear preference toward in-store shopping. Clicks to Website for Home Improvement Stores saw 200%+ growth back in 2020. But this past spring – an important shopping season for home improvers – saw negative growth year over year. The silver lining is that foot traffic to brick-and-mortar locations – using Clicks for Directions as a proxy metric – has seen nothing but positive growth for years. Now, growth in Driving Directions Clicks did slow somewhat in recent months, but that still leaves home improvement stores at more than 2x growth in foot traffic in the last four years. (Maybe all those millennials flooding to suburbs had an impact on more than just the housing market.)