By now, most businesses have been preparing for the holiday season for months, and for good reason: it's the busiest shopping period of the year, with more than $843 billion set to be spent in the U.S. alone in November and December.
That shopping volume affects more than just sales. The holiday season means more questions from customers, more rush shipping, more returns… essentially, it all boils down to one thing: more work for both store associates and company support teams.
That support ticket and call volume might rise during a busy season isn't exactly news. But what might be is that the majority of people contacted customer service directly during (or immediately after) the holiday season in 2020* — costing companies a serious amount of money, with the cost of the average support call coming in at $7 for B2C companies and $13 for B2B companies, according to the Harvard Business Review.
Not exactly the kind of news that gets you in the holiday spirit, is it? But at the same time, there is a silver lining for businesses. More customers today say they prefer to self-serve their own issues, and it looks like they're already trying to do so through search — with on (and off) site searches spiking across numerous verticals during the holiday season. That's right: the "most wonderful time of the year" is also the season of search — and we've got the stats to prove it.
In that vein, here's what businesses need to know to deliver a better customer experience, this holiday season and beyond.
A majority (56%) of customers contact customer service over the holidays
According to a recent Yext survey*, 92 percent of respondents think customer service is important during the holiday season — and a majority of people (56 percent) actually reached out to a company's customer service department during or immediately after the holiday season in 2020.
The top issues they raised included:
Returning, exchanging or refunding an item
Troubleshooting an item they purchased
Getting a shipping estimate
Finding extra information about a product or service
Getting information about a store location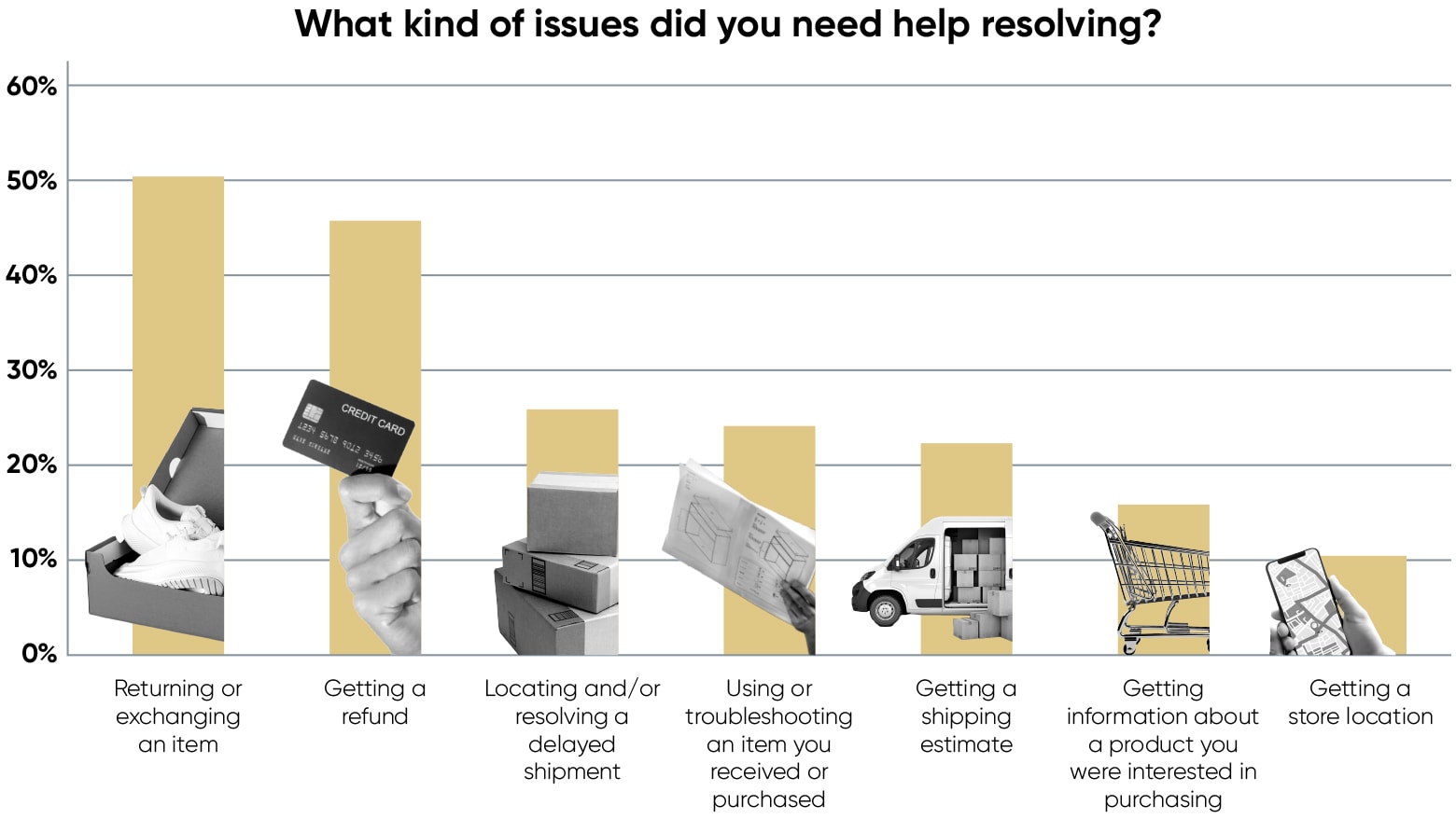 It's fair to say that some of these categories were impacted by supply chain issues during the COVID-19 pandemic. But in general, it stands to reason that these are the types of questions that customers are likely to ask during a busy holiday season — and it pays for businesses to be prepared for them.
How? Well, our survey data shows that customers' number one issue with customer service during the holidays is long wait times. So, the more of these common questions a business can answer through time-saving, cost-effective digital means — i.e. through FAQ pages or delivering direct answers when customers search on their website — the happier customers will be.
More on this below.
On-site searches go up across verticals in November
Another reason businesses need to "deck the digital halls" and prepare their website the same way they do their storefront? According to Yext Answers data**, on-site searches and clicks spike during the busy holiday season.
According to Yext data, local searches (like "near me" or "nearby") in general see clicks pick up in November and December, rising 3.7x when compared to September — which makes sense at a time when customers are looking to purchase items like holiday decor and gifts near them.

What might be more surprising is that this effect extends beyond retail. In healthcare, Yext data shows that clicks to local searches on site search increase 3.2x, and clicks to temporal site searches ("open now" or "hours") increase 3.0x in November versus September**.In fact, most healthcare organizations see the beginnings of a surge to all searchesand clicks on site search** starting in the fall, with January up 3.0x in searches and 3.3x in clicks versus September — a trend that continues not just through the holidays but throughout cold and flu season.
In financial services, the holidays and year-end period marks a boom, too: clicks to "support" related site-searches surge in December (up 33% vs. September) and January (up 55% vs. September) — likely as people need help figuring out their finances during the holidays and in the new year.
To sum up, data shows that seeing higher on-site searches and clicks around the holidays is vertical-agnostic — meaning that businesses of all stripes should view their website as the centerpiece of their digital customer experience during this critical period.
Customers prefer self-service options at the holidays — and it's time for businesses to deliver
We've written before that people prefer solve their issues online, on their own, when they can — again, who likes emailing or calling customer service? — and the data bears this out.
Our newest research shows that this preference translates to the holiday season — which makes sense for a time period when people are typically busier than usual with travel, hosting, shopping, and the like. A majority of customers (52.5%) say they prefer to resolve service issues by finding the information on their own on a company's website.
Unfortunately, there's still a breakdown here between what customers want and what they can get. Approximately 64 percent of survey respondents agreed that most company websites don't make it easy to find information that would help resolve service issues. That's a serious – and costly — problem at a time when 72 percent of customers say their expectations are as high or higher for service than they are during the rest of the year. It's time for better site search to step in.
People have been conditioned by the simple search experiences they have with Google or Alexa: they expect that they can simply asking a question and get a direct answer or solution. Most businesses' websites just aren't up to par — but that doesn't have to be the case.
This holiday season and beyond, businesses that bring modern, AI-powered search to their website can meet rising search volumes and support needs at the holidays head on — delivering customers better answers, more easily when they search. In turn, better self-service through search can both decrease costs and lighten the load on support teams during this critical time period.
Now that's a happy holiday.
Learn more about delivering better customer support through search here.