Why Your Healthcare Personalization Strategy Should Start with Search
When you meet your consumers where they are (online) with personalized experiences, you can drive greater loyalty and revenue. But personalization is an easy buzzword to say, and harder to implement — especially in healthcare. Read on to learn how true personalization is possible — with search.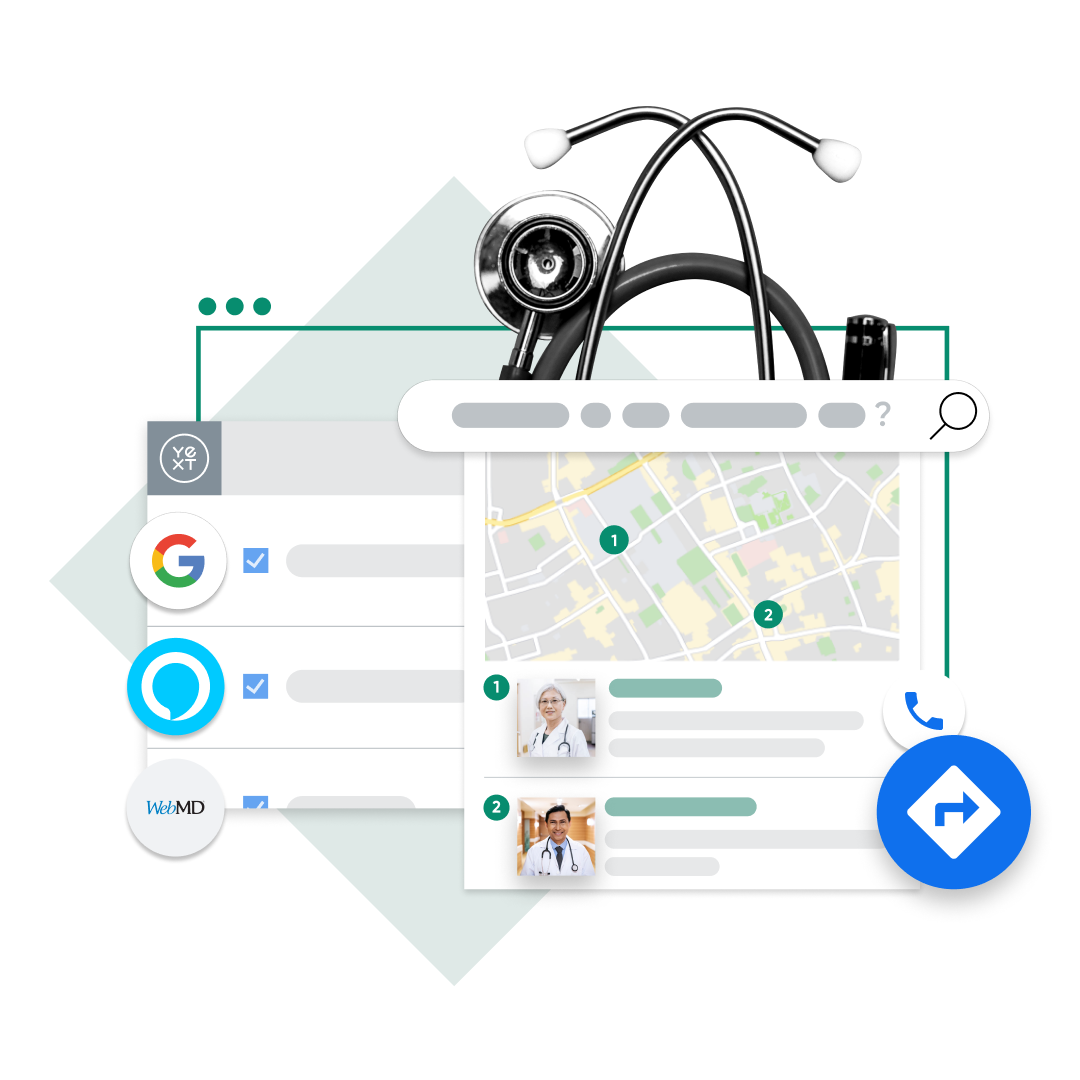 Personalization.
The term has been a popular buzzword in marketing for several years. Across industries, it refers to the ability to use what you know about a consumer to better serve them. That could mean reaching them with customized messaging, changing website content, buying targeted lists, and more. That said, it's a lot easier to talk about "creating personalized experiences" than to actually do it. In healthcare in particular, too many organizations are still figuring it out.
But when it's done right, personalization pays: the Boston Consulting Group estimates that prioritizing personalization will help brands outsell their competitors by 30%.
Additionally, sites that most people use every day — Amazon and Google — have trained consumers to expect tailored experiences for every search and every visit. This increased digital reliance has made a major impact on the healthcare space: Huron Consulting Group research suggests that "digitally inclined consumers are the fastest growing segment" in healthcare, with those consumers valuing "online quality ratings, review and comparison tools to guide their healthcare decisions" (notably, the same tools that they value when shopping for things outside of healthcare).
It all adds up to one thing: When you meet your consumers where they are (online) with personalized experiences, you can drive greater loyalty and revenue.
But organizations tend to focus on personalization only once a consumer, patient or member reaches their owned properties. Have you ever stopped to think about how you are personalizing individualized experiences for patients, consumers or plan members… before they arrive on your site? Well done if you've personalized your website, but that's just one piece of many consumers' journeys.
Say you have two people who are looking for a primary care provider. Do you know where they start their search and what the intent of their search is? What about what they do before they book an appointment?
Let's unpack this by going through two sample patient journeys.
Person A is new to town, a mom of three, and needs to find a family physician, fast!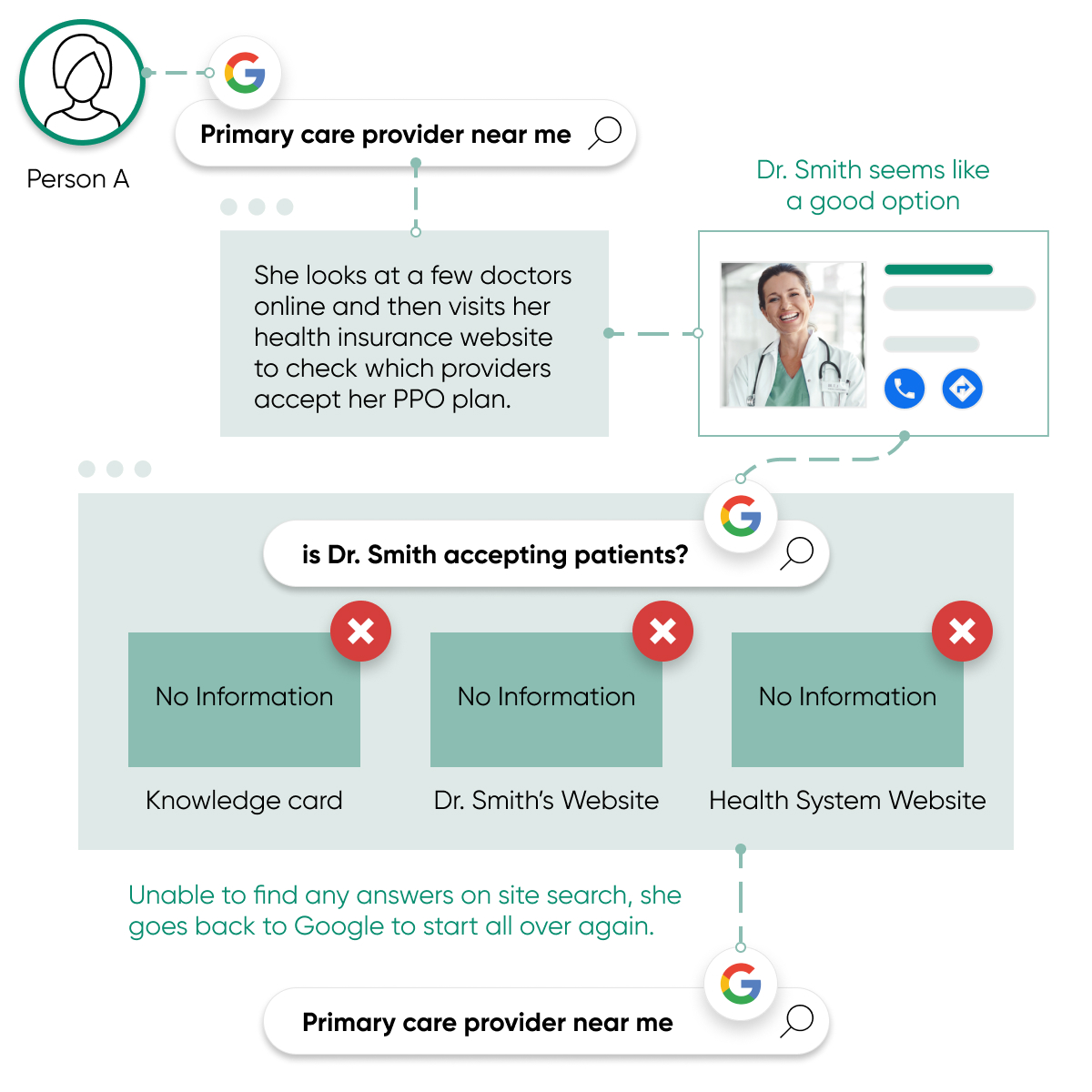 Person B hasn't had a primary care provider since he graduated from college and needs to find a doctor.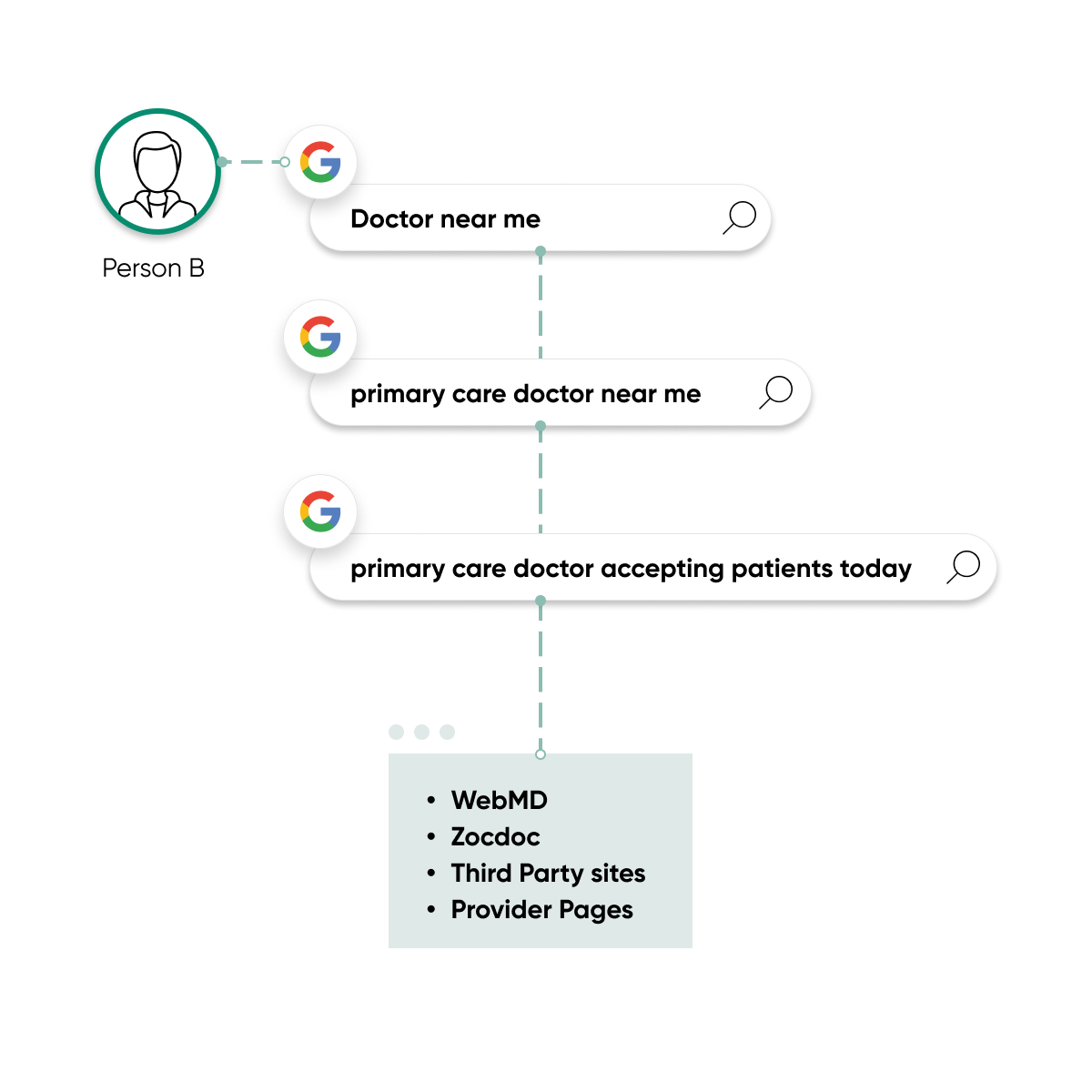 Person A is new to town, a mom of three, and needs to find a family physician, fast!
What was her goal? To find a primary care provider for her entire family. And she didn't quite meet the mark. But she did search in typical ways: asking for a primary care provider, in a certain location, who was actually accepting patients.
Person B is 27 years old and hasn't had a primary care provider since he graduated from college. But he's not feeling well and needs to find a doctor. How does engage in his quest to find care?
What was his goal? To find a primary care doctor, ASAP. It's possible the booking occurred via ZocDoc rather than on a health system or practice website. Notably, this journey did not include visiting a health insurance website. But the searches were also pretty typical – looking for a primary care provider, in a certain location, who was available as soon as possible.
At the end of the day, the goal of both searches was the same: to become a patient, or to book an appointment. But each person had a slightly different persona – one needed a doctor for a family of five with somewhat immediate availability. The other needed someone for a condition that just popped up that required seeing someone on the same day.
If you had just targeted AdWords keyword buys for "primary care provider," you would have spent a lot of money on wasted clicks. If you had targeted display ads with a generic primary care message, you may or may not have reached either one of these potential patients. And if you had created a primary care section of your website, neither of them would have found it if they didn't reach your site.
The benefit you can tap into here is to understand the intent of the patient (or consumer, or member) — and to tap into the journey, every time someone searches.
Now, imagine this for a condition that might be more serious and life-threatening. Let's assume someone is diagnosed with breast cancer and go through the same exercise to learn more about personalized search
Personalized search is the first step in the patient journey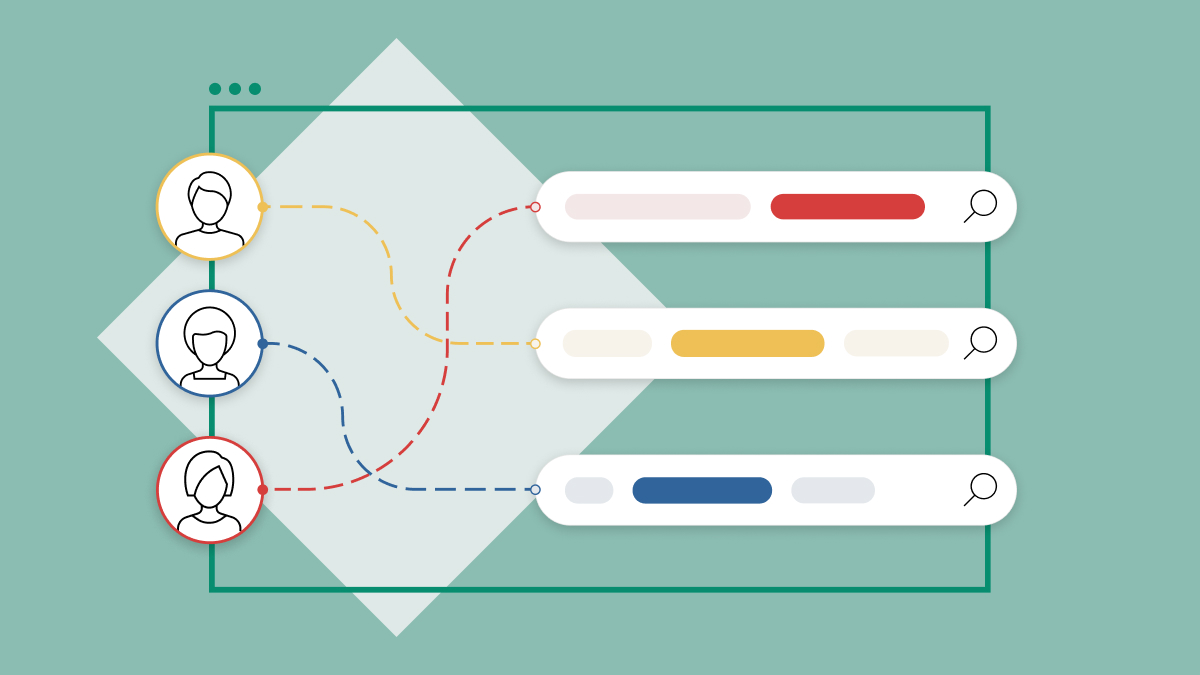 Two journeys, two search paths
A 57-year-old woman was just told she has Invasive Ductal Carcinoma (breast cancer). She might search for:
What is invasive ductal carcinoma?
What are my treatment options for breast cancer?
What are my treatment options for invasive ductal carcinoma?
Will I have to have a mastectomy?
Best doctor near me who treats invasive ductal carcinoma?
How can I get an appointment with Dr. Smith?
A 28-year-old was just diagnosed with the same breast cancer. She might search for:
What is invasive ductal carcinoma?
How did I get breast cancer?
How did I get invasive ductal carcinoma
What kind of treatment options do I have for invasive ductal carcinoma?
Will I be able to have children?
Will I have to have a mastectomy?
What are natural treatments for breast cancer?
Who is the best doctor to treat invasive ductal carcinoma?
Is Dr. Alwani on my insurance plan?
Is Dr. Alwani accepting patients?
And on and on.
Each of these cases represents an example of a patient, a consumer, a caregiver – all interested in finding more information about their conditions, but searching in a slightly different way. They may be trying to arrive at the same conclusion – e.g., booking an appointment with a doctor. But they go about it differently.
We like to call these journeys "personalized search." A search is the first step someone takes to find you and your healthcare organization. As much as you spend time ensuring someone landing on your site sees the right content, if you don't get in front of someone during their very personalized search journey before they reach your site, you are likely to miss them (and your current personalization efforts will also be in vain).
A Twilio Segment report, first released in 2017, showed that personalization has become a "basic expectation" among consumers. Adobe has accurately stated "customers don't just judge their digital experiences against other providers in the same industry. They rate their experiences against their last, best interaction."
And that interaction could be with Google, Amazon, Netflix or Apple — or any other non-healthcare platform. Netflix and Amazon use viewing data, search history, rating data, as well as numerical metrics like time, date of access, device and more to understand how to best recommend the next best product or movie. Companies like Walmart personalize product recommendations for every visitor to Walmart.com. It takes a consumer's location into account (via IP address or GPS) and can recommend products based on what is individually trending in a particular area.
All of this is to say that the bar is set high: organizations are tapping into data to enhance the consumer experience, and tap into what people are seeking and what they intend to do. So, knowing that healthcare tends to be years behind these other industries, how can we take these examples and reimagine personalization in healthcare and implement more immediate changes based on the success we see outside of healthcare?
It all comes down to this:
Personalization starts with a search.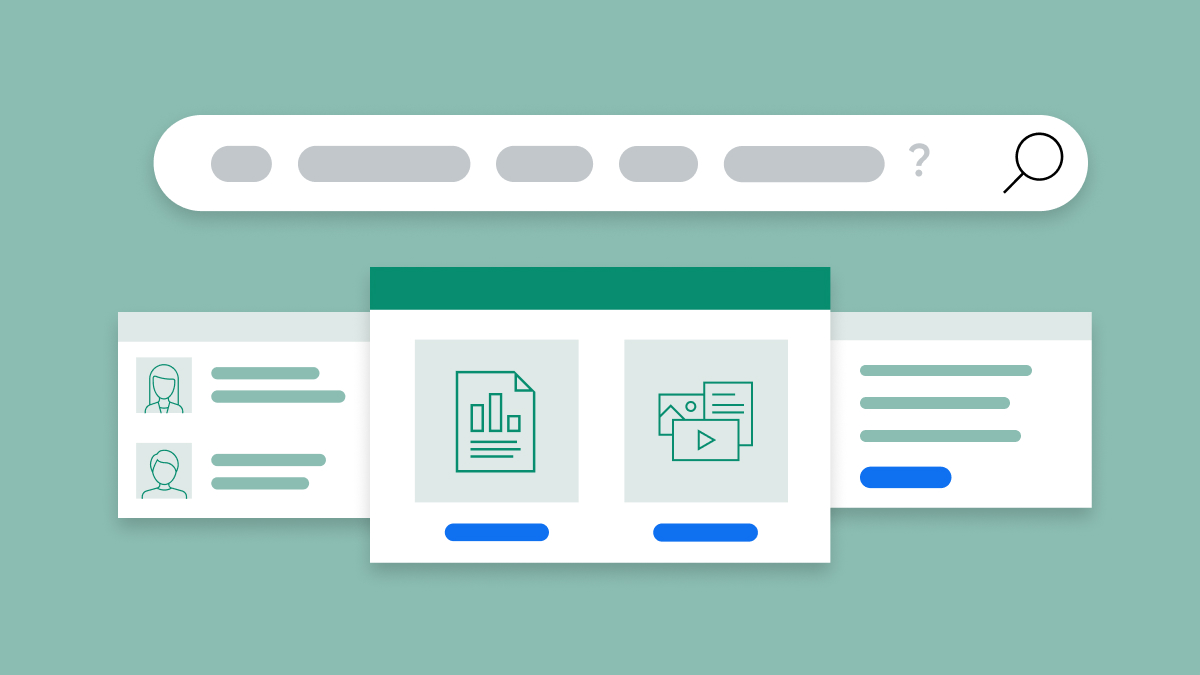 This is a reality in this new world of enhanced consumer and member expectations, and a key to your success.
The moment someone experiences pain, or receives a diagnosis, or a provider referral, that person is going on a search journey unique to her. It's up to you to get in front of her as early as possible, and keep her in your orbit and ecosystem.
So how can you do this?
How to create a truly personalized search experience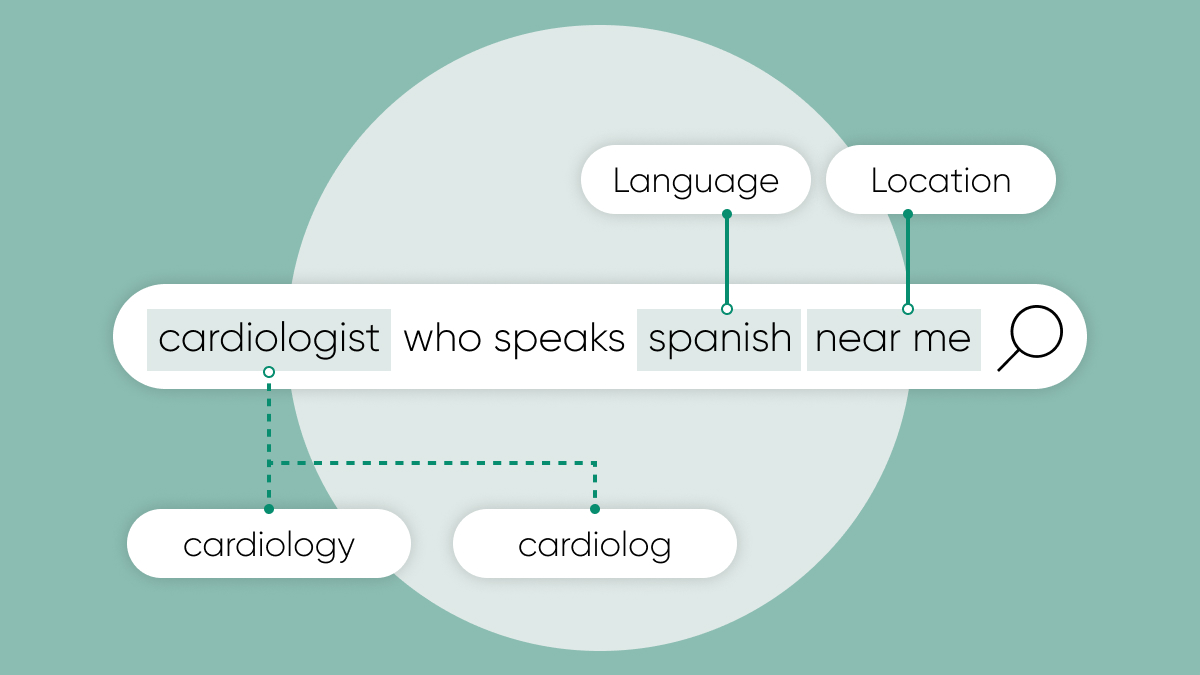 Think less about personas and more about the power of ONE (and, no, we don't mean "one size fits all"): It's true that the best way to think about a group of people in marketing is to break them down into personas and assume that those personas are an appropriate representation of your patient, consumer, or member population. But it's becoming more difficult to target based on personas as we move into more of a cookie-less future. Even with Google's target release of Topics in 2023, you still will have groups of people that are largely not represented by those "topics".
Instead of thinking about one persona, think about the power of one search. What does that one search tell you about intent? About what someone is searching for that you offer? How can you make sure you maximize getting information as quickly as possible, as easily as possible, when that person searches?
By tapping into the power of the single, intent-based search, you are setting the "topics" aside and instead answering each distinct question, at the distinct moment, that someone asks it about you.
The best way to personalize each patient, consumer and member journey is to understand the searches that they are making to reach you. Each search is an opportunity to be present along their journey.
Start with where your consumers are and work from there: Do you have a clear understanding of your consumer/user — or are you just running the same campaigns, day in and day out? By collecting query data from your Analytics platform(s), you can start to understand the personal search journey for users and how you can better reach your patients, consumers and members well before they get to you. For example, you can achieve intent-based personalization by understanding how people reach your website and then tracking how they engage on your site. To do this, focus on the following:
Search Analytics. Collect data from sources such as Google Analytics, Adobe, and even keyword searches in the (hi!) Yext platform. Search data should include searches that people are conducting to reach your site, as well as searches on your site search and "find" experiences on your site (e.g., "Find a Provider", "Find a Location", "Find a Plan"). Remember, people have been trained by search engines like Google to see a search box and search for anything, so collect that information everywhere you present an opportunity for someone to search. This will help you understand the most common things people are searching for that lead them to reach your site.

Call Center Analytics. Do you collect call center information in a Knowledge Base? Or maybe you have a running document of top questions callers ask. Wherever you collect this data, make sure to get to know the top questions people are asking in your call center. Typically, when people are calling the call center, they are doing so because they cannot find this information digitally.
No matter where you implement personalization — whether it's a personalized search journey, on your website, or even with targeting — your personalization efforts are not effective unless they are firmly rooted in data.
Build a strong relationship between marketing and IT: By strengthening the relationship between these two groups, you can ensure that IT is able to tap into where the consumer is and marketing is able to effectively capture their intent. Most patient, consumer, and member actions are first sourced through marketing through AdWords ad buys, Google searches, website visits and so on — so it's the job of the marketer to capture these searchers and ensure every touchpoint thereafter is as effective as possible. Focusing on intent and collecting the data is only as good as the technologies implemented to be able to do this. Therefore, because CIOs typically manage technology that could help drive that data, CIOs and IT teams need to be close partners with marketing to ensure the marketing team has access to that data and those channels
Tapping into a personalization strategy is not an overnight project, and it can take a long time to do this successfully. But one of the easiest ways to get started is to focus on personalization through search intent and search queries. By focusing on what people are doing in search, you will not only set yourself up to please your patient, consumer, and member, but you will position yourself to understand how to further personalize your site and other properties in the future.
Four Steps to Evaluate Your Personalization Strategy
Ready to determine where you stand in regards to personalization — and what to do next? We've put together four considerations to think about as you evaluate your personalization strategy:
1. Do you know where and how you are collecting your data?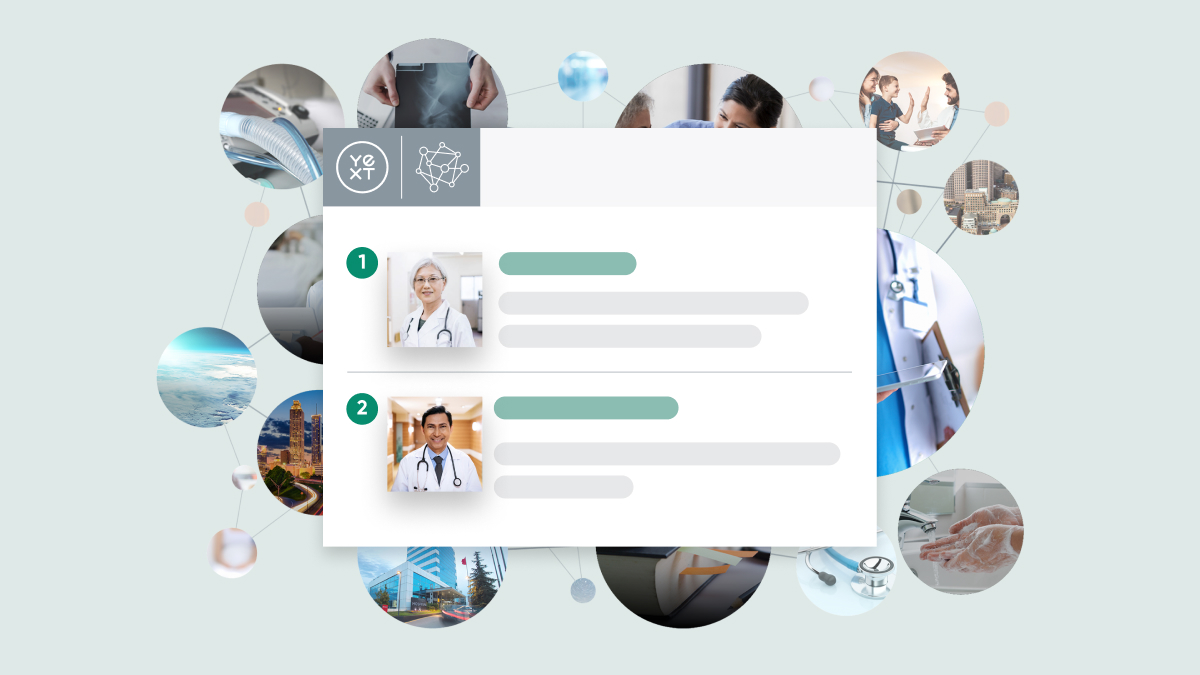 As we mentioned above, gaining command over your data and any associated elements that patients or consumers are seeking when asking questions is key. Without command, your strategy will continue to be reactive rather than proactive in driving volume and acquisition. Know where to find your data and set up a process to regularly collect and evaluate it. We recommend setting up a monthly data collection cadence to allow for trends to emerge.
2. Once you've collected your data, set an action plan to create content and optimize schema to drive awareness to that content.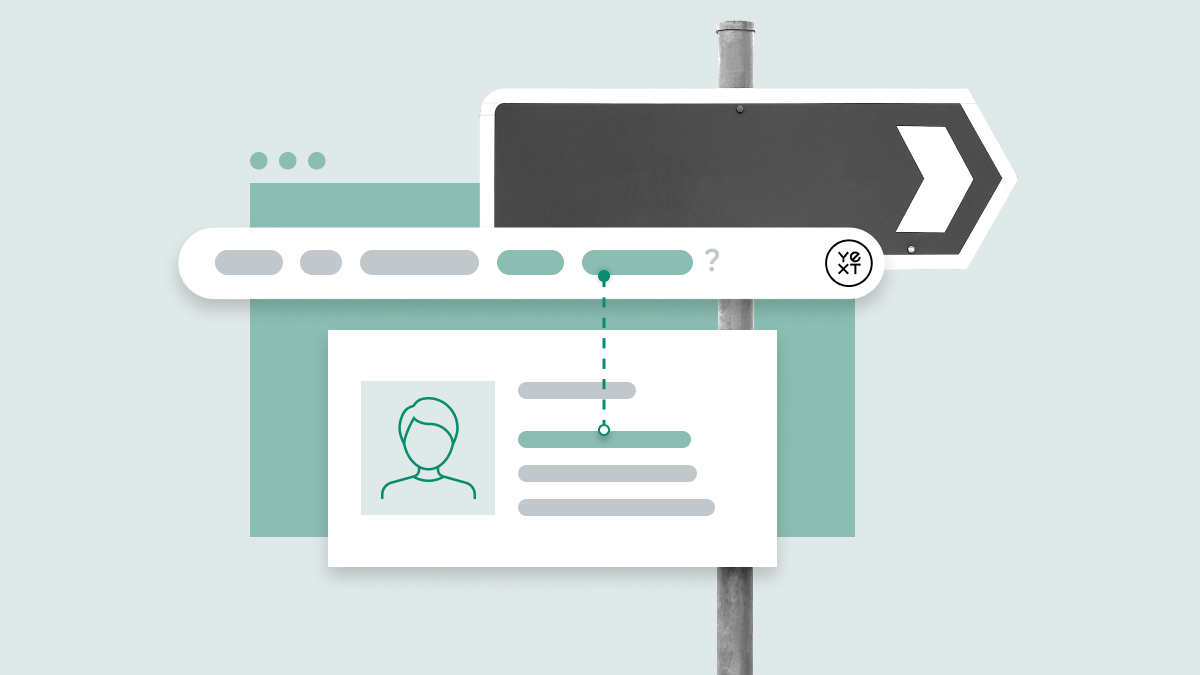 A regular review of your data is essential to ensure you are accurately collecting intention from your patients, consumers, and members. Analyze the data for key themes and any emerging trends. Then, map key themes to content on your site to determine if you need to create more content. Finally, determine if these key themes and searches drive people to your site when they search on Google — and clock what happens when people make the same search on your website. If the right content is not showing up in one or both scenarios, it's important to set an action plan to add pages to your site — and ensure site pages are tagged with schema to show up on and off your site.
3. Are you able to capture your consumers' intent by understanding their navigation throughout your site?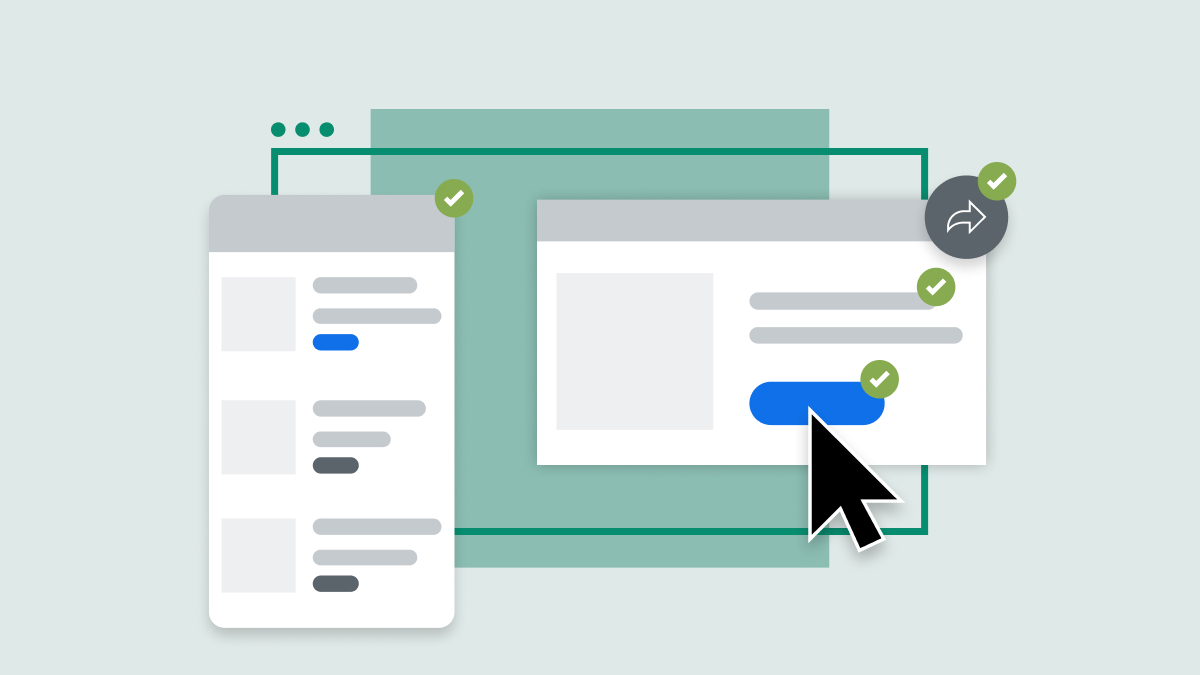 Look at your collected themes and see how easily people can find information about these themes on your site. Is it easy to search for the information? Easy to navigate from one page to another? Things like structured data, page speed, content delivery, continuous updates, and responsive design should already be baked into the backend of each of your landing pages to ensure a consumer is able to navigate to and from them.
4. Once a consumer is on your site, how are you driving them to conversion?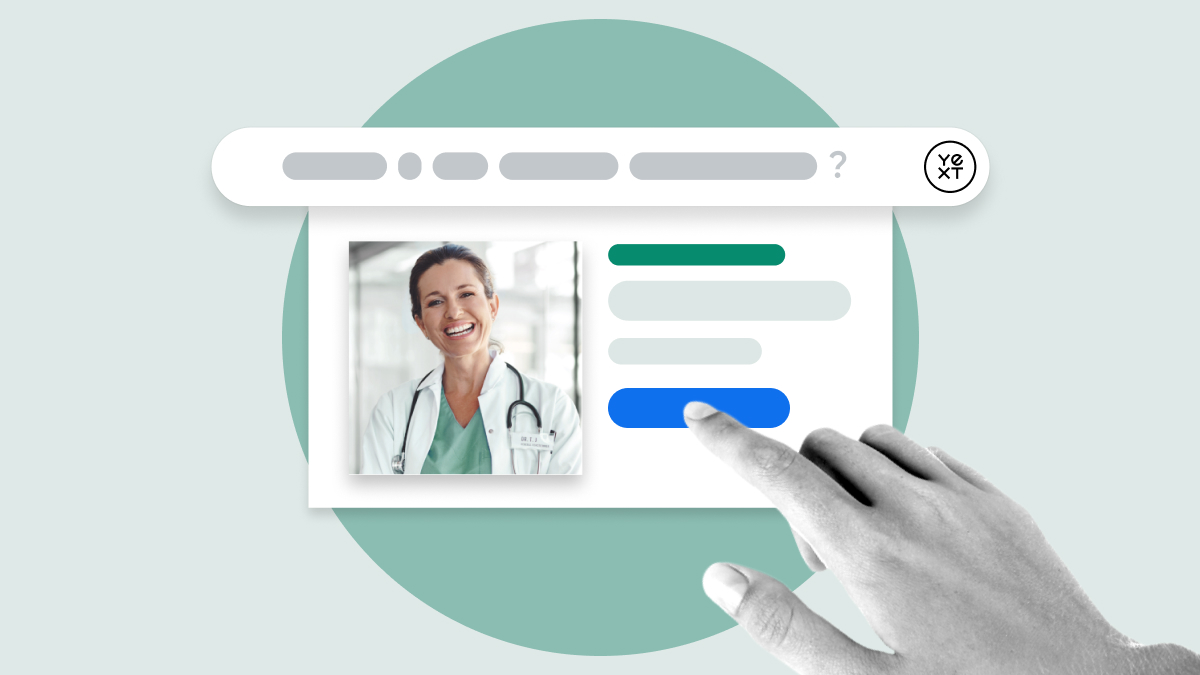 So, you've analyzed key search intent themes each month and reviewed how people are finding you. Now it's time to keep drilling down on your owned property: your website. You've looked at site navigation and ability to find information, but now it's time to consider your actual search experience. Does your search experience only return blue links, or does it deliver a smarter solution? Does your search experience understand natural language or does it just match to one term in the search query? You can increase conversion rates by tapping into intent and providing a better AI search experience to your site. This experience keeps your consumers from bouncing and delivers results they expect.
Deliver personalization that goes beyond buying audiences — and helps you beat the competition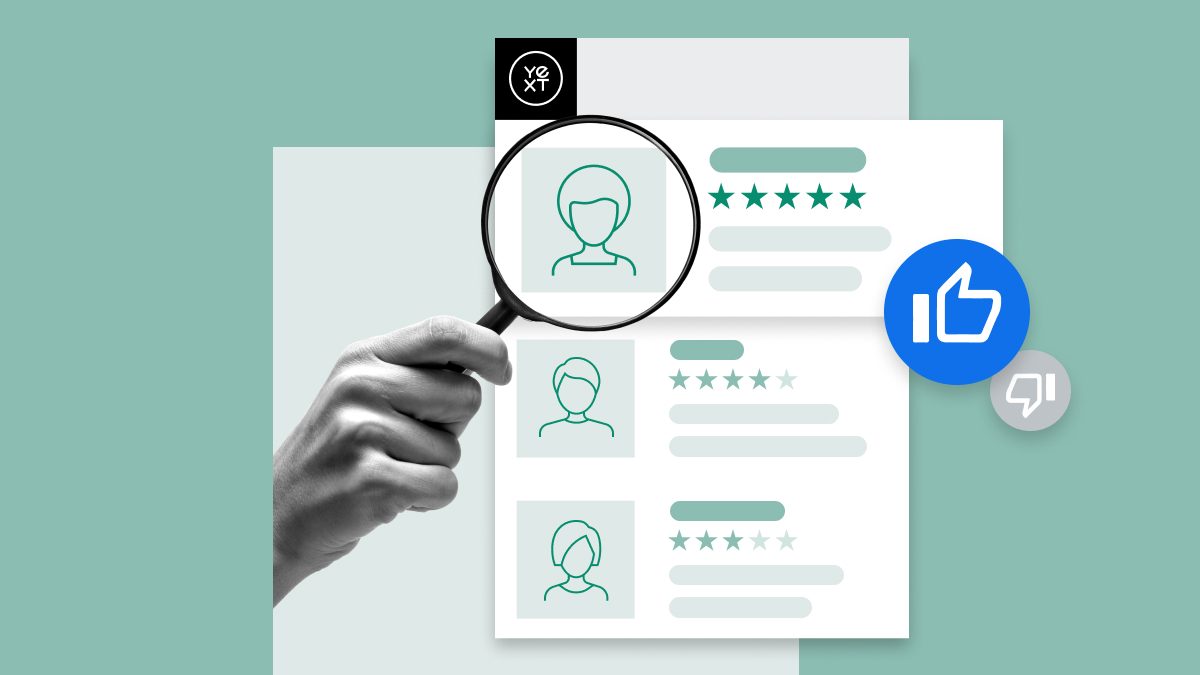 In today's interconnected, increasingly complex digital world, it's not enough to think that personalizing your health systems' website and buying a few targeted audiences is going to address your personalization goals for your organization. Personalization today is meeting the consumer wherever she is online — and that can be in many places. It can feel hard to keep track of it all, but it gets easier when you start with a search. What's more, it will help your organization pivot from being provider-focused to consumer focused. CVS has acknowledged it, and it's time for all other healthcare organizations to do the same:
"Anybody you ask would say that the healthcare experience has been more oriented around providers than it has around consumers, but things are shifting fast," explains Michelle Peluso, EVP and Chief Customer Officer at CVS. "The pandemic has catalyzed that shift. People are taking control of their healthcare like they haven't before. They want to shop online for health and pharmacy needs, and choose between picking prescriptions up in store or having them shipped home. They want to schedule care appointments online and see their records from in-person visits and virtual sessions all in one place."
The best way to orient around consumers is to meet them where they are. And that place is search.
Learn more about personalization with Yext here.