Why a Great Patient Experience Starts with Your CMS
Learn why a headless content management system is a healthcare marketer's secret weapon for managing information across channels.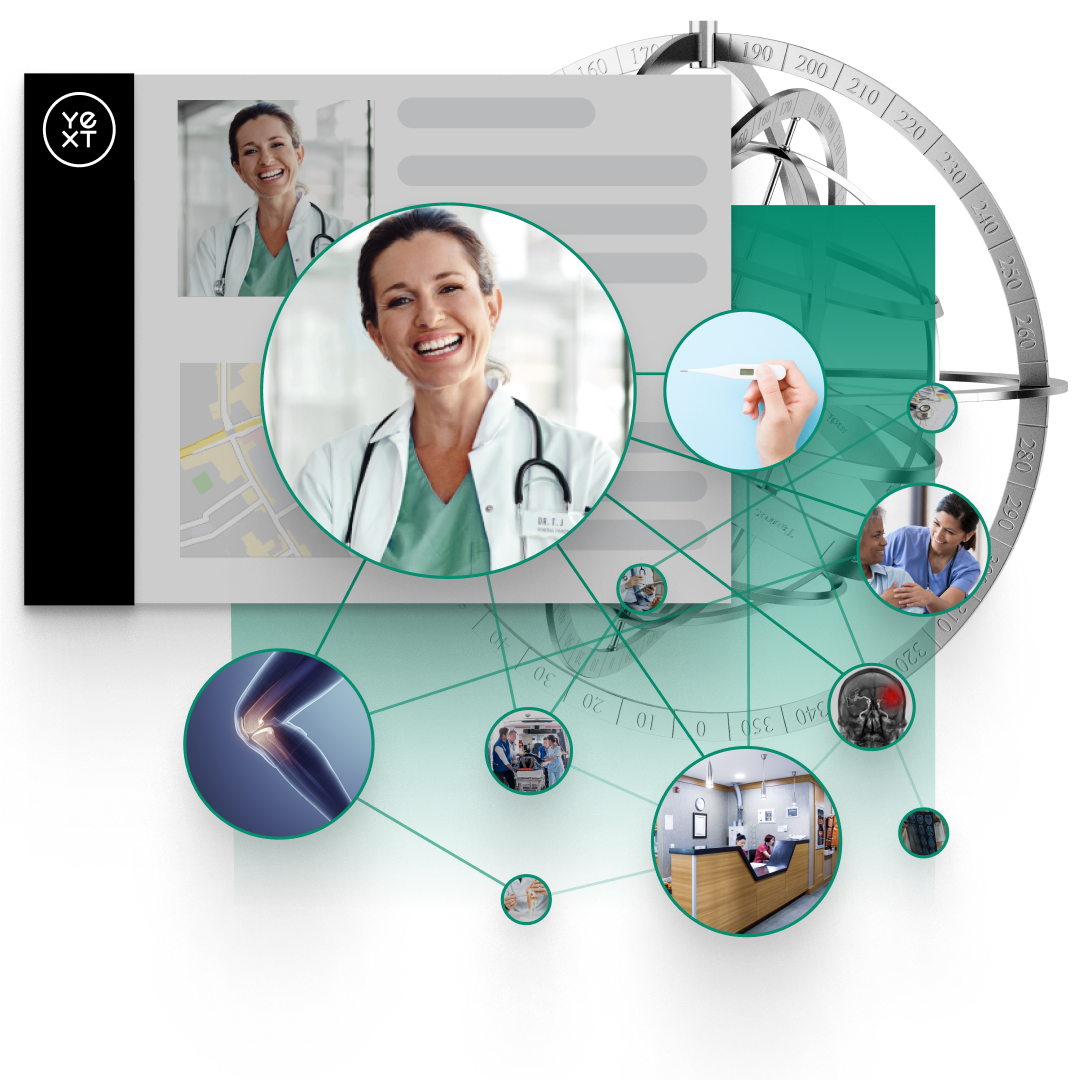 Marketing budgets aren't growing - in fact, in most organizations, they're shrinking. Healthcare marketers know this all too well. Their budgets have declined by an average of 8% in the past year alone.
And healthcare marketers aren't the only ones facing financial roadblocks. Insurance premiums and deductibles are higher than they've ever been. As a result, consumers are paying attention to out-of-pocket costs for care. They need to find the right provider at the right price, too. Because of this, patients are doing more research on providers than before.
Fortunately, there are more places than ever to research your organization and providers. Consumers can turn to your website of course. But they also use search engines, social media, conversational AI (like Google's new generative search experience), review platforms, and more.
This variety is great for consumers. They can find information in a way that works for them. As long as they have the omnichannel experiences they desire, your health system benefits, too.
Unfortunately, this is easier said than done. Consumers search for information about your healthcare organization. But information isn't always easily centralized and managed. Instead, it's fragmented. Your marketing team can't only manage the information on your website — they need to manage information everywhere patients are looking.
When marketing data is fractured into multiple systems, consistency is harder to achieve. That's why your team needs one platform that manages all your channels, like a headless content management system.
1. The Headless CMS: Healthcare Marketers' Secret Weapon
A headless content management system (CMS) is a platform used to manage information about your health system. It separates content management (like updating a provider's bio) from content presentation (how the bio appears on your website). It does this by using APIs to deliver content to any consumer-facing experience.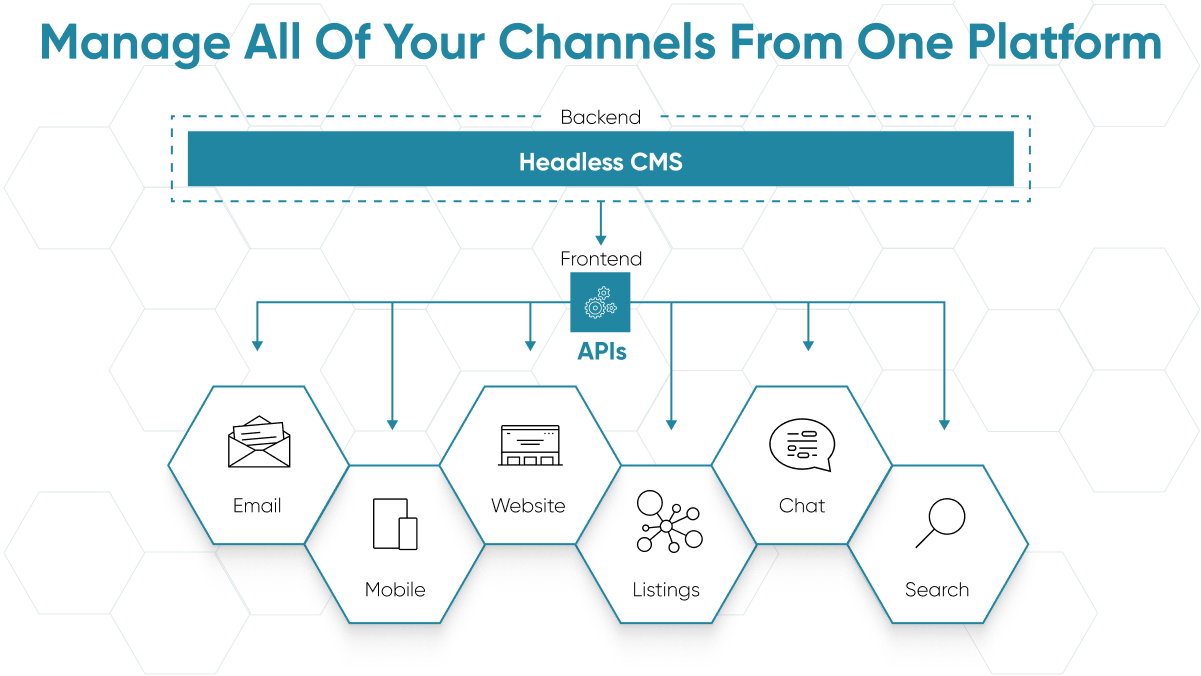 Many organizations still struggle with siloed information that lives in different platforms. This results in redundant technology, manual work, and unnecessary spending. And this is just the impact on your marketing team. Think of your IT team as well, taking requests for every single update to the website.
The headless CMS of the future empowers a healthcare organization to manage all content. This includes health content, provider data, location data, and more. When you make one update, that change reflects everywhere — without involving IT resources.
Your health system's marketing team can collect and organize information from all your systems into one headless CMS. Then they can structure that data. Then search engines and generative AI tools can find your information more easily. This increases your visibility among patients.
With a headless CMS, you can also control how that information is displayed. Your website, your individual provider and location webpages, apps, and more are customizable. Not only are you in control of your information, you're in control of how it looks, too. Then your team can create an intuitive patient journey — one that's designed for them to act.
There's value in a headless CMS investment for healthcare marketers. It increases the visibility of your system and your providers. This is because structured data positively influences your search engine ranking. And as generative search experiences expand, you'll be visible there, too. It also makes it easier to manage any channel your patients use to interact with you.
This discoverability can even increase your patient acquisition. Because you're creating a friction-free experience, your patients may convert at a higher rate. And ultimately, your health system may see an increase in revenue.
All this is possible with a headless CMS — without overwhelming your marketing and IT teams with manual work.
2. Why A Headless CMS Improves Discoverability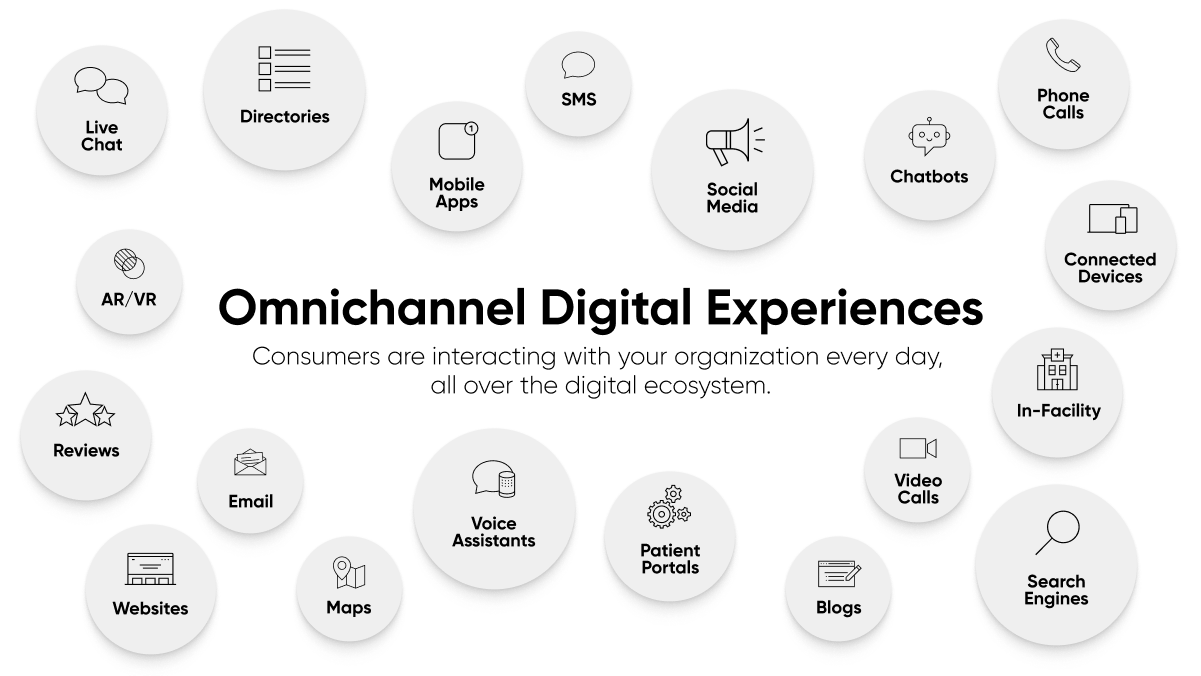 Consider the channels that patients use to interact with your healthcare system. They're using search engines, directories, your website, and your social media profile. And they expect your information to be up-to-date everywhere.
But this isn't easy for marketing teams to do. Think about where your data lives today:
Provider information is likely in a credentialing platform. This is typically owned by your medical staff office. It stores basic information about your providers. That information isn't always intended to be public-facing, though.
However, your marketing team needs access to this information. They need to share provider bios, headshots, and appointment availability with your patients. Your website is one example. And if you have an app, listings, or a Find-a-Provider tool, the information will need to be visible there as well.
Where does your condition data live? Is it easy to map that data to your provider information? Healthcare marketers need this information so that your patients can find this information. How does this data transfer from your medical staff office to your marketing team today? Your organization needs a place to store the data, manage it, and then update it everywhere simultaneously.
Without a process (and a platform) in place to support your team, it's likely that you have inconsistent information online. It's also likely that your patients see it.
Healthcare marketers can identify and fix inconsistencies from the headless CMS. Instead of updating each channel individually, users make an update to one field. Then, that update syncs across your entire digital ecosystem.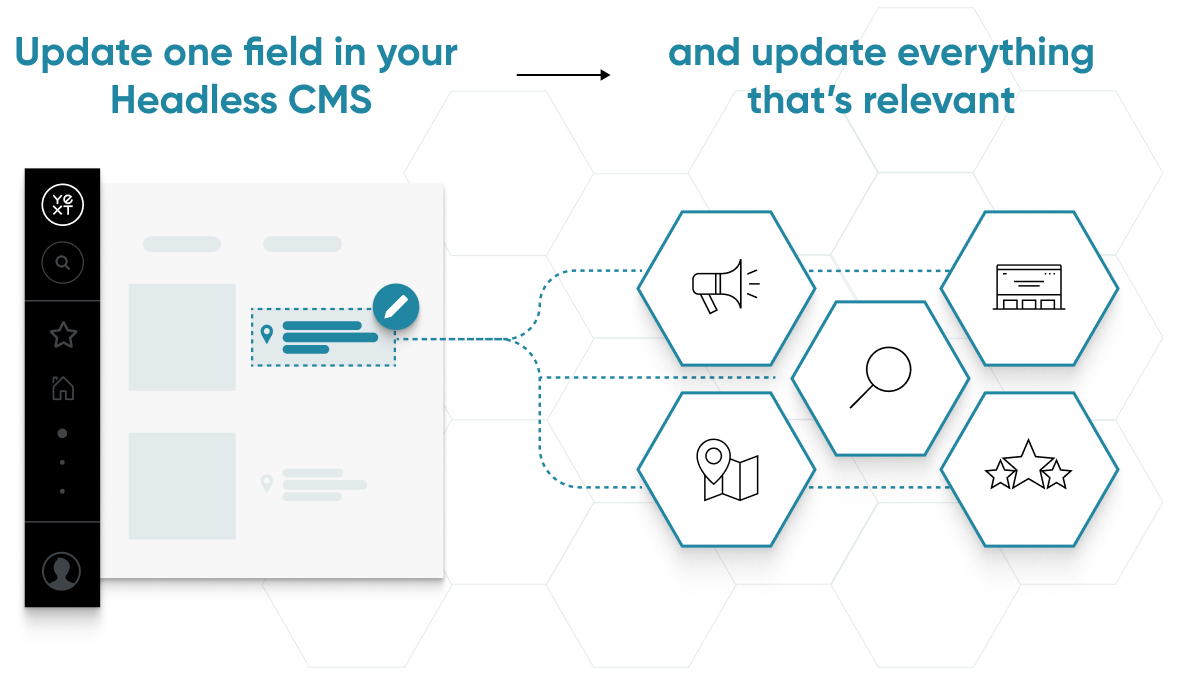 Your digital front door is your patient's first impression of you. Whether they search for you on Google, Safari, Maps or something else, they need to see accurate data about your health system. This is important so they can make an informed decision about their care.
When you connect other platforms to your headless CMS via APIs (like your scheduling platform), you can create great consumer experiences. You can even layer the headless CMS on top of your legacy CMS. With this, marketers reap the benefits of the headless architecture without a full migration.
Think of how this can impact your patients' journeys as they seek healthcare:
Jenna is pregnant. She's looking for:
A local obstetrician
Covered by her insurance (Aetna)
An available appointment within the next two weeks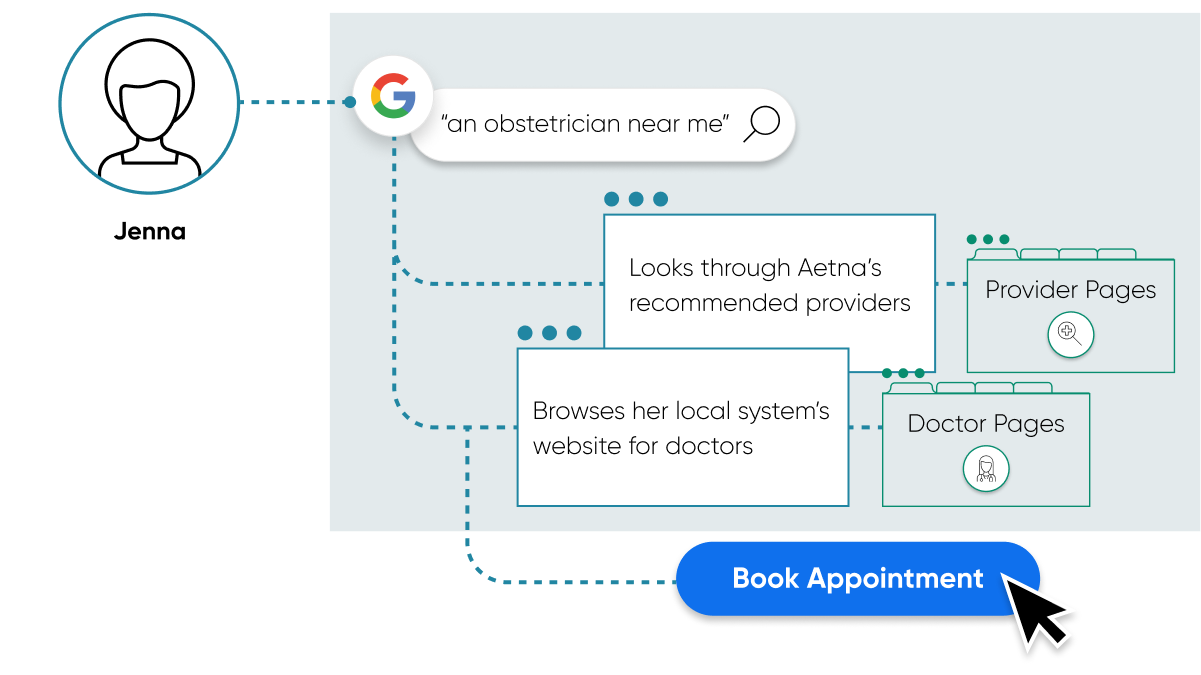 Jeremiah just moved to town and is looking for a new primary care provider, but he's having trouble finding one that accepts new patients. The earliest appointment he can get is six months out, so he's thinking he might need to find another option.
He needs to know…
Should he join OneMedical?

Who accepts his insurance?

Can he see his PCP by the end of this month?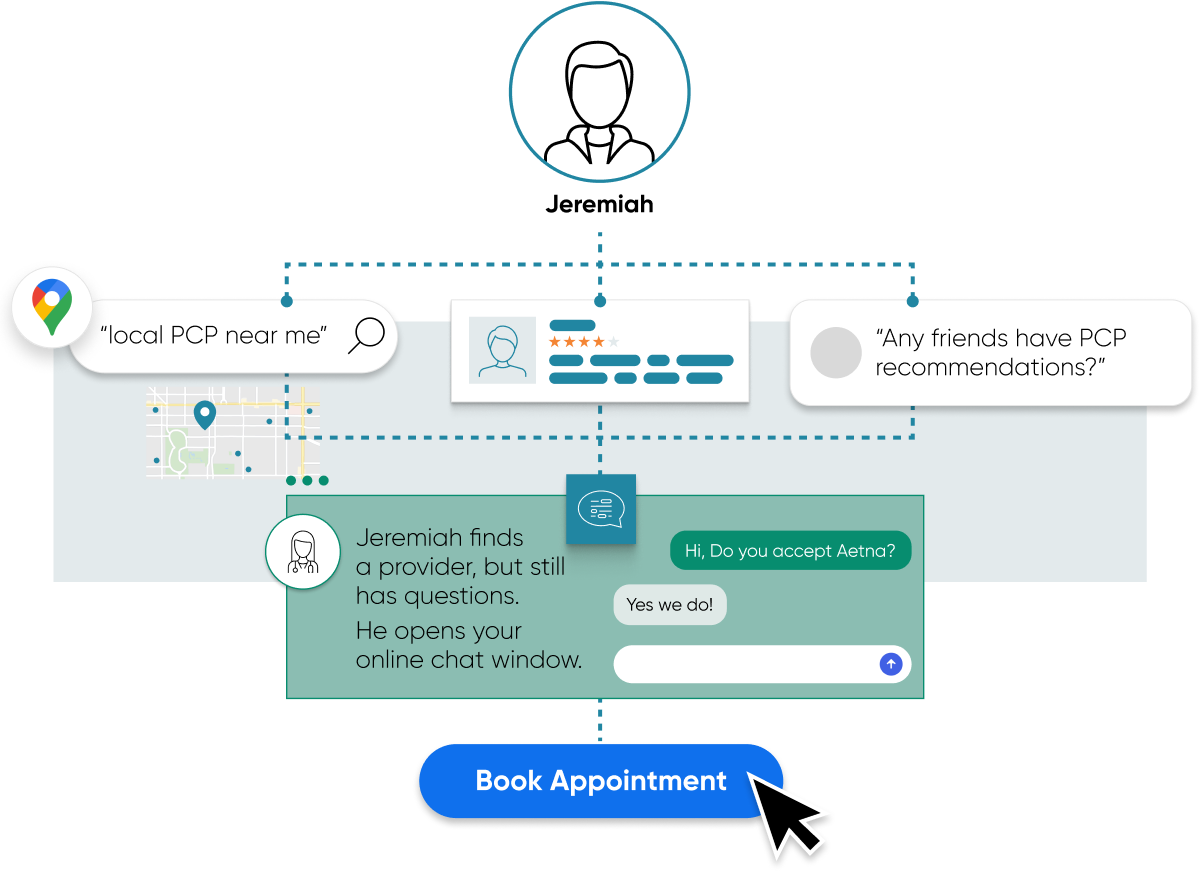 Annie was recently diagnosed with breast cancer, and she's looking for resources. She wants:
A second opinion — she's not sure where her oncologist is the best provider for her specific type of cancer
To know which local oncologists accept Humana, her insurance provider
Whether she can book an appointment and be seen ASAP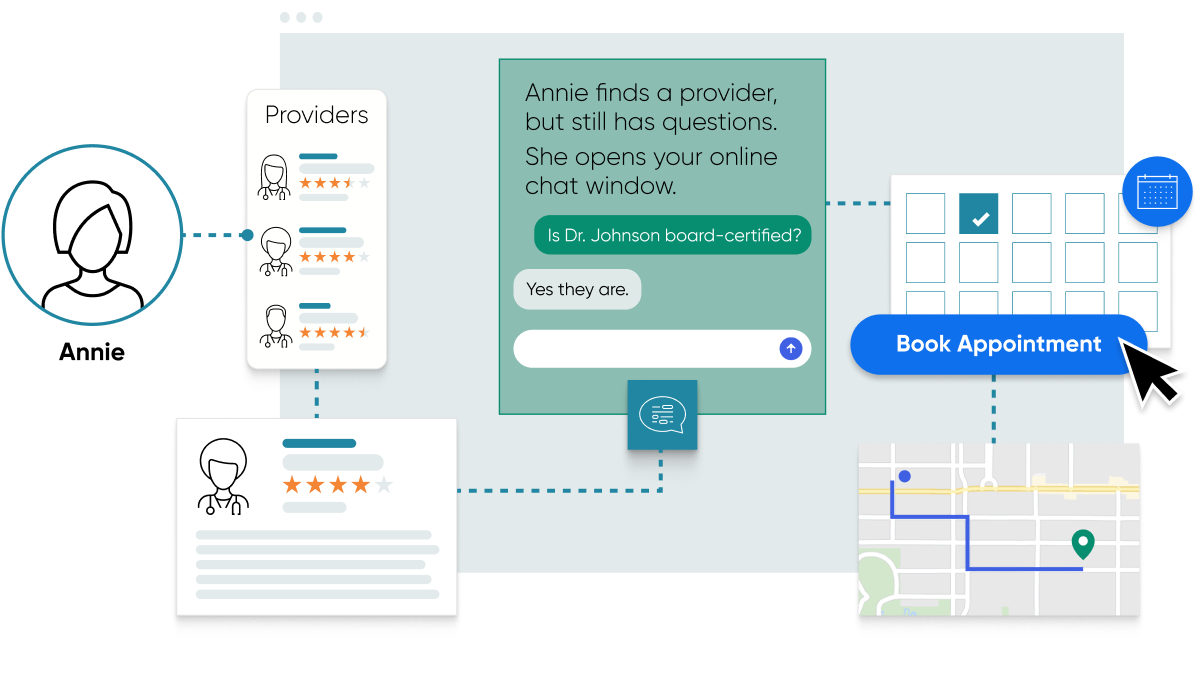 In each case, the patient uses several information sources before they ever book an appointment. When you use a headless CMS to manage your data from one platform, you've given them the most up-to-date information. When you take control of their digital journey, they have the best patient experience possible.
3. How Headless CMSs Streamline Marketing Workflows
Seamless experiences are what your patients expect, but they're hard for your marketing team to deliver. Siloed data makes it difficult to find information internally, let alone present it externally.
Taking a structured approach to information management is key. It streamlines your marketing team's workflows and removes manual work. Structured data is also easier to collect, manage, and distribute. It's even key for SEO and for visibility in new generative search experiences with Google and ChatGPT.
Thanks to AI, the world of search will continue to shift — and so will your marketing channels. A structured approach to data management helps you evolve alongside consumer expectations. And as new channels emerge, your marketing team has the flexibility to build new experiences for your patients.
Here's how a headless CMS makes it possible for you to manage your information (without increasing your marketing team's workload):
Automatic updates eliminate manual data entry work. Your teams shouldn't have to copy and paste information from one platform to another. A headless CMS doesn't just send information to multiple destinations. It retrieves information as well. This makes it easier to consolidate all your information into one platform.

Map your data to related information for easier management. Your providers are mapped to the conditions they treat. Your conditions are mapped to the corresponding procedures you offer. So when you can easily see the relationships between your content, you also know what else might be affected by an update. Then, you can audit any related information to be sure that it's all accurate.

There's a seamless transfer of data between your medical staff office, marketing, and IT teams. With a headless CMS, the data transfers happen automatically via an API. (Some APIs are built-in, while others are custom-configured.) Thanks to custom APIs, your headless CMS can connect to any platform — like your medical staff office's credentialing platform.

Easily implement other technologies. Think about how many platforms are in your tech stack. You have an appointment scheduling solution, a health risk assessment platform, and even a site search experience. Because the headless CMS uses APIs to connect to other platforms, you can take a modular approach to how you structure your technology. You can easily replace one appointment scheduling solution with another. Or, you could migrate to a new email marketing platform. This gives you the flexibility to try new solutions without overwhelming IT resources.

Spin up new landing pages for your services and campaigns quickly. A headless CMS will also give you access to a "What You See Is What You Get" (or WYSIWYG) front-end website builder. You simply build a visual template, and the headless CMS fills in the webpage with the information you've stored on the backend. In short, headless CMSs make it easier to take advantage of tools that streamline common marketing workflows.

Prepare for the future of AI. Headless CMSs structure your data so it can be used in other AI-powered experiences. For example, you may choose to experiment with a generative AI solution, like content generation. When provided with structured data, the AI-generated content is more likely to be accurate and appropriate. The same is true for conversational AI. Healthcare marketers experimenting with new chat experiences rely on structured data, too. However you plan to use AI, structured data in your headless CMS sets you up for quick (and scalable) adoption.
And here's the best part: marketers can do all this in one platform without involving IT. The headless CMS's easy-to-navigate user interface means marketers can self-serve. They can manage content, experiment with new channels, and connect to other platforms. Even your front-end experiences (like your website and app) can be updated without any IT involvement.
In a world where everything from technology to consumer preferences are always changing, a headless CMS helps you manage it all. And you can do it without submitting another IT ticket.
4. Consumers and Marketers Benefit from a Headless CMS
Shrinking budgets leave you and your team to figure out how you can do more with less. It's almost an impossible task, if not for the headless CMS. This technology saves marketers' time and improves consumer experiences by:
Connecting datapoints between different technologies. Today's marketers face a double-edged sword. AI and technology are more powerful than ever before, and there's more choices than ever before, too. But because of this, software bloat is prevalent -- and it's almost as lethal as relying on legacy technology. By connecting all your solutions, you merge your information into one system. And in doing so, it's easier to manage and easier to create new experiences.

Improving workflows and eliminating inefficient processes. Instead of relying on manual management of an ever-growing data repository, you can collect, manage, update, and deliver information anywhere. No more spreadsheets or manual data entry necessary. Workflows are also more efficient when marketers don't have to leave the platform to do their work.

Reducing unnecessary spend on redundant technology. By consolidating many tools (like your web management system, your social media scheduling tool, and your reviews management solution) into one platform, you reduce the need for more software. This reserves your marketing budget for more high-impact priorities.
With a headless CMS, marketers have the tools they need to create the best possible online experiences. Even as the number of channels continues to grow, consumers receive omnichannel support.
In fact, this demand for omnichannel experiences by consumers is so prevalent that it's now expected. The NIH republished a study from the Mayo Clinic in June 2023. It says that healthcare marketers should account for omnichannel patient experiences. The study concluded that "the health care institutions that implement the omnichannel approach will benefit from a new window of opportunity and business growth and patient engagement… The integration of data from multiple channels can be challenging but can provide a more complete picture of the patient journey, which can be used for continuous improvement of health care services."
Headless CMSs are exactly the technology healthcare marketers need to create, manage, and continuously improve these interactions. And it's exactly the technology that your patients need you to have. Even if they don't know what a headless CMS is, they can tell when your information is well-managed. In addition, IT teams don't need to get involved for most actions, and there's better ROI on your marketing efforts.
5. How Modern Healthcare Marketers Use the Headless CMS
As patients explore different channels, their opinion of a health system is defined by what they find — and what they don't.
Instead of managing each channel manually, healthcare marketers are turning to the headless CMS. This way, they can take a holistic approach to the digital patient journey. They're finding that they can maximize their efficiency -- and work smarter instead of harder.
Consider what Beacon Health defines as headless, and how they're using Yext Content to create consistency throughout their patient journey:
"What does 'headless' mean? … it just means no more copy-paste. If you're copying and pasting content, you're not headless… Headless means you're using data as your source. You're not creating content, pasting it on [multiple web] pages, and creating pages independently… You're managing content.
"So let's say gastritis conditions change, or treatments change for that particular condition. We don't have to worry, "Where do we have all the content that we've copied and pasted for gastritis?" [In a headless CMS], you go in… you change some content. And instantly, through your entire omnichannel, that content is updated."
– Matt Klawitter, Senior Digital Access Strategist, Beacon Health
An excerpt of the transcript from Improving SEO & Patient Acquisition with a Headless CMS, an on-demand virtual event.
Yext Content is a headless CMS structured with real-world entities and their relationships. Our robust Connectors framework and Content Delivery API make it easy to unify and deliver your content anywhere. And with Content Generation built in, you can safely scale your content strategy with AI. Ultimately, you can reach your customers across all your digital touchpoints.