Listing Management
Yext's CMS is optimized for syncing data to all the publishers in the Publisher Network. Each of the built-in fields for the built-in entity types has validation optimized for the Publisher Network and is set up out-of-the-box for syncing to publishers without any additional data mapping required. By structuring the data in the Graph, Yext can transform your data into the structure and formats that each publisher accepts.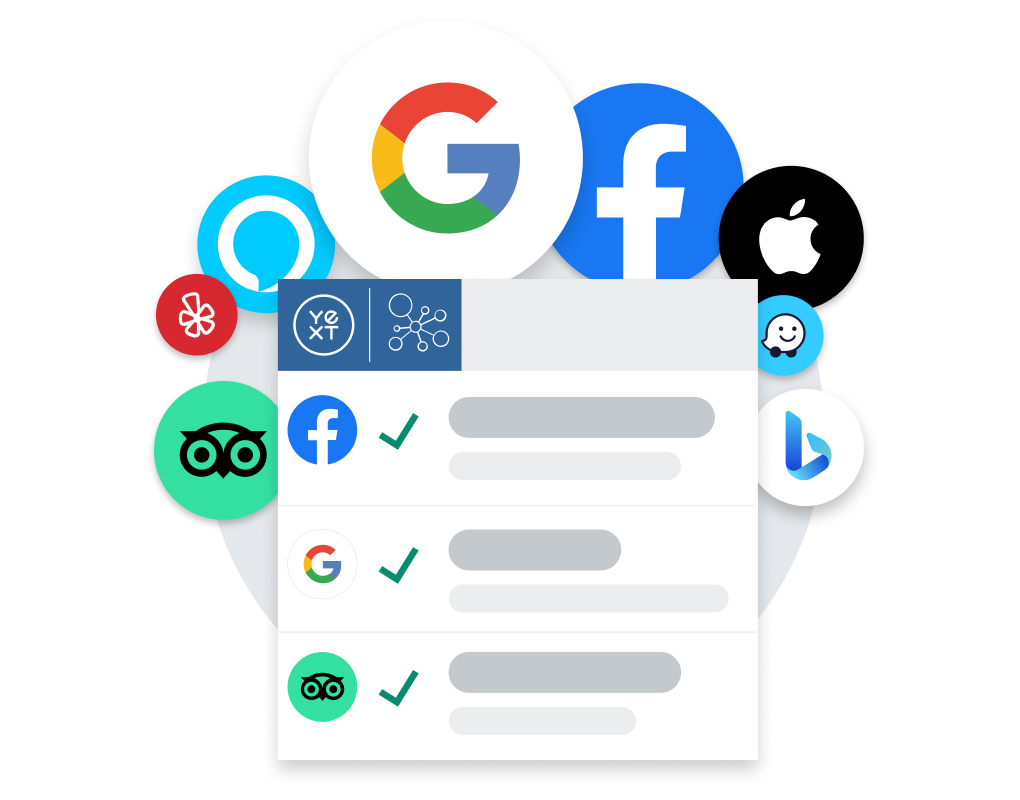 Authentication
Only some publishers require user accounts to manage listing information, like Facebook and Google My Business. Yext will prompt users to link their third-party accounts and authorize Yext to make listings updates on their behalf.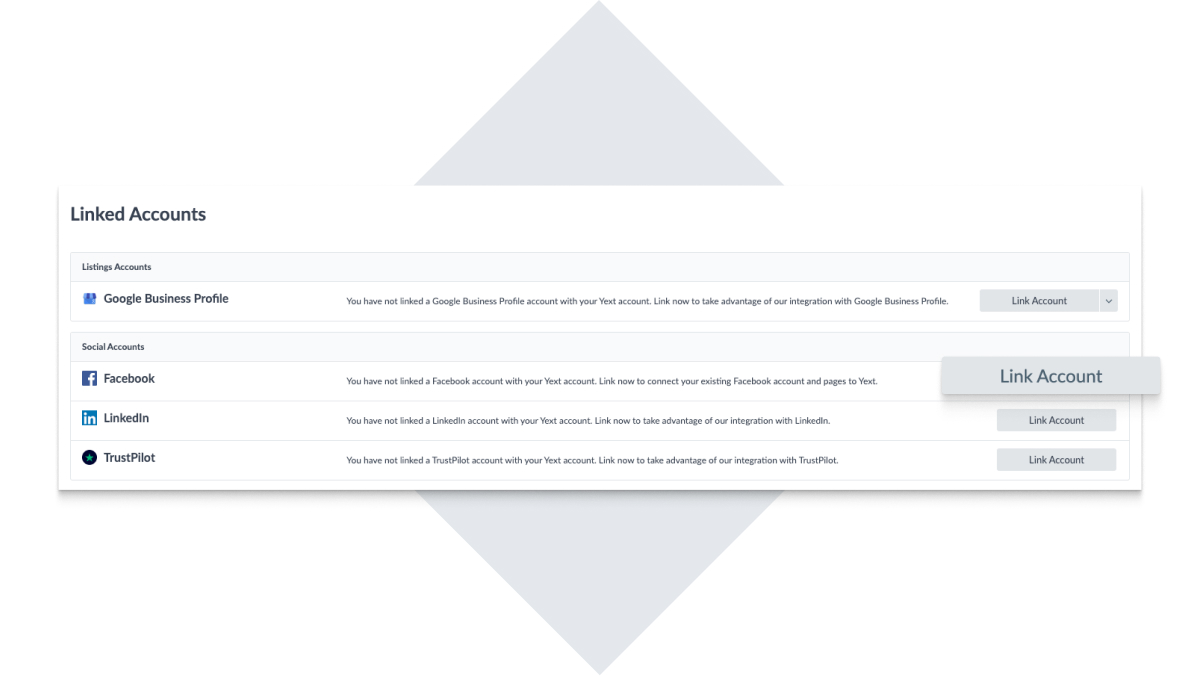 Search and Match
The Initial Sync represents the first time that we sync an entity's data to a publisher. Yext either pushes data to an existing listing or creates a new listing. Yext will review the results and pick the "best listing" to match to for each entity on each site. In the example of Awesome Business, we would sync to the best matching listings on Google and Facebook, while creating a new listing on Bing where we did not find a suitable match.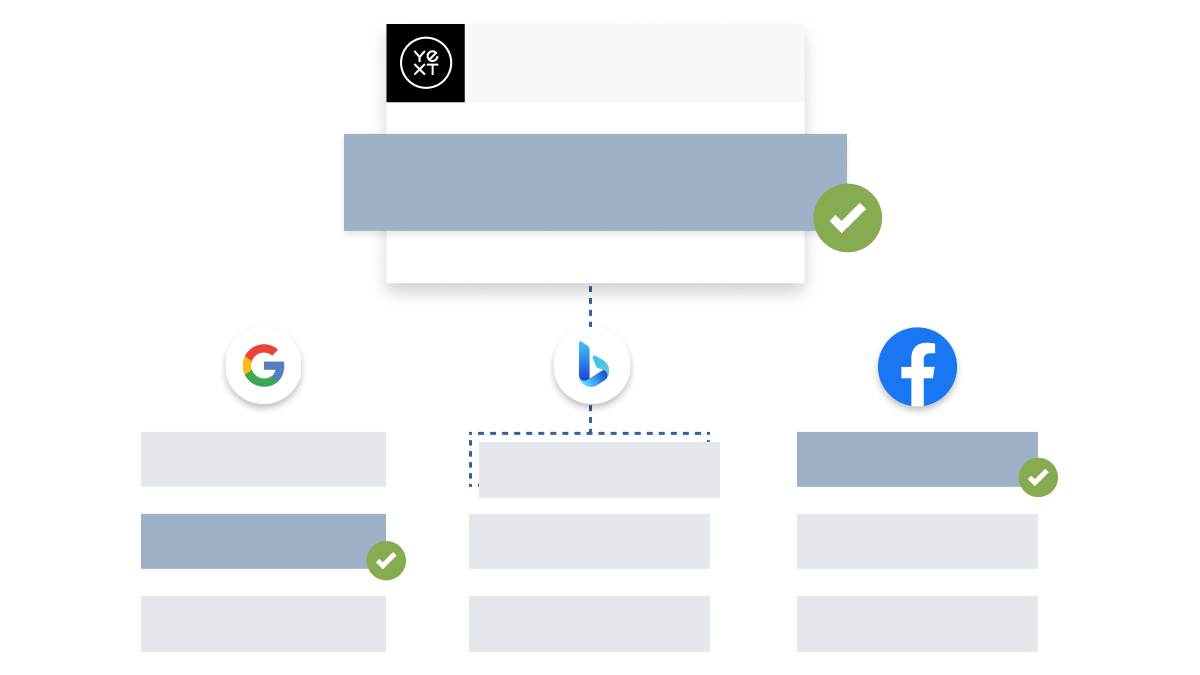 Automated Updates
Any time an update is made to an entity in Content, Yext delivers the update to all Publishers. Depending on the Publisher, most updates will be reflected across all Listings in a matter of minutes. At any given time, Yext will sync data to one listing per publisher.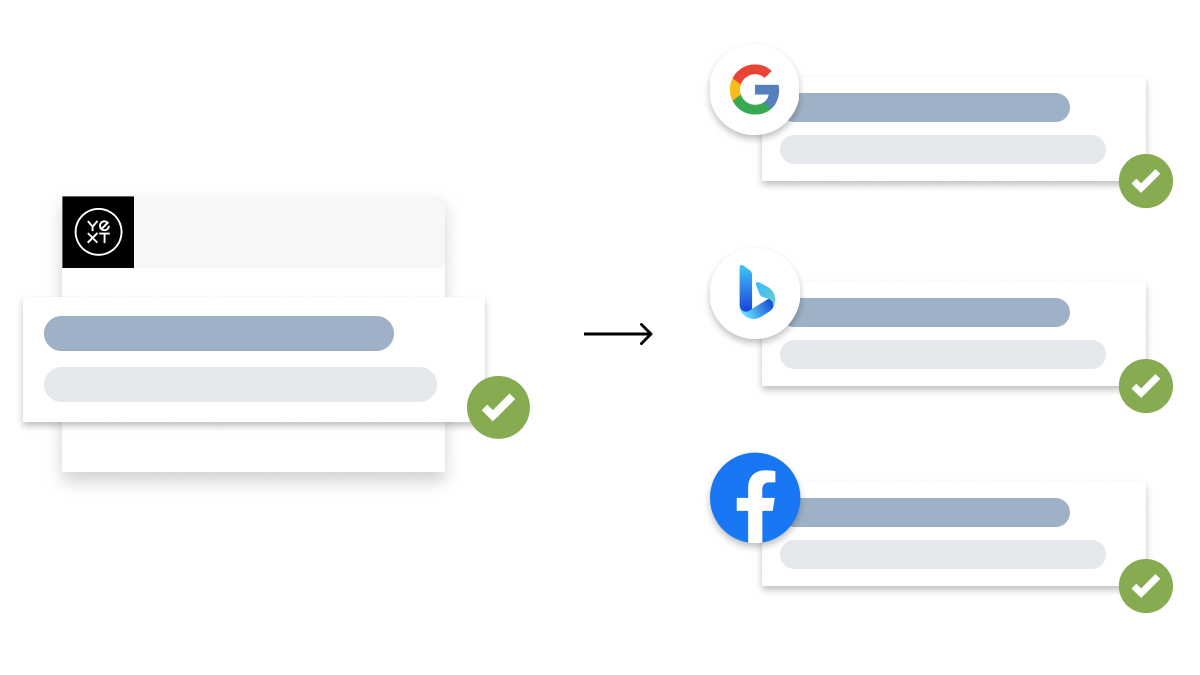 Dual Sync
Yext takes advantage of Dual Sync integrations to talk directly to the publisher and receive feedback from the publisher. This feedback includes things like listings status, analytics, reviews, data suggestions, and more. Yext relies on submission integrations only when absolutely necessary.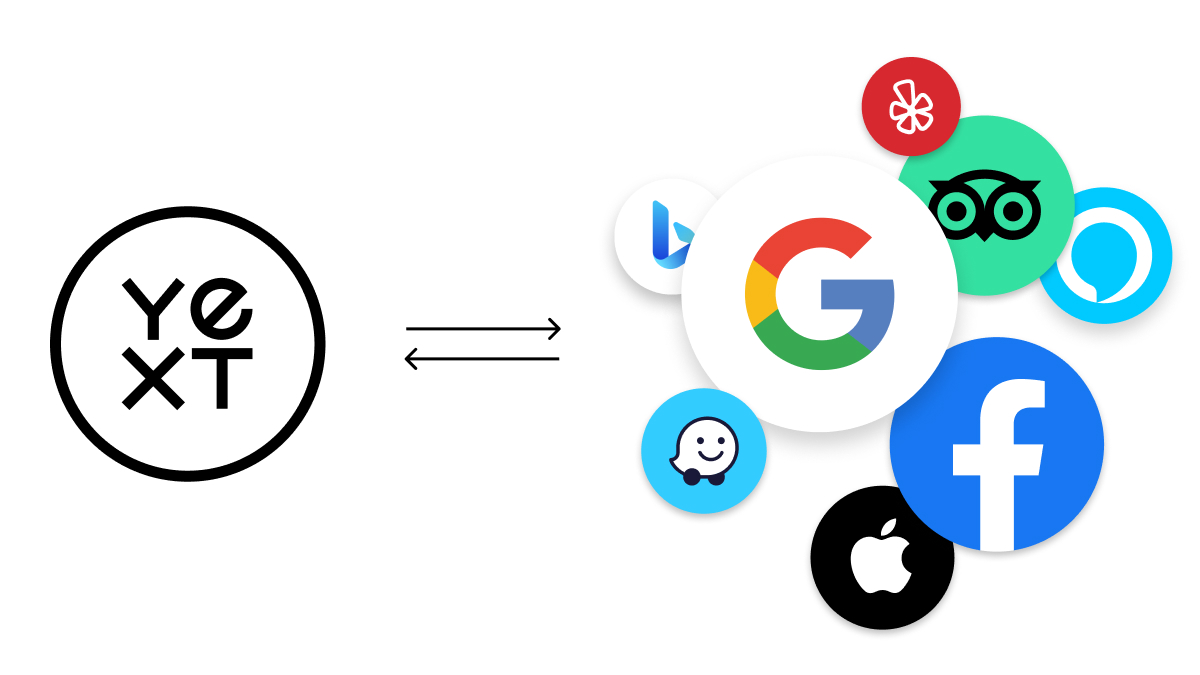 Content Approvals
Content Approvals are a great way to empower additional users in your account to add data, but with a low-risk. When a suggested edit is created, it enters the Suggestions system while it waits for review. Until it is approved, the edit is not made to your CMS and it is not published anywhere publicly. For example, it would be valuable for a healthcare company to grant their doctors and insurance agents access to the platform so they can make the content personal to them and their clients.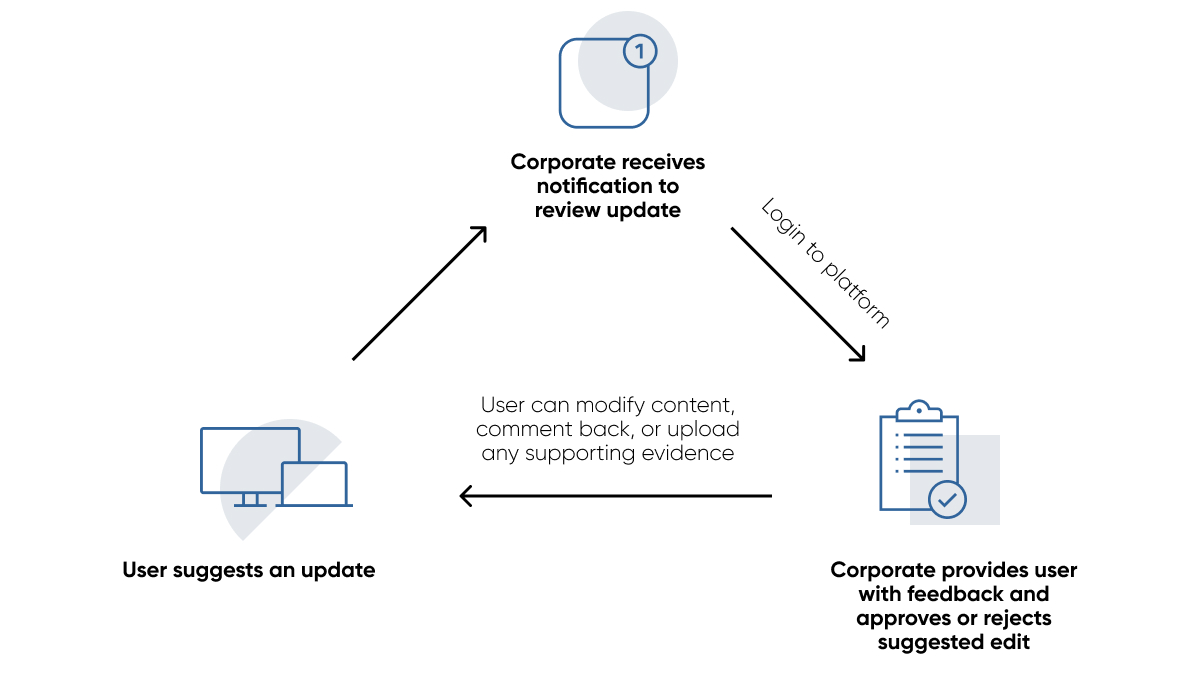 Listing Status
The Listing Status reflects the publisher's consumer-facing status. This helps indicate information including: Has the listing been published? Is the publisher displaying all of the information from Yext Content that it should be? A listing can be in one of the following 4 states:
Live: A Listing is successfully synced on the publisher site.
Processing: This status only usually occurs during the Initial Sync phase and indicates that the Initial Sync is still in a transient state.
Unavailable: Some or all of the data is not actively synced.
Opted Out: Syncing is turned off for the listing.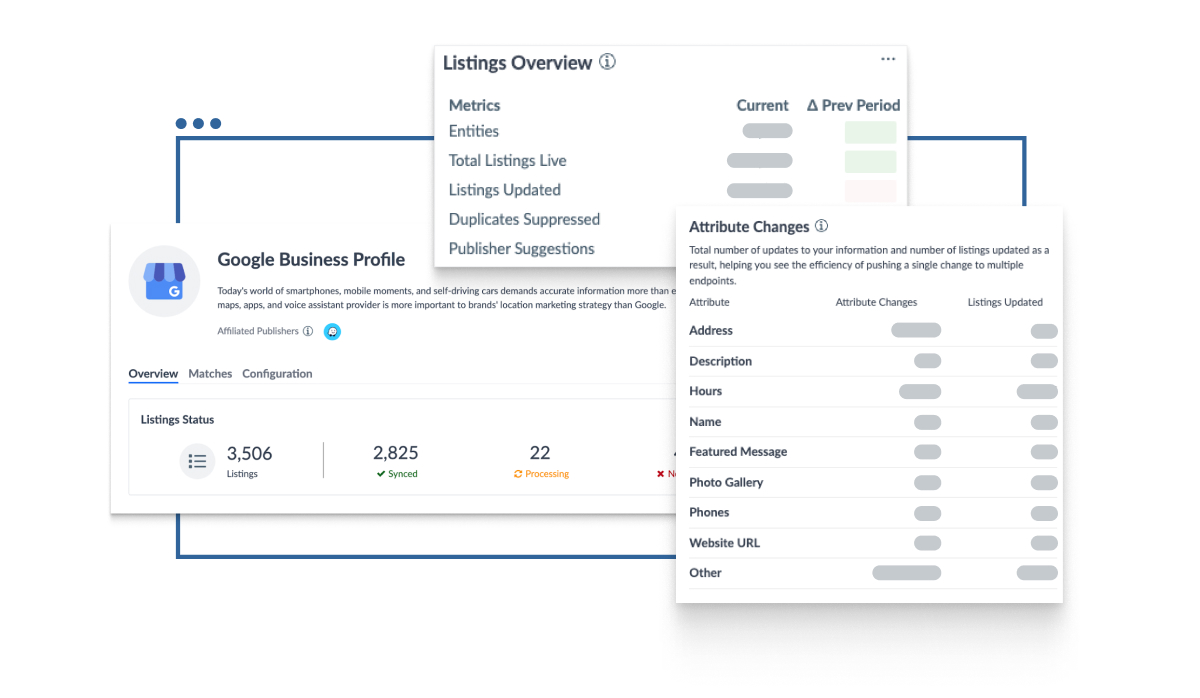 One Platform. Unlimited Solutions.